Sunday, June 3, 2018
Message from the Blessed Virgin Mary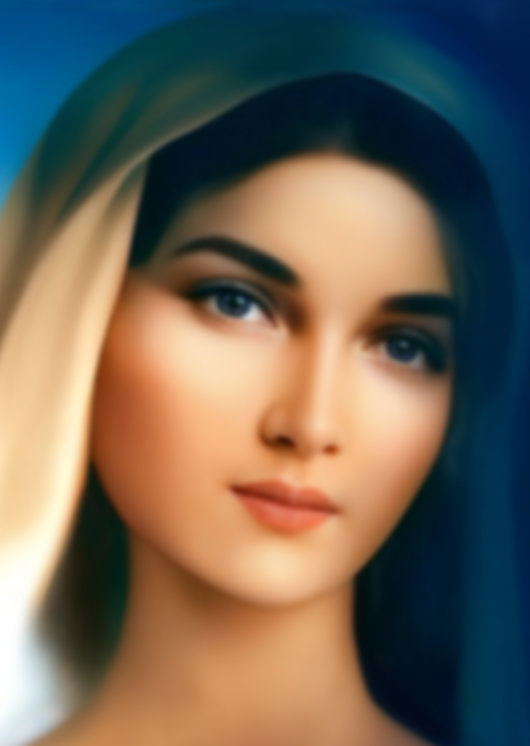 Beloved children of My Immaculate Heart:
WITH MY MATERNAL LOVE I LEAD YOU TO A GREATER CERTITUDE OF THE NEED OF LIVING A ROBUST
FAITH IN DIVINE LOVE AND TO THE URGENCY OF A PERSONAL COMMITMENT REGARDING THE
RENUNCIATION OF WHAT IS EASY, AWARE THAT THE BROAD PATH LEADS YOU TO PERDITION.
Within a Humanity in turmoil, where economic interests are men's goal, My children have the duty of focusing on giving sustenance to a more spiritual life so that worldly interest do not overtake the first place that My Son must hold in the life of each one of you.
Beloved children of My Immaculate Heart, great announcements cause My Son's People to see themselves within the confusion in which good is seen as evil and evil is accepted as a natural part of man's development.
YOU WHO HAVE BEEN DISPOSED TO CONTINUE WITHIN MY SON'S HEART AND MINE, MUST BE AWARE THAT WITHOUT THE FIRM DECISION AND FIRM PURPOSE NOT TO ALLOW YOURSELVES TO BE EASILY DEFEATED, YOU WILL NOT BE ABLE TO STAND WITHOUT BEING SWAYED.
At this instant My Son's People cannot be content with knowing something of the Divine Word contained in Sacred Scripture or being an occasional christian. My children must accept that at this instant is imperative that they know what they profess, so that they are not taken by surprise or unawares by the cunning maneuvers with which evil leads Humanity to accept the aberrations within which you are living.
Man is not analytical, but a follower of what calls for his attention. Rebellion is a sign by which man protects himself in order to protest given everything that opposes the proper use of free will. How My Son suffers seeing His People living beside the idols that they have created in order not to see the reality in which you are living!
Beloved children of My Immaculate Heart:
WITH WHAT PAIN I SEE YOU BEING LED LIKE SHEEP TO THE SLAUGHTER, WITHOUT DISCERNING
BETWEEN GOOD AND THE EVIL THAT HAS CAUSED YOU TO BE AUTOMATA THAT FOLLOW WHAT REEKS OF WRONGDOING, REBELLION, PROTEST!
I grieve at seeing My children suffering the consequence of having supported communist ideologies that at this instant hold them trapped in their nets. My children pray – yes -, but not with their heart, powers and senses. They pray within a pattern that is far from spiritual, they pray by repetition almost from memory, with which they do not find what they seek, as you do not find My Son in repetition, but in the surrender of the heart.
Man, a pilgrim on Earth, has appropriated what God entrusted to his custody, and with the destruction of what he received, he allowed the entrance of the devil into every sphere in which man develops.
Beloved children, salvation is open to all: it is not the privilege of a few, except that My children have lost the desire to be children of God and give themselves over to what is easy, to what does not involve a change of life, an act of effort or of obedience.
Beloved children of My Immaculate Heart, some of My children have surrendered to the hordes of evil, they dream of sharing in and coming to possess extraordinary gifts in order to dominate their brothers and the elements; these are ephemeral promises of evil since gifts come from the Divine Spirit and those that do not come from Him are deceptions of evil to attract men.
YOU, MY CHILDREN, NEED TO BE GREAT IN FAITH, IMMOVABLE, SO THAT IN THE INSTANTS TO COME YOU ARE MORE STRENGTHENED AND ABLE TO SEE CLEARLY FACED WITH THOSE WHO TELL YOU THAT SIN DOES NOT EXIST, THAT GOD IS MERCY AND DOES NOT JUDGE ANY OF HIS CHILDREN: THIS IS A GREAT LIE OF EVIL TO DECEIVE MY CHILDREN.
Evil maintains the semblence of the good and until it attains its booty it will not show itself as it is. Do not forget that satan offered My Son all the kingdoms of the Earth, and at this instant, he offers you that and more, which is why he will even deceive some of the elect.
You, children of My Immaculate Heart, move within Humanity that does not want to know the mystery of the Love of the Cross, therefore the one who has ears should hear and see with clarity that the evil one will speak of peace and well-being among the peoples, while taking hold of My children, then he will apply all his cruelty and malice to men.
BELOVED CHILDREN OF MY IMMACULATE HEART, OUR ANGEL OF PEACE WILL GIVE YOU THE WISDOM WITH WHICH HE HAS BEEN FILLED, HE WILL LEAD YOU TO BECOME AWARE THAT YOU ARE CITIZENS OF HEAVEN AND WILL MAKE YOU TASTE TRUE FREEDOM AS CHILDREN OF GOD.
Pray children, pray for Russia, the wolf in sheep's clothing will make itself known.
Pray children, pray, Germany suffers through terrorism.
Pray children, pray for the United States, the eagle loses part of its land.
Pray, My children, Humanity's insecurity has led it to take part in the great protests that are spreading throughout the world.
Be children who overcome at all instants. Be spiritual children, devoted to taking the Divine Word to your brothers and sisters.
I Bless you all.
Mother Mary
HAIL MARY MOST PURE, CONCEIVED WITHOUT SIN
HAIL MARY MOST PURE, CONCEIVED WITHOUT SIN
HAIL MARY MOST PURE, CONCEIVED WITHOUT SIN