Wednesday, June 6, 2018
Message from Our Lord Jesus Christ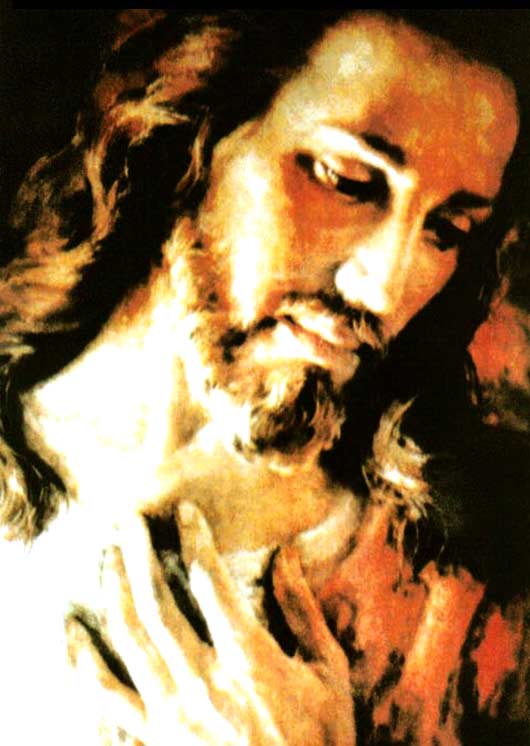 My Beloved People:
MY STEPS GO AHEAD OF EACH OF MY CHILDREN SO THAT YOU DO NOT GO ASTRAY.
WITH WHAT LOVE I CALL YOU TO REMAIN CONSTANTLY VIGILANT!
My Heart invites you to beat to the Divine Rhythm so that you do not be hasty in work and action, nor be among those who lag behind in work and action.
Each one of you, beloved children, is forming My People and is perfecting it, therefore I instruct you on the path towards the common good and the fraternity that knows no limits.
My beloved people, man's difficulty is that of living with himself, not with his brothers and sisters, because the mind is responsible for instantly mudding everything. This is how My People live, immersed in small things and not in what is great, which takes the spirit to ascend and to aspire to Me. Man likes staying in what is small, and in that way he remains in the world. This is the most comfortable position for those who have not set themselves the goal of improving and attaining what they have lost.
Although I regard you as having grown up, you are suckling babes, you do not detach yourselves from what makes you react in human fashion, you do not allow yourselves to mature in your daily living.
My Beloved People:
YOU NEED TO BE GROWN-UP CHILDREN AT THIS INSTANT WHEN YOUR FAITH IS CONSTANTLY BEING TESTED. THEREFORE I HAVE CALLED YOU TO ENTER INTO THE GOSPEL SO THAT YOU ARE NOT
DECEIVED; I HAVE CALLED YOU NOT TO ACCEPT MODERN TRENDS, WHICH WITH GREAT FALSEHOOD ARE A DISGUISE OF WHAT THEY REALLY CONCEAL...
The perdition of the human race is one of the goals of satan in order that those who do not know My Word are troubled and choose wrongdoing (cf. Gen 3, 1-7, II Cor 11, 3).
My Beloved People:
HOW MUCH BLOOD MAN HAS POURED UPON THE EARTH THAT CRADLED YOU!
The Earth wants to dislodge man, to distance him from Itself, it does not look at man as an ally, but as its enemy, and so it is that man moves further and further away from the end for which he was created, and has committed himself to serving the devil, being a predator and not a steward.
Great concern comes to Humanity because of the sun, which has caused man to be changed and to disavow himself.
Do not forget children that you are living amidst toil, instants of desert, confusion and temptations. My children must confront all this and more in order to be refined until that which causes you to act or work in an abruptly manner no longer remains in you.
EACH OF MY CHILDREN MUST BE MERCIFUL AS I AM MERCIFUL, ABOVE ALL IN HUMAN RELATIONS. Those who consider themselves more spiritually mature are sometimes those who do not respond with mercy because they apply a maturity of words and not practice towards their peers.
EVIL LURKS INSISTENTLY: IT INJECTS JEALOUSY AND ENVY AMONG MY PEOPLE SO THAT THEY RISE UP AND ATTACK ONE ANOTHER.
EVIL KNOWS THAT IT CONQUERS BY DIVIDING, AND MY PEOPLE ALLOW EVIL TO USE THEM IN ORDER TO DIVIDE.
It is not for My children to be hard on the needy, you are all made of the same clay. That is why the one who believes they are the greatest among you should be the least (cf. Mt 23,11) and show it through service to their brothers and sisters. Service is one of the qualities of those who have understood My Call.
My People: pray, pray promptly: the waters move and enter coastal cities.
The instant is urgent; My People must be a mature People, practising Works of Mercy (cf Mt 25, 31-46) so that upon receiving My Mercy the latter grows unopposed, flourish and reproduce like yeast in flour.
My Beloved People, great powers are immersed in the constant struggle for supremacy over the world's population, without My People having knowledge of it. These powers that have allied in the past will become enemies, to Humanity's surprise, and will attack each other before the surprised gaze of My children.
The power of the weapons of mass destruction that some nations have come to possess, will be used by evil so that nations rise against nations, and thus evil will strengthen its power, making use of the weakening of the rest of humanity.
MY BELOVED PEOPLE, EVIL'S CUNNING CAUSES YOU TO FALTER FROM ONE INSTANT TO THE NEXT: THAT IS LACK OF FAITH AND TRUST IN ME. Do not forget that Faith, Hope and Charity should prevail in you: good and evil cannot be mixed. That is why My Mother comes to each person to hold you by Her blessed Hand and so that you would not be prey to working and acting hastily.
Beloved People of Mine, pray: you will see a star standing out in the sky, pray firmly, do not forget that a celestial body will approach Earth, causing Humanity to panic.
My Beloved People, pray: a new epidemic comes to light and threatens the world population - man knows how to treat it, but will not be able, since it is resistant to former medications.
Beloved People of Mine, pray for Thailand: fire comes out of its volcanoes.
My Beloved People, Russia will experience times of tension because of terrorism.
YOU ARE MY PEOPLE AND I AM YOUR GOD. MY BLESSING ACCOMPANIES YOU. YOU ARE NOT ALONE:
MY MOTHER AND I LOVE YOU AND OUR LOVE IS ATTRACTED BY THOSE WHOSE, CONSCIOUS OF THEIR LOVE FOR ME, LIVE EVERY INSTANT WITHIN MY WILL.
Do not falter, My children, I love you.
Your Jesus.
HAIL MARY MOST PURE, CONCEIVED WITHOUT SIN
HAIL MARY MOST PURE, CONCEIVED WITHOUT SIN HAIL MARY MOST PURE, CONCEIVED WITHOUT SIN