Saturday, June 9, 2018
Message from the Blessed Virgin Mary Feast of the Immaculate Heart of Mary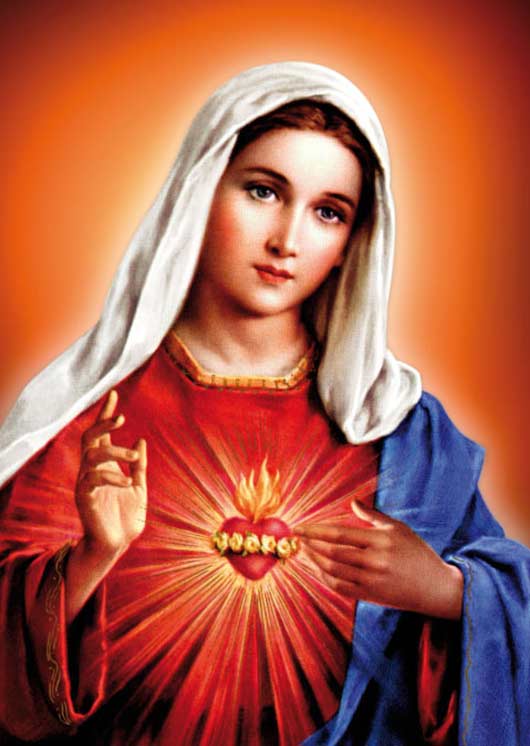 Beloved children of My Immaculate Heart:
I HOLD YOU WITHIN MY HEART, ARK OF SALVATION FOR HUMANITY.
I CALL YOU INSISTENTLY SO THAT YOU REACH THE LAND THAT FLOWS WITH MILK AND HONEY. (Ex
3,17)
Humanity continues immersed in the dark night, in the desert, where it does not find peace due to the ambition or hardness of the heart of man, who does not sympathize with the miseries of his brothers and sisters and has no memory of his own miseries.
I call you to be merciful as My Son is to those who come to Him to ask for His forgiveness.
As a Mother I remain attentive to what you ask of Me and I ask you for conversion in order to fulfill My Promise to guide you to the Celestial Home.
ON THIS DAY WHEN YOU COMMEMORATE MY IMMACULATE HEART, I CALL YOU TO BE CREATURES OF FORGIVENESS, NOT WITH WORDS, BUT WITH THE HEART.
The one who forgives is forgiven...
He who is merciful will receive mercy... (Cf. Mt 5,7) The one who gives, receives...
THIS IS PART OF THE DIVINE WISDOM IN WHICH I INVITE YOU TO PARTICIPATE.
Be aware, children, that God is God: see Him in your brothers and sisters and do not do to your brother what you would not do to God, because He sent My Son for the Salvation of Humanity.
I INVITE YOU TO TAKE MY HAND IN ORDER THAT I MAY LEAD YOU TO THE WAY OF LIVING, WORK AND ACTING IN THE DIVINE WILL, AND SO I WILL LEAD YOU TO FIND HAPPINESS, JOY IN "KEEPING EVERYTHING IN THE SECRECY OF THE HEART" (Lk 2,19) , A VERY DIFFICULT TASK FOR MAN.
You, beloved children, must give thanks to the Most Holy Trinity for each day of your life and not waste it, but focus on growing as children of God and as a People faithful to My Son.
I SEE MY CHILDREN DEBATING ABOUT THE AFFAIRS OF THE WORLD THAT DO NOT LEAD YOU TO GROW, BUT TO STAY IN THE PAST. DO NOT FORGET THAT EVIL REMAINS ALERT, DO NOT FORGET THAT IT SEEKS MY CHILDREN'S DISUNITY.
My Heart is pierced by every thorn with which My children profane what is used to gather the People of My Son.
I suffer when you profane the Holy Eucharist...
I suffer over the immoral acts with which some human creatures exhibit themselves in their protests against life... I suffer, not for Myself, but for the sin of the creature, and I intercede so that it may repent and take up the path of conversion anew.
MY CHILDREN, IT IS NOT THE CONSTANT SEARCH FOR HUMAN WISDOM THAT PERFECTS MAN, BUT THE CONSTANT SEARCH FOR LOVE AND HUMILITY, WHICH IS WHAT GIVES FRUITS OF VIRTUES AND GIFTS TO MY CHILDREN.
May you be constant, do not take steps backwards, continue looking to the only and true goal: ALL BEING OF MY SON.
Beloved children of My Immaculate Heart:
I BLESS YOU AND ON THIS DAY IN PARTICULAR I OFFER YOU MY HAND: TAKE IT AND ALLOW ME TO LEAD YOU ON THE PATH THAT MY SON WALKED.
Mother Mary
HAIL MARY MOST PURE, CONCEIVED WITHOUT SIN
HAIL MARY MOST PURE, CONCEIVED WITHOUT SIN
HAIL MARY MOST PURE, CONCEIVED WITHOUT SIN