Thursday, July 5, 2018
Message of Our Lord Jesus Christ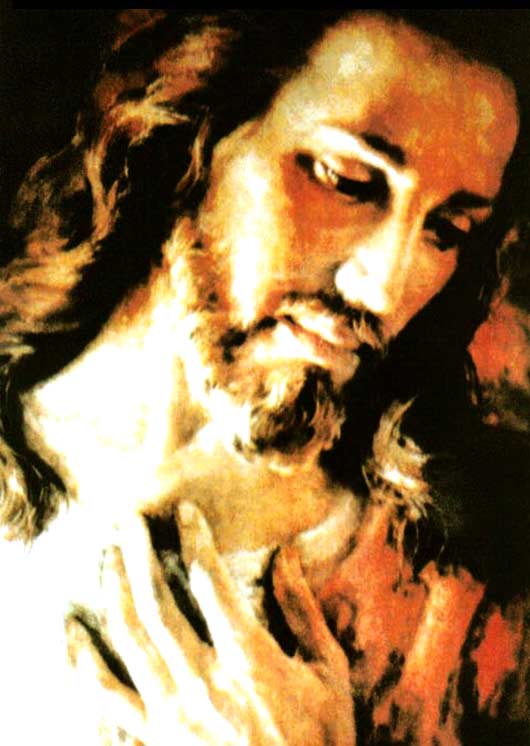 My beloved People:
EVIL DOES NOT REST AND I WISH THAT MY CHILDREN DO NOT REST.
THEY MUST BE A TESTIMONY TO MY WORD AND FAITHFUL FULFILLERS OF THE DIVINE LAW. THEY MUST NOT FEAR, THEY MUST DEMONSTRATE THAT THEY ARE MY CHILDREN.
My People:
I know you and I carry you in My Heart, perpetuating My Love towards Humanity for the salvation of all My children.
With pain I see so many human creatures renouncing My Love to start on a path of licentiousness, which leads them to suffer in the midst of the rebellion, protests and inconstant states of mind in which evil keeps them. Humanity is moving in constant confrontation, in intolerance, in the loss of ethics, in instability and total subversion, increasing evil's power over man.
My beloveds, you are in the midst of the darkness with which the devil has covered reason and human thought, and thus you have become immersed in depravity through the control and diffusion of that which leads you to rebel against Our Most Holy Trinity and against My Mother.
HAVE YOU FORGOTTEN THAT MY MOTHER ANNOUNCED TO YOU THAT DICTATORSHIPS WOULD PREY ON THE PEOPLES?
Pray, My children, pray for Nicaragua, My children suffer and are led to martyrdom.
Pray My children, pray for Venezuela, it suffers the great cruelty of its oppressors.
Pray for the United States, suffering is accentuated through Nature.
Pray, My children, pray for Ecuador and Chile, their soil shakes.
Everything is enjoyment and commotion, the day passes and human time continues without apparent great changes; because of this, the human race carries on without realizing the terrible sin in which it is living and the increase of sin that will lead it to lose Eternal Life.
Man rejoices in sin and despises what involves an effort to defeat his harmful actions and works contrary to My Will.
There are so many who offend Me! ...
There are so many who deny Me! ...
THERE ARE SO MANY WHO BETRAY ME AND HAVE SURRENDERED TO THE HORDES OF EVIL, AND WITHOUT FEAR THEY OFFEND MY MOTHER; WITHOUT THE SOULS THAT LOVE ME, THE EARTH WOULD FIND ITSELF IN TOTAL DARKNESS.
The harvest is approaching, My Celestial Legions are careful that no grapes in poor condition would pass without repentance and having offered me a true purpose of amendment (cf. Jn 8, 11b).
The sky will be redder and man will remain expectant. The bowels of the Earth are coming into tension and the surface shakes, without this being new to man, yet something new has indeed arrived for man: the negative impact on the human being's capacity for action and reaction. Violence has made its nest in man and has led him to the loss of peace and fraternity.
HUMANITY IS CONFRONTING WITH GREATER FREQUENCY THE MISFORTUNE OF A DESTINY CHOSEN UNDER THE INFLUENCE OF EVIL.
Organizations that set the tone for governments and Humanity have committed themselves to evil and sin, stealthily introducing within My People the habit of practising sin, starting with the littlest ones and then continuing with the youth, to whom the rest of Humanity has united itself.
My beloveds, at this instant, within the majority of the global organizations, the infiltration of freemasonry and the sects accompanying it have taken decision-making power, being the great platform awaiting the imposter.
WHERE ARE MY CHILDREN HEADING? Towards the falsehood presented to them as truths so that they do not lift themselves out of the sin in which they find themselves. These are not My interests but those of the enemy who persuades them to continue denying Me and persecuting My children.
THEREFORE, CHILDREN, GROW, STRENGTHEN YOURSELVES WITH THE EUCHARIST WHERE I AM
PRESENT, TRUST MORE IN ME AND MY MOTHER, DO NOT BE AFRAID OF BEING SINGLED OUT OR REJECTED WHEN THEY PREVENT YOU FROM TALKING ABOUT ME.
The Truth will make you free (Jn 8,32) but free in truth. Do not be those who say they love Me and are afraid of what they will say. Be strong and determined so that by being a witness, remaining within the Divine Law, fraternity, and fulfilling the Sacraments, My Holy Spirit enlightens you and leads you to discern under the protection of My Truth.
My beloved People, the threats of war do not stop, the causes are interests regarding world power, the single government, the single currency, the single religion, with the aim of subjecting Humanity to the tentacles of evil.
TAKE MY CALLS SERIOUSLY: DO NOT DISMISS THEM, AS THE INSTANT IS URGENT.
My beloved People:
MY MOTHER IS THE "QUEEN AND MOTHER OF THE END TIMES" AND THESE ARE THE END TIMES - NOT THEREFORE, THE END OF THE WORLD.
DO NOT BE AFRAID, AS MY MOTHER IS WITH YOU AND GUARDS YOU.
Be fulfillers of Our Divine Will that calls you to salvation. Draw near to Me in the Eucharist and constantly invoke Me; persevere, do not decline in faith.
COME TO ME, MY CHILDREN, COME TO ME.
I bless you, I love you.
Your Jesus
HAIL MARY MOST PURE, CONCEIVED WITHOUT SIN
HAIL MARY MOST PURE, CONCEIVED WITHOUT SIN
HAIL MARY MOST PURE, CONCEIVED WITHOUT SIN