Monday, July 9, 2018
Message from Our Lord Jesus Christ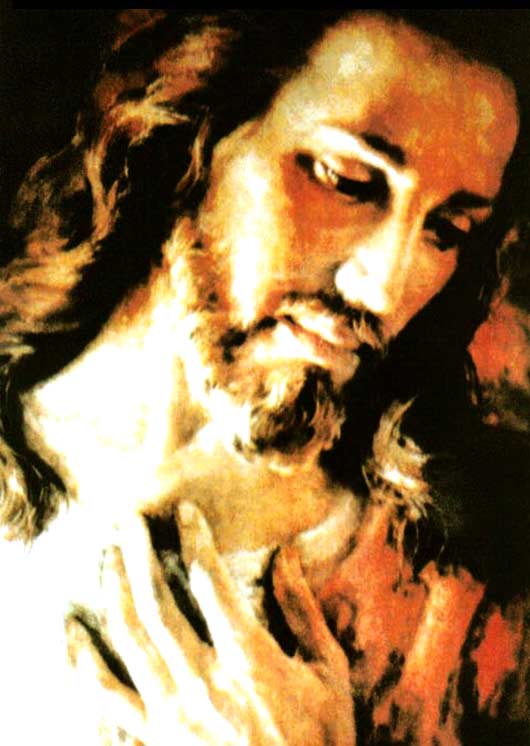 My beloved People:
WALK IN MY FOOTPRINTS, NOT IN THE FOOTPRINTS OF THE PAST...
EVERY DAWN PRESENTS EACH PERSON WITH THE GREAT NEWNESS OF OUR TRINITARIAN LOVE.
Live being creatures of good, emanating My Light which you carry within you and must make it known through testimony.
SO MANY ABHOR MY LAW, PERSECUTING IT AT EVERY INSTANT AND PROFANING IT, AS IT IS NOT ONLY MY REAL AND TRUE PRESENCE IN THE EUCHARIST THAT IS BEING PROFANED!
They profane My Churches, profane everything that is dedicated to the Divine Office, profane everything within My Churches...
They profane My Mother and the male and female Saints who have existed... They profane My Word by giving it a free and wrong interpretation...
They profane My Love by bringing the intoxication of sin to children's minds and a very wrong form of liberation... They profane Me by leading children to wrong practices and facilitating their depravity...
THE HORDES OF SATAN DO NOT REST, YET WITHIN MY CHURCH SOME ARE ASLEEP, and others support the insidious tendencies of evil to make it easier for satan to weaken My children's strength for fighting evil; they strengthen evil with the uncontrolled idea of licentiousness or the mistaken concept that sin does not exist.
THIS GENERATION REMAINS PREY TO ERRORS ABOUT SIN AND ABOUT MY MERCY, ENABLING
HUMANITY'S DEPRAVITY.
THOSE WHO DO NOT REMAIN FAITHFUL TO THE ROOT OF MY TEACHINGS WISH TO SILENCE THOSE WHO TRY TO POINT OUT WHAT IS DEFECTIVE IN THE PERVERSE INNOVATION WITHIN MY CHURCH.
My priests must be servants of My People and not one more element within My People.
My priests must remain at My People's service so that My children remain guided and so that evil does not confuse them; they must be creatures of prayer and exhort everyone to do good, pointing out sin as sin, in order that My Word put those who live in sin to shame.
My priests must not fear evil, they must not be silent, but be attentive and be constant spokesmen for awakening souls.
My beloved People, you have to continue in sound Doctrine: do not take shortcuts - the one who wishes to make the least effort ends up doubling it, because the one who walks without shortcuts goes safely and with a firm step.
Beloved People of Mine, the instant of darkness must be fought with My Light, with My Love, but with wisdom and awareness that evil penetrates unceremoniously even in My Church.
In this INSTANT I see My Church divided, I see My consecrated Sons being defenders of My People who are defiled by Communism and by sects devoted to Satan. These, My Sons, bear My Cross with Me, but I see some of My priests being complacent with evil, attenuating the sin of their own brothers and sisters.
People of Mine who walks beside Me, you must be more spiritual!
I DESIRE THAT YOU UNITE TO PRAY THE HOLY TRISAGION/TRISAGIUM THIS THURSDAY AT 3 P.M.
ACCORDING TO EACH COUNTRY'S TIME ZONE.
FOR MY FAITHFUL CHURCH, FOR THOSE CONSECRATED TO ME, FOR THOSE WHO CARRY MY
CROSS, FOR THE PEOPLES WHO ARE OPPRESSED, FOR COMMUNISIM, FOR MY TRUE INSTRUMENTS.
My beloved People, you are not abandoned children, you are children of the King of Heavens and Earth.
The tentacles of evil are moving quickly and My People must respond with the praxis of prayer and unity, deepening in My Love, in My Sacrifice and being more constant in union with Me.
Organizations at the service of satan are entering countries to destabilize them: this is the strategy of evil.
Pray, My children, pray for Mexico, it suffers through Nature.
Pray, My children, pray for Indonesia, it suffers through Nature.
Pray My children, pray for Nicaragua, My People suffer.
Pray My children, pray for Taiwan, the fury of Nature causes it to suffer.
My People, nature rebels against man who has destroyed it, it rebels against sin.
Nature acts forcefully in order to awaken man.
Pray, My children, pray, heaven will give the sign and earth will make man tremble.
My beloved People:
I WARN YOU - WAKE UP! QUICKEN YOUR STEP, SOFTEN YOUR HEARTS, DO NOT CONTINUE ENTERING
INTO SIN, ELEVATE YOUR SPIRIT, BE MY CREATURES, CREATURES OF GOOD IN THE MIDST OF THE
WORLD'S CONTAMINATION.
Do not fear, I remain with My People. You feel that I do not see you; that is not how it is - I hold you in the Palm of My Hands (cf. Is 49,16). I bless you.
Your Jesus.
HAIL MARY MOST PURE, CONCEIVED WITHOUT SIN
HAIL MARY MOST PURE, CONCEIVED WITHOUT SIN
HAIL MARY MOST PURE, CONCEIVED WITHOUT SIN