Saturday, July 14, 2018
Message from Our Lord Jesus Christ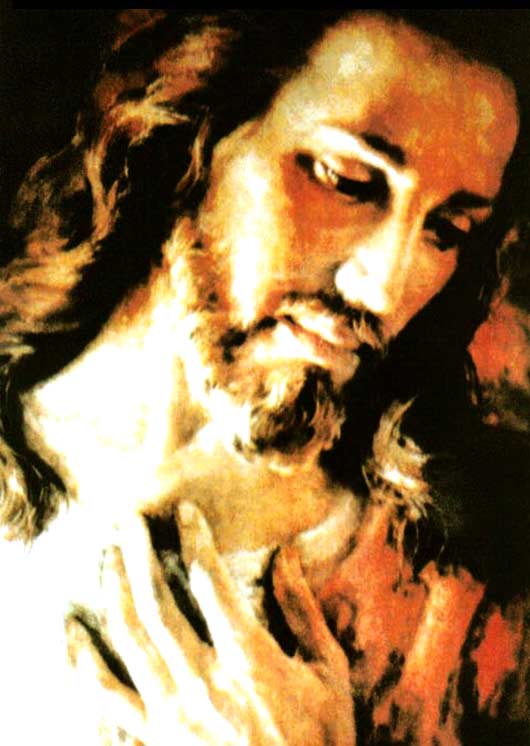 My beloved People:
I CALL YOU TO SAVE YOUR SOULS...
SALVATION IS A PERSONAL DECISION, THEREFORE YOU NEED TO RECOGNIZE THAT YOU ARE MY CREATURES AND THAT YOU ARE NOT ONLY FLESH; YOU HAVE A BODY, SOUL AND SPIRIT (cf. I Thess.
5 :23) AND HAVE TO WORK AND ACT IN MY WILL TO MERIT ETERNAL LIFE.
My beloved People, Humanity has the opportunity to stop on its way: if it does not do so on its own, it will suffer for its bad decision, its indifference, its foolishness and irreverence towards Our Trinity. Licentiousness has taken possession of man, the madness of evil keeps you spinning without stopping, drawing you towards the precipice.
What is the man of this generation?...
What are you?...
The instant will come when man will be like woman and woman like man; their clothes will not be distinct; their behavior will be contrary to their nature.
Division will reign in households; the children will have the power and the parents will be unable to make themselves heard. Husband will leave wife and vice versa, everything will be considered natural, the family will go into decline. THIS IS THE STRATEGY OF THE DEVIL WHO, ATTACKING THE FAMILY, KNOWS THAT IN THIS WAY IT IS EASIER FOR HIM TO BRING SOCIETY INTO DISORDER.
My People, do you recognize those Words prophesied by My Mother that are already being fulfilled?
MY CHURCH HAS ENTERED INTO CHAOS. Some who have gone astray come to My Church, not in order to correct themselves, but to continue in the misuse of free will and to feel protected within the evil in which they live.
Licentiousness is disobedience, and those who live in disobedience are in rebellion, and this leads to chaos and total degeneration, which is the result the enemy of the soul requires.
You have a conscience in order that you may decide which way to follow and to act rightly; you need the assistance of My Holy Spirit, but you do not know how to ask for discernment... Some think that by having academic knowledge they reason very well, but in the spiritual it is not so. AT THIS INSTANT THE ONE WHO TRULY WALKS IN MY WORD IS THE ONE WHO, UNITED TO KNOWLEDGE, LOVES HOW I LOVE, FEELS HOW I FEEL, IS TRUE AS I AM THE TRUTH (cf. Jn. 14:6), KNOWING THAT MAN IS RESPONSIBLE FOR HIS ACTIONS.
Today's human creature believes it has everything it needs to succeed in everything it sets its mind to and therefore is not analytical, but a follower of modernism, and therefore you are creatures who instantly side with evil.
Humanity lives within society and repeats the work and action of the "cyclical disease" of contempt towards Me; therefore, man does not overcome corruption.
The power of evil on Earth has seriously increased and My children live by base emotions - they find themselves in a storm that does not stop: suffering comes, guilt, resentment comes, sins of all kinds multiply, successively increasing evil's power on Earth.
My beloved People:
THIS IS AN EXTREMELY DANGEROUS INSTANT FOR SOULS...
IT IS THE INSTANT FOR WHICH EVIL HAS WAITED IN ORDER TO DISTANCE HUMANITY, BY ALL POSSIBLE MEANS, FROM OUR TRINITY ...
EVIL HAS PLACED FREEMASONRY AT THE FOREFRONT OF THE ORGANIZATIONS DRAWING UP THE GUIDELINES FOR THE WORLD, TAKING ADVANTAGE OF THE CULPABLE SILENCE OF THOSE WHO KNOW THE TRUTH WITHIN MY PEOPLE.
Since the distant past, My People have been treated with great cruelty; the worshipers of evil have been persecuting My People. Communism is supported by the main world organizations that continue to be the great predators for My People.
Some of My children already perceive the approaching apostasy (cf. II Thess. 2:3-4) and this spiritual war between the forces of good and evil, between those who worship Me and those who are followers of the serpent that deceives them, offering greater justice and equality for all.
MY PEOPLE, BE GENEROUS WITH YOUR BROTHERS AND SISTERS WHO SUFFER. BE MY LOVE, BE SENSITIVE AND PRAY WITH YOUR HEART, NOT SO THAT YOU WOULD BE DUMB DOGS, BUT IN ORDER NOT TO ABANDON THOSE WHO SUFFER.
Pray, My children, pray for your brothers and sisters who suffer because of the persecution of communism.
Pray My children, pray, as uprisings spread to various countries.
Pray My children, pray for England, it will dress in mourning.
Pray, My children, Italy is shaken.
Nature keeps changing; it is not the same, just as man is not the same.
My People:
I DO NOT ABANDON YOU, ALTHOUGH THE WINDS ARE STRONG AND THE WATERS ARE STIRRED UP (cf.
Ps. 46:3; 93:4); ALTHOUGH MEN TELL YOU THAT YOU ARE ALONE, YOU ARE NOT ALONE ...
I AM WITH YOU, MY MOTHER IS WITH YOU, MY ANGELIC LEGIONS ARE WITH YOU.
DO NOT FEAR, EVIL WILL NOT PREVAIL AGAINST MY PEOPLE.
I bless you, I love you.
Your Jesus
HAIL MARY MOST PURE, CONCEIVED WITHOUT SIN