Friday, July 20, 2018
Message from the Blessed Virgin Mary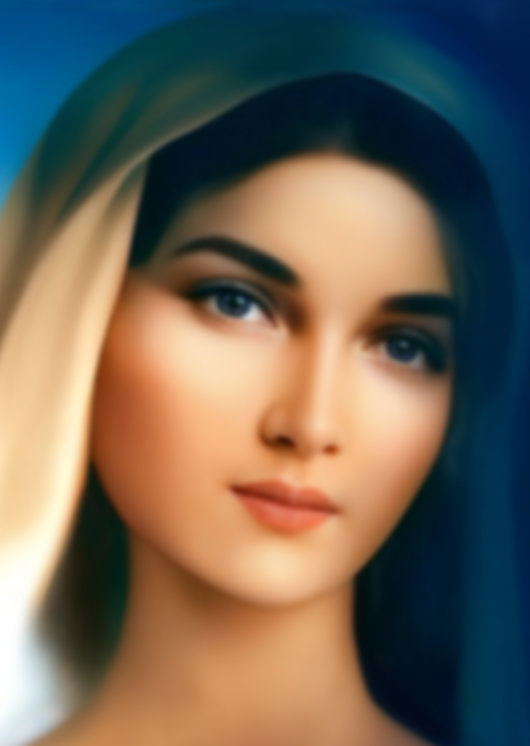 Dearly beloved children of My Immaculate Heart:
I WATCH YOU WITH MATERNAL LOVE...
ANTICIPATING THE WORKINGS OF HUMANITY, I PLEAD FOR EVERYONE TO THE MOST HOLY TRINITY IN
ORDER THAT YOU WOULD REPENT FOR WRONGFUL ACTIONS, FOR OFFENSES AGAINST MY SON AND FOR SINS OF OMISSION.
I have called you to conversion before the actions of most of My children become contrary to the works of a true child of God, lacking in love and without respect for the Divine.
GOING AGAINST THE CURRENT OF THE WORLD DEMANDS A GREAT EFFORT AND A FIRM FAITH,
REASON FOR WHICH I HAVE CALLED YOU TO STRIVE FOR CONVERSION AND TO LOVE THE MOST HOLY TRINITY WITH ALL YOUR HEART, POWER AND SENSES IN ORDER THAT FORTITUDE HELPS YOU NOT TO DENY MY SON.
People of My Son, being spiritually sedentary is not a good counsellor: on the contrary, you need to quicken your step on the path towards Holiness ... ACT "IPSO FACTO".
You live in the world being part of Humanity, but you are not obliged to act within what is contrary to My Son's Commandment. You know that the one who fulfills the Will of God will live eternally. (cf. I Jn 2,17)
I WANT YOU TO DEVOTE YOURSELVES TO PRAYER AND MAKE A PRACTICE OF THAT PRAYER, being
love towards your brothers and sisters, giving love in your families and wherever you are, banishing envy and pride, being charity, giving hope to those who have lost it and being messengers of peace.
Beloved children, you need to be peace so that this keeps you within Divine Work and Action; it is essential that you remain calm so that you do not give space for disorderly action. Those who love My Son are tested (Eccles. 2,1) and must respond where their works and actions are not publicly seen: in their family circle, in their places of work. In other words: in their own square meter.
I have called you to stay at home more, I have called you to take advantage of life by entering into greater growth and greater closeness to My Son.
The actions of evil are swarming everywhere, and whoever remains within the exaggerated comings and goings in worldly affairs is exposed to the onslaught of the evil that wishes to destabilize them.
Beloved children, at this instant unity within My Son's People is necessary so that the enemy of the soul does not cause havoc; it is impossible for you to walk without Divine Assistance at such a serious instant for each one of My Own.
WHERE THERE IS NO UNITY, EVIL ENTERS, CAUSING DIVISION AND BRINGING DOWN THE WORKS OF
MY SON. DO NOT PUT YOUR FAITH TO THE TEST BECAUSE YOU WILL REALIZE THAT THE FAITH THAT
YOU HAVE IS SMALL FACED WITH A GREAT TEST; WITHOUT INDIVIDUAL AND COMMUNAL EFFORT IT IS
VERY DIFFICULT FOR YOU TO CONTINUE BEING ATTACHED TO GOD'S LAW AND STILL MORE FOR YOU TO FULFILL IT.
Sacrileges and profanations are increasing: you will see what until now you have not managed to conceive, because of which I call each person to be a soul of reparation and obedient. The one who is obedient receives the reward of Heaven for their obedience, for their effort, for their faith and perseverance (cf. Jn 14,23). Faith is shown in the one who is obedient in instants when everything is well and their brothers and sisters think that obeying is madness. Thus, My children, men of faith have been tested and then have been famously saved while the rest, who did not believe and despised them, perished (cf Prov 3,1-8).
Beloved children of My Immaculate Heart, be an encouragement for those who do not have assurance of Divine Mercy; may they not fear their children, but warn them to return to the path towards conversion, if they need to do so or in order that they might keep to the true Path without deviating, if they find themselves struggling to stay with My Son.
Pray children, pray for the United States, the unexpected comes to the power causing great concern. This country suffers through Nature to a great extent.
Pray children, pray for Mexico, its soil shakes again.
Pray children, pray for Canada, Nature causes it to suffer.
THE ANGEL OF PEACE WILL COME TO PROTECT YOU, HE WILL KEEP YOU IN THE TRUTH OF MY SON'S LOVE AND WILL AWAKEN THOSE WHO LISTEN TO HIM.
Unity is the hope for the People of My Son who suffer: Woe to those who transgress the Commandments of God's Law!
Heresies are heard everywhere, yet My Son's Love for His children continue without decreasing. Therefore, Divine Love is incomprehensible to the mind of man.
Beloved children of My Immaculate Heart, be fraternal in this instant when evil is inciting Humanity to rebellion, towards lovelessness, towards disrespect for the Gift of life, towards ignominy, towards immorality and towards spiritual martyrdom.
VISIT MY SON IN THE BLESSED SACRAMENT AND PROLONG THAT ADORATION DURING THE REST OF
YOUR LIVES: in every work, in every act that you accomplish, so that you are givers of goodness to your brothers and sisters.
I STAND BEFORE YOU WITH MY HANDS HELD OUT SO THAT YOU TAKE THEM, AND THUS I WILL BRING YOU TO THE PATH OF ETERNAL TRUTH.
I bless you. I love you.
Mother Mary.
HAIL MARY MOST PURE, CONCEIVED WITHOUT SIN
HAIL MARY MOST PURE, CONCEIVED WITHOUT SIN
HAIL MARY MOST PURE, CONCEIVED WITHOUT SIN