Thursday, July 26, 2018
Message from Our Lord Jesus Christ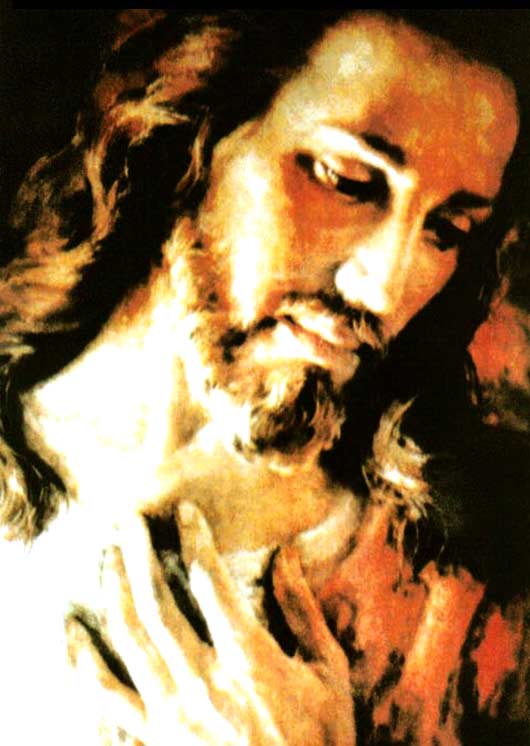 My People:
YOU KNOW MY GREAT LOVE FOR YOU, AND IN THE COMMANDMENTS THE WILL OF MY FATHER IS
REVEALED OUT OF LOVE FOR HUMANITY, TO BE FULFILLED BY EACH HUMAN CREATURE. ALL THE LAW IS FUSED WITH MY CROSS OF GLORY AND MAJESTY, OUT OF LOVE FOR ALL GENERATIONS IN ALL THE AGES.
I have called you insistently without a response: you do not heed Me, you refuse to listen to Me, you rebel as if you had lost your reason and you surrender to evil with no qualms.
Humanity does not adore Our Trinity, you have welcomed whatever false god has been presented to you as a great innovation without meditating on the consequences.
It had already been revealed, as signs of the end times, the revolt against the Divine Law, against the Gift of life so that man would not find it sinful to act or work against what is My Father's Will and is written in the Decalogue. With great excitement Humanity enjoys the aberration of the "right to kill My innocents". The devil has injected poison into your mind and it has been poisoned, and with a poisoned heart, man finds himself in constant agony.
YOU DO NOT SEE EVEN FOR AN INSTANT THAT EVIL TRANSFORMS ITSELF INTO AN ADDICTION FROM
WHICH IT IS VERY DIFFICULT TO ESCAPE; you go from deadly sin to deadly sin, each time more terrible. Within the scope of the sin itself, there are other sins and vices increasingly difficult to satisfy, so that the creature is not satisfied and sin becomes a necessity and increases.
THE NAKEDNESS OF THE BODY IS ANOTHER SIGN OF THE LOSS OF VALUES, OF THE SPIRITUAL
POVERTY IN WHICH THIS GENERATION FINDS ITSELF AND OF THE CRUELTY OF THE DISRESPECT
TOWARDS YOUR FELLOW MEN. It is the product of minds poisoned by the serpents that the devil is scattering throughout the Earth and which have been welcomed by those who, like the demons, repudiate the House of My Father.
This generation has forgotten the Flood and dismisses it, all human objections and denials of the Universal Flood being sterile hypotheses of limited human reason to continue satisfying the wave of offenses towards Our House. Other events with which My Father acted to stop wayward man as in Sodom and Gomorrah, have occurred because of man's irreverence in all aspects of life.
My Cross contains man's rebellions ...
I am Love and I am Mercy; this has been wrongly misinterpreted at your whim...
I am Love and My Surrender on the Cross was not in order for you to adulterate the Divine Law, but to reaffirm it. (cf. Jn 3:17) I did not give myself so that Humanity would rebel against Our Divinity. This unrecognizable and rebellious attitude of man has opened the door of Chastisement for Humanity.
I DO NOT THREATEN MAN...
I HOLD BACK MAN'S DEGENERATION BEFORE ALL ARE LOST.
Humanity has entered into the stage of the changes caused by man's wrongdoing. Creation is a product of My Father's Love and holds the good within itself. Creation attracts goodness and seeks it incessantly. But at this instant, Nature suffers from loneliness— that loneliness which Humanity transmits to her when it turns away from Our Trinity— and Nature is urgently seeking that affinity with man and not finding it; on the contrary, she fears man and reacts by manifesting her strength, increasing her action on Earth with successive phenomena.
My beloved People:
IT WOULD BE SUFFICIENT FOR YOU TO GIVE ME THE PLACE THAT I DESERVE IN ORDER FOR MY WORK
AND ACTION TO HAVE THE FREEDOM NECESSARY TO GROW IN HUMAN BEINGS, AND THUS OUR TRINITY WOULD BE ALL IN ALL.
On the contrary, at this instant My People are persecuted, insulted, tainted, forgotten and slandered in order that the existing ideologies would find excuses to persecute them.
HUMANITY HAS EMBARKED ON THE PATH ON WHICH IT WILL FIND PITFALLS, AND ONLY THOSE WHO CHANGE THEIR LIVES AND HAVE A GREATER AWARENESS OF THE NEED TO LIVE, WORK AND ACT
MORE SPIRITUALLY, WILL FIND PEACE IN THE MIDST OF THE ONSLAUGHTS, WILL FIND STRENGTH IN
THE MIDST OF DISCOURAGEMENT, WILL FIND PROTECTION IN THE MIDST OF PERSECUTION AND WILL
KNOW HOW TO FIND MY LOVE AND THAT OF MY MOTHER IN THE MIDST OF THE DESERT TO WHICH MY PEOPLE WILL BE SUBJECTED.
Man must seek union with Our House, must be a practitioner of the Commandments, of the Beatitudes, of the Sacraments, and know Me in order to recognize Me at the opportune instant. Your walk needs to be more spiritual so that you would live Me, feel Me, value Me and not be confused by the "wolves dressed in sheep's clothing" that stay in the world and even in My Church to confuse you and lead you astray.
The Earth shakes more than before, announcing to man the future for which he is heading.
The door has opened, My children, and you must come closer to Me to repair so much evil coming from those who have become debased with the poison of satan.
Great changes will continue happening on Earth; Heaven will show the greatness of the power of Our House and man will not be able to hold back the Will of Our Trinity until he passes through the sieve of purification and decides for himself to be more spiritual.
My beloved People:
YOU WILL LIVE IN CONSTERNATION AT THE SUCCESSIVE EVENTS OF WHICH YOU WILL BE WITNESSES...
REMAIN FAITHFUL TO THE DIVINE LAW AND BOUND TO THE TRUTH. MY WORD SHOULD NOT BE
TRANSFORMED TO EXCUSE THE SINNER, NOR SHOULD IT BE TRANSGRESSED. (cf. Ps. 118 (119): 1-8)
The devil does not rest in looking for human creatures that have turned away from Me and have embarked on the path of perverse innovation, on the path of the modernists, who dare to make light of the decline and the proximity of the fulfillment of what My Mother has announced to you.
Some call My daughter "apocalyptic"; they are far from My Word, it is I who emit it, it is by Divine Will that is communicated to you. (cf. Ex 3:14; Is 45:5) I am "apocalyptic" for calling sin, sin, for warning Humanity about the consequences of the course it has taken due to the revolution of liberalism and modernism, even within My Church. But for the modernists, sin does not lead to evil or to hell, My Truth is old-fashioned and My Revelations and those of My Mother have been given in the present, but belong to man's past ...
Oh, children! How to make you leave behind the rags with which you are walking? ...
MY PEOPLE, COME TO ME AND TO MY MOTHER: IT IS NECESSARY FOR YOU TO ENTER WITH GREATER SPIRITUALITY INTO THESE NEW EVENTS IN WHICH MY CHILDREN MUST KEEP THEMSELVES STRONG.
I bless you. You are the apple of My Eyes...
Your Jesus
HAIL MARY MOST PURE, CONCEIVED WITHOUT SIN
HAIL MARY MOST PURE, CONCEIVED WITHOUT SIN
HAIL MARY MOST PURE, CONCEIVED WITHOUT SIN