Monday, July 30, 2018
Message from the Blessed Virgin Mary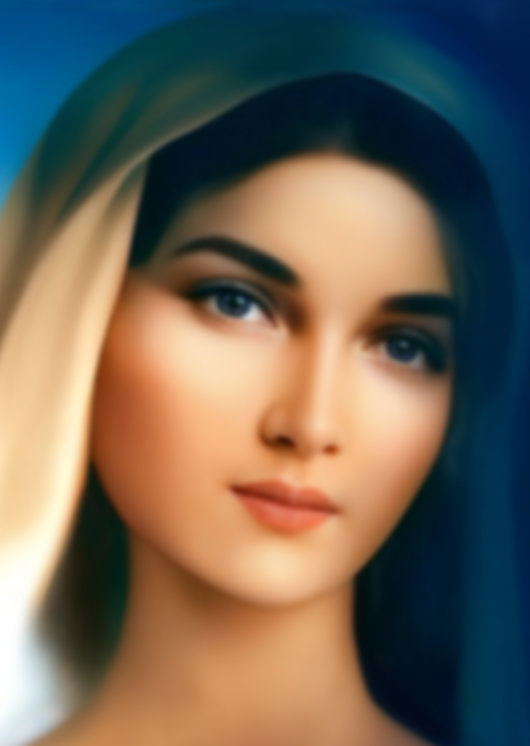 Beloved children of My Immaculate Heart:
I am the Mother of Humanity, I protect you and I call you to conversion. As a Mother I have announced to you the instant in which you are living.
I AM THE QUEEN AND MOTHER OF THE END TIMES...
AND I CONTINUE LEADING YOU TO MY SON SO THAT YOU DO NOT BE LOST, BUT MAY BE FAITHFUL IN FULFILLING THE COMMANDMENTS AND THE TEACHINGS OF MY SON.
Beloved children, I invite you to pray:
Divine Father, Eternal and Omnipotent,
Holy Son, Word Incarnate,
Holy Paraclete, Divine Spirit, Three Persons in one True God.
Pour out Your Most Holy Blessing upon this creature who cries out before Your Divine Majesty.
Take my hand so that I am not separated from Your Protection, give me the immovable hope of the encounter with Your Glory. May my soul be sculpted by Your Holy Spirit and I find the discernment
that leads me to the Truth of Your Word and I do not deviate from the Holy Path.
Most Holy Trinity, you have bequeathed to Your People the blessing of possessing the Queen and Mother of the End Times, to intercede for and defend Your People. I welcome such an exalted Queen and Mother, I take Her blessed Hand and I surrender to Her Maternal Instruction so that, together with Her, I may be a doer of Your Will.
Mother who guides, Mother who intercedes, Mother who protects this aimless Humanity,
be my helm at this instant, so that, before the clutches of evil, my soul does not succumb out of weakness.
Give me the willpower so that I may not fear the waiting, But rather that I may fear falling into the insinuations of evil and do not let my soul be lost in the darkness of evil. Queen and Mother of the End Times,
come, receive me and teach me to wait for the Trinitarian instant, may it not be I who wishes to advance the hour,
but under the protection of Your faithfulness, may I be Your reflection and may no instant frighten me before which it looks like I may succumb.
Queen and Mother of the End Times, Make Love, Faith, and Hope, be reborn in me and also, the courage to live like You, nourishing myself with the Trinitarian Will
and continuing with the fervent faith that You will lead me towards the longed-for encounter with the Father, the Son and the Holy Spirit, being reborn to the new life beside the Most Sacrosanct Trinity.
Amen.
Beloved children of My Immaculate Heart:
Do not give up, even if in these instants when fatigue invades you or you feel exhausted: do not get confused, this is the weight of contempt of Humanity that has distanced itself from Divine Love.
You, beloved children, know of the victims of oppression all over the world, in a city, in a village, you know about the hungry, the thirsty and the defenceless, and everyone must ask themselves: what is my reaction facing so much human pain?
Whoever lives for materialism does not understand pain, rejects the needy and does not help the one who suffers. Only those who struggle against themselves and stand firm so as not to lose unity with My Son, and who do not doubt that peace will come, harmony between the peoples, plenty and the fusion of man with His Creator, only in these will faith not cease.
THOSE WHO STAY FIRM IN THE FAITH AND DO NOT WANT TO LOSE UNION WITH MY SON, KNOW THAT BEFORE THESE TIMES COME, THE INSTANT OF PURIFICATION WILL COME FIRST.
Evil is proliferating along with the false devotion that is found everywhere given a mistaken religiosity that has masked the true filiation of the People of God. My children believe that they are complying with Heaven with a religiosity that has led man to stagnate, that does not allow him to know My Son in depth; you do not know or prefer not to know that you must invite My Son to dwell in the heart of each of you, by your own free will, so that he may make his dwelling in the human creature - you believe in a distant God and not in the Fatherly God who loves His children and wants to have them close.
You children, are called to contribute in the Plans of God…
You need to be believers who demonstrate and are active within God's Plans for the coming instant.
How much I have taught you by Divine Will is for you to put into practice NOW, so that you do not fall, overwhelmed by the trials, so that you do not despair in waiting and do not forget that you must pray and at the same time put prayer into practice, helping your brothers and sisters so that they do not fall prey to satan.
Receive My Son in the Eucharist, be strengthened and adore such a great Sacrament; adore Him in all the actions and in all the works of daily living, growing spiritually, drawing closer to My Son and to the fulfilment of His Word.
MAY YOU NOT BE FRIGHTENED BY WHAT HEAVEN HAS DECLARED TO YOU SO THAT YOU MAY
PREPARE, BUT MAY THAT WHICH YOU KNOW BE WHAT LEADS YOU TO INCREASE YOUR FAITH, THE DESIRE TO SAVE THE SOUL AND THE DESIRE TO COOPERATE IN THE SALVATION OF SOULS.
Prepare yourselves properly for the Warning, when you will appear before the conscience of each of you and before the Divinity: do not sleep, wake up, convert.
Look up, aspire more to Heaven...
Look up, the signs will indicate the precise instant...
WORKING AND ACTING AGAINST GOD HAS ACCELERATED EVENTS, BUT THE PEOPLE OF MY SON MUST BE FAITHFUL AND FULFILL THE DIVINE WILL.
Do not attach yourselves to innovations that will lead you to live in false religiosity; they will not lead you to true union or fusion with My Son. Do not live off the crumbs, children.
These are the End Times: yes, children, they are.
They are the instants announced: yes, children, they are, but a Divine Instant is not man's instant, therefore I call you not to falter, but to continue making the great effort to grow in union with My Son, and I call you to live more by the spirit.
IS WHAT IS COMING THE END OF THE WORLD? NO, CHILDREN.
Pray My children, pray for all of Humanity.
DO NOT FEAR, I AM HERE, BESIDE EACH ONE OF YOU.
DO NOT FEAR, I REMAIN WITH HUMANITY BY DIVINE WILL.
ADORE THE MOST HOLY TRINITY, ADORE IN SPIRIT AND TRUTH.
I bless you, I love you.
Note: Let us keep in mind the Words of Our Lord Jesus Christ:
"Heaven and earth shall pass away, but my words shall not pass away: but about that day and hour, no one knows anything, neither the angels of heaven, nor the Son, but only the Father." (Mt. 24,35-36)