Friday, August 10, 2018
Message from the Blessed Virgin Mary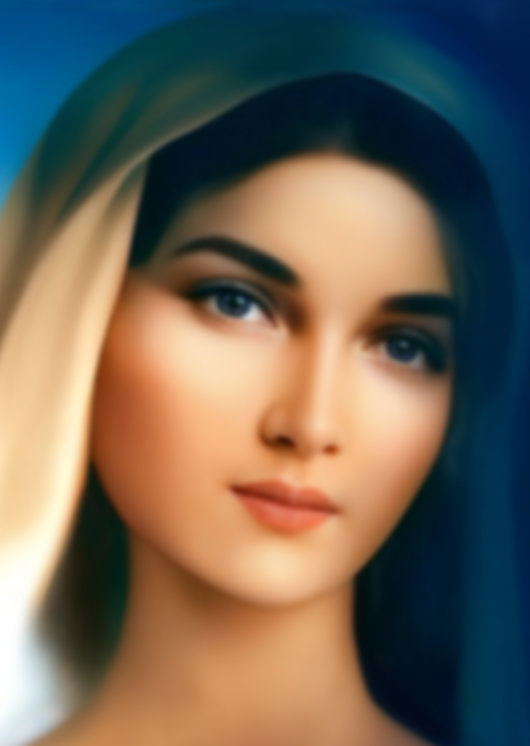 Beloved children of My Immaculate Heart:
LET US ADORE THE MOST HOLY TRINITY AND PRAISE THEM, WORLD WITHOUT END, AMEN.
I am Mother of Humanity, Mother of a people that is rebelling against the one who is ALL in all.
In order that you do not doubt the Divine Mercy, I continue conveying the Divine Will in this Word, because out of Mercy it is that neither the Father nor the Son nor the Holy Spirit will abandon you in these instants when evil prevails and you, children, need Divine Direction so that you do not fall into the trap of the devil.
People of My Son, beloved children, this is the instant when you must continue to exert yourselves in spiritual preparation, as My Son and I have been requesting from you previously.
Each person must become a human creature walking the Earth with your physical senses united to the spiritual senses so that you remain fused to the Holy Spirit.
YOU CANNOT TAKE MY WORDS LIGHTLY OR IN VAIN. MY SON CALLS YOU TO BE TRUE, AND YOU MUST
OBEY BEFORE THE RIGHTEOUS ARE LOST TOGETHER WITH THE CHAFF, BEFORE THE DIVINE MERCY ACTS WITH ITS HOLY JUSTICE.
It is urgent that you prepare spiritually with responsibility, and with the knowledge and acknowledgement of the Trinitarian Love for you, whom it forgives again and again. Thus, Humanity has abandoned God, mocks My Son and confronts the Holy Spirit, and like new Herods, you kill the innocent and cling to human laws to excuse yourselves in the eyes of society, forgetting that nothing can be hidden from God.
Freedom is the greatest thing that man possesses, thus you make freedom your greatest sin when you turn it into licentiousness, as is happening in this generation.
Children of My Immaculate Heart, you have no notion of what it is to be a true christian, as you work and act so differently. I hear you talking in a totally worldly, pagan, profane, indecent manner... you say that you love My Son yet you do not obey Him.
Beloved children of My Immaculate Heart, allow the Love of My Son to grow in you, soften, the reaping will give no truce and Nature knows no limits.
YOU MUST NOT FORGET THAT EVERY INSTANT IS AN ACT OF DIVINE LOVE AND THEREFORE YOU
MUST RETURN TO THE TRUE PATH PROMPTLY AND PREPARE IN EVERY RESPECT, ABOVE ALL SPIRITUALLY.
Beloved children, examine yourselves, look within each one of yourselves and look for the instants when you went away from, offended, hurt, mistreated My Son, how you have grieved the Holy Spirit! and ask for forgiveness from the heart.
You have in front of you the constant Call before the Warning arrives, in order that it does not find you asleep. Being by Divine Order it will not be able to be explained by science. It will be a great enigma that all men will recognize as coming from God, even those who are not believers.
Beloved, seconds before the Warning, the Earth in its entirety will be overtaken by silence and then all will be alone with God. The Warning is internal and personal, it will allow conscience to show you what your personal life and action have been. This, children, is an act of Mercy so that individually you reach the state where you see yourselves as you are, without dissimulation, without masks: as you are.
How have you lived?
In what state have you lived?
Are you creatures of good, are you love and are you truth?
What is the intention accompanying your works and acts? ...
THIS AND MORE IS WHAT WILL DETERMINE THE SUFFERING OF THAT INSTANT AND AFTER THE WARNING. With the Warning the end of evil will not come; on the contrary, those who see the evil in which they are living and do not repent will rebel against God, not accepting the sight of themselves with so much evil inside.
Do not turn away from My Son: keep offering Him your acts, your good deeds, your good wishes towards your brothers and sisters and the care of Nature. Do not look to see whether others cooperate or do not cooperate; be righteous and... My children preach with their testimony, not judging their fellow men.
Be those who fulfill the Divine Will, comply with the Commandments of God's Law, draw near to My Son, adore Him in spirit and truth (cf. Jn 4:23).
BELOVED PEOPLE OF MY SON, YOU WONDER ABOUT THE ANGEL OF PEACE AND CONFUSE HIM WITH THE TWO WITNESSES OR THINK THAT HE WILL BE A POPE: IT IS NOT SO. My beloved Angel of Peace will come to assist you, to counteract the evil of the antichrist towards the faithful People; He will be a Shield, Sword, Food, Word for those living in solitude, hidden where no one see them and evil does not reach them.
MY BELOVED ANGEL OF PEACE WILL OFFER HIMSELF OUT OF LOVE FOR GOD SO THAT THE HOLY REMNANT SURVIVES AND ARISE WITH THE WORD IN SPIRIT AND TRUTH.
Beloved children of My Immaculate Heart, the course of Humanity is not the result of chance but of the causality of human work and action that has made itself independent of Divine Protection and Love. The earth will be shaken with greater force, you will have no certainty about the climate when anticipating the times for harvests due to its extreme variations.
Droughts will be more serious than in the past, causing man to fight for water. The rains will cause the geography of some places to change. Therefore it is necessary that you anticipate and strive to be better and faithful children of God. HERE I AM, I AM YOUR MOTHER, CALL ME!
I bless you.
Mother Mary
HAIL MARY MOST PURE, CONCEIVED WITHOUT SIN
HAIL MARY MOST PURE, CONCEIVED WITHOUT SIN HAIL MARY MOST PURE, CONCEIVED WITHOUT SIN