Friday, August 17, 2018
Message from Our Lord Jesuschrist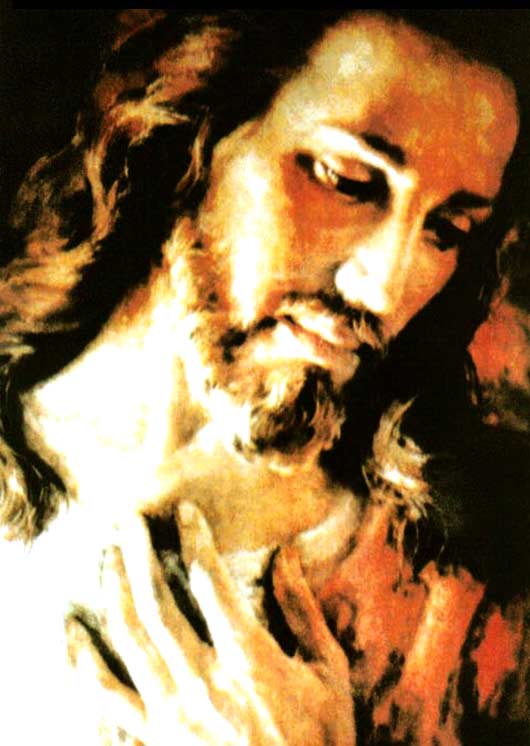 My beloved People:
EVERY ACT OF GOOD THAT YOU ACCOMPLISH MULTIPLIES ITSELF THROUGHOUT CREATION AND RETURNS TO HUMANITY IN BLESSINGS FOR ALL, WITHOUT DISTINCTIONS.
Therefore, every thought, act, action, reaction, word, every look, everything heard must bear within you the imprint of My Mother's Love, so that whatever you emit is renewed by the Maternal Love of My Mother.
I ASK YOU TO BE STRONG, FIRM AND COMMITTED IN YOUR WORK AND ACTION; do not falter, causing evil to your souls and making you uncommitted human beings who are confused with the tares.
You know the Sacred Scriptures, do not vacillate in this, be firm...
Do not allow them to propose to you to say "yes" to what is "no", or to say "no" to what is "yes". This would cause your spiritual defeat.
Do not allow them to tell you "no" to what all children of Ours are called to be: living testimonies to Divine Work and Action. This would be to allow the enemy to take advantage and win souls for himself, given the silence of My Own.
Be peaceful at all instants and at the same time prudent when speaking so that you do not cause controversy, but you know Me and know well what I ask of you, and you must not act outside the Divine Will. THE COMMANDMENTS ARE FOR YESTERDAY, TODAY AND FOREVER.
My beloved People:
THOSE WHO DO NOT ENTER INTO THE UNDERSTANDING OF WHAT TRUE PRAYER IS, ARE DISTANCING THEMSELVES FROM THE SPIRITUAL PATH.
The Holy Rosary is not a repetitive prayer, but an exaltation towards My Mother, and you need to pray it with the heart, in peace and with your senses surrendered to My Holy Spirit so that you might pray fused to the Divine Will.
Praying out of convenience, prayer out of interest, prayer in fatigue, vocal and empty prayer, does not express or contain the true spiritual sense that prayer should have.
In order to pray, you must prepare yourselves with love and allow that words, feelings, desires rise up from the heart to reason, and entrust to My Holy Spirit all that surrounds you and that you carry within you, so that you are enlightened and truly pray, as I wish. In order to pray, it is necessary that you cancel out the thoughts that come and go and which, through the mind, hinder you from being able to unite with Me.
Prayer is for silencing yourselves so that My Holy Spirit takes you and so that the inner noise is overcome by the silence of My Love, and that will be when you will initiate inner and outer change: whether it be your character, despair, or the lack of decision, or fear, they will be conquered by My Peace that will become the testimony of My children at all instants.
DO NOT FORGET THAT CHARACTER IS WHAT HELPS MAN TO CHANGE OR MAKES HIM STAGNATE IN HIS RELATIONSHIP WITH ME AND WITH HIS FELLOW MEN.
My beloved People, the explanations of causes that you accept on the part of science due to the disorders of Nature, should not be attributed solely to so-called climate change. While it is true that man has devastated almost the entire Earth, you know full well that the behavior of man does not remain only in man, but that good attracts good and evil attracts evil (cf Prov 17,13).
And what is it that reigns at this instant on Earth? The most abominable alteration of the human being opposed to Our Divinity and My Mother whom you denigrate, as My Church is denigrated by those who, without reckoning with the true vocation to the priesthood, have attached themselves to the priesthood for other reasons very different from Love for Me and the service of others.
Nature is increasingly severe towards man, until the Earth's climate will change in its entirety and My children will begin to suffer on a cold, sunless Earth.
Volcanoes, My children, are powerful colossi that keep so much pressure in their entrails that the largest can change the climate of a great part of the Earth.
Dormant underwater volcanoes will awaken, exposing you to serious dangers.
The Yellowstone volcano is beginning its awakening in union with others chained together under a large part of the Earth.
In one part of the Earth fires are causing man grave suffering, and in other parts, water overflows, causing serious damages and human losses. The climate is not the same in the nations and you know it, but you do not want to admit part of the great guilt that you bear regarding all this change.
Man does not want to change, he lives at the expense of what the institutions leading Humanity set out, making you head towards the establishment of a single religion, a single government, a single economy and a single deformation of values.
You will see the aborted innocent in the streets. Humanity will lose the little shame it has. Families will be motivated to live in unfaithfulness. THEREFORE, I CALL YOU TO KNOW ME SO THAT THEY DO NOT LEAD YOU ASTRAY, AND TO BE FULFILLERS OF OUR DIVINE WILL.
DO NOT WAIT! YOU SHOULD START CHANGING AT THIS VERY INSTANT.
Do not dismiss war, stay alert without neglecting this aspect. An assassination will shake humanity and will be the cause of great speculation, threats and military actions.
You will come to live as if there were no borders; man will confuse himself, as if he were staying in the Tower of Babel. Those who suffer horrors in their countries will come to foreign lands, and foreigners will become owners and owners, foreigners.
My Churches will be damaged as a symbol that Humanity wants to live without Me. They will attribute to Me the responsibility of the wrongdoing of those who have not fulfilled their priesthood, and it is the case that in the houses of formation prayer, commitment and the measures corresponding to these My affairs of mine are lacking.
I need you to act like My true children, those who do not stagnate at the gates, but those who remain at the forefront with their example.
DO NOT BE CARELESS IN YOUR WORKS AND DEEDS, DO NOT BE HASTY.
YOU WILL ALL SUFFER THE NECESSARY CHANGES AND THE WONDERS OF THE WORKS OF THE FATHER WILL BE MANIFESTED IN TOTAL GLORY.
Stay alert, but do not enter into chaos.
KEEP UP THE FAITH, AND MORE THAN BEFORE, BE AWARE OF THE PRESENCE OF YOUR GUARDIAN ANGEL.
In faith, with all My Love to My People,
Your Jesus
HAIL MARY MOST PURE, CONCEIVED WITHOUT SIN
HAIL MARY MOST PURE, CONCEIVED WITHOUT SIN
HAIL MARY MOST PURE, CONCEIVED WITHOUT SIN