Monday, August 20, 2018
Message from the Blessed Virgin Mary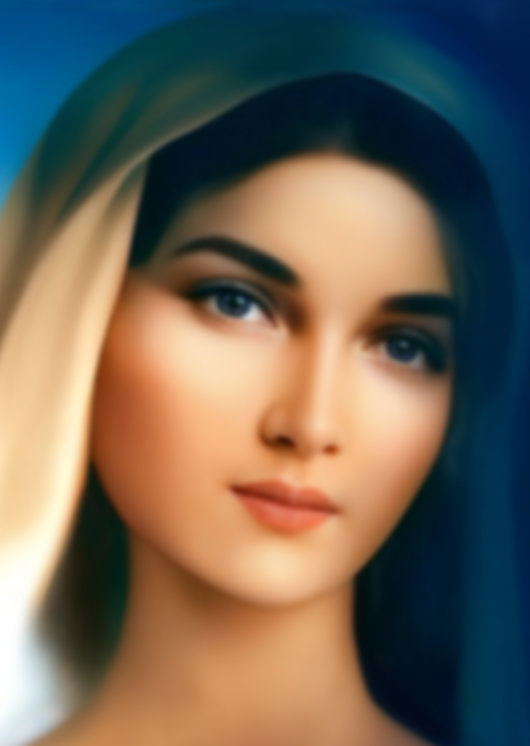 Beloved children of My Immaculate Heart, I bless you.
AS QUEEN AND MOTHER OF THE END TIMES, BEFORE MY SON'S PEOPLE I INSIST ANEW SO THAT, IN A SINGLE HEART, ALL TAKEN BY THE HAND AND WORLDWIDE, WE WOULD TOGETHER FORM A WALL FORTIFIED BY FAITH, BY HOPE AND BY CHARITY.
You should be meek, My children, meek ... And thank the Father for being His children, welcome the Redemption that My Son offers you and be true bearers of the Holy Spirit.
The testimony of My children is continuous and at this instant, during this Novena, you should offer every act and every work for the salvation of all Humanity that is in turmoil, that is confused by the great machinery of evil, that through large organizations presently disguised has succeeded in taking hold of you, so that you would be a People disobedient towards the Father's commands, so that you would not want to accept the Redemption that My Son offers you and so that you would reject being living temples of the Holy Spirit.
I see so many creatures in the world who, with a signature on a sheet of paper that the wind can take and fire burn in seconds, sign in order not to call themselves Christians or belong to the Church of My Son, forgetting that they will never be able to deny being the handiwork of the Eternal Father and, therefore, belonging to My Son and having the Holy Spirit. What great ignorance of these creatures whose minds evil has poisoned, inculcating into them a series of theological contradictions so that they would be apostates. But you, My children, united in this Novena in which I accompany you, when each person says it every day, this Mother and you united will save souls, we will rescue souls, all for the glory of the Most Holy Trinity.
EACH PRAYER THAT YOU ADDRESS TO THE MOST HOLY TRINITY IS A TREASURE; I TAKE IT IN MY HANDS, PLACE IT IN MY HEART AND RAISE IT BEFORE THE THRONE OF THE FATHER, THE SON AND THE HOLY SPIRIT.
No prayer, however brief, is lost if it is done with full awareness, in spirit and in truth. Hence the great difference between praying without knowing what it is that you are saying and when something is done mechanically and out of habit, and what it is to pray. To pray is to meditate on every word that you utter, living it in your own flesh, loving it in the spirit so that I would entrust it to the Most Holy Trinity.
We do not need great speakers or dazzling sentences such as those dictated by some politicians to make a great impression on others. We do not need that, we need prayers from the heart burning with the desire to please God, with the desire to attain Divine Assistance.
HOW MANY OF YOU PRAY ALWAYS THINKING THAT THE MOST HOLY TRINITY AND THIS MOTHER NEED
YOUR PRAYERS? We need love, we are grateful for prayers, but they are taken and are poured out again on each one of you in blessings. You need to pray to be blessed at all times. We need - yes, a true people, not a lukewarm people, we need a convinced and converted people.
THESE DAYS OF THIS NOVENA - SO VERY IMPORTANT, AS THE ETERNAL FATHER SHOWS ME, VERY
IMPORTANT FOR HUMANITY, IN ORDER THAT YOU WOULD BE THOSE WHO WOULD MINISTER TO ONE ANOTHER, AND RAISING UP PRAYERS WITH THE HEART, TAKE THE BLESSINGS THAT ARE POURED
OUT UPON YOU SO THAT THOSE WHO NEED A PRAYER WITH THE HEART TO CONVERT, WOULD
ATTAIN CONVERSION. AFTER THIS NOVENA IS FINISHED, ALL SHOULD KNOW AND SHOULD HAVE THE AWARENESS THAT THERE WAS A 'BEFORE' AND THERE WILL BE AN 'AFTER'. THEN YOU WILL BE CREATURES RENEWED IN LOVE, IN HOPE AND IN CHARITY AND BEARERS OF A DEEP FAITH.
But for this, you must open yourselves up each day, since neither the Most Holy Trinity nor I can intervene by restricting the freedom that God has given to man. Man must dispose himself so as to allow God's action in him. And to this I call you: to open your hearts so that you can be transformed, and even if the mind calls you to follow worldly trends, open your heart and there we will nourish you.
MY CHILDREN SHOULD BE AWARE THAT THE NOVENA DOES NOT FINISH ON AUGUST 28, BUT ITS FRUITS START ON AUGUST 28, WHEN THE TRUE WAY OF CONVERSION WILL BEGIN.
I no longer want lukewarm children who follow Me one day when I ask them to surrender to My Son, but another day I call them and they do not answer me. My Son knocks on your door and you keep it closed. Enough of this now, My children!
The People of My Son must remain firm so that evil would not pervert them, since the devil, such a cunning serpent, has invaded the minds of men through misused technology, and through the mind he has perverted all his senses.
How can you call yourself a child of My Son who loves My Son if you want the death of your brothers? These are the strategies of evil, this is the strategy that the great tentacle, the powerful tentacle of masonry has been weaving through history, and at this instant it is hiding under various organizations that seem attractive to man, such as those that promote trends against the Gift of life.
How can those call themselves Christians who constantly act irreverently, profaning My Son! It is you who need to pray for yourselves to attain forgiveness and blessing, and it is I as Queen and Mother of the End Times - not the end of the world, but of the end times -, who call you to be aware of what is urgent, and as the People of God, to take the decision to renounce the world and its machinations, to renounce Satan and his perversion, to renounce the innovations that pervert you, because in these end times, the devil, knowing the time remaining to him, has launched himself and will launch himself with greater tenacity against the People of My Son in order to diminish you.
Some of My Children feel great fatigue, some of My Children feel spiritual exhaustion, some of My Children feel weak, but do you know what, My children? It is because evil has its eyes upon you, and everyone must entrust themselves daily to the Trinitarian Will and take refuge in the protection of their Guardian Angel and invoke the Angelic Powers to keep you standing and to manage to be firm and determined.
I WANT NO MORE LIES.
I KNOW, I KNOW YOU AND I FEEL WHAT YOU FEEL IN YOUR HEART.
My Son knows you in the least of your thoughts or feelings; I want no more deceit, the People of My Son cannot continue deceiving themselves, because then they will perish, and they need to be saved and reach Eternal Life.
As Queen and Mother of the End Times I say to each one of you:
Be invincible fighters, do not be followers of modernism; if the Commandments could be reformed, this would have been clarified in Sacred Scripture from the beginning, and the Father would have established norms in this regard, but it is not so; reality weighs on some, but the Truth weighs more than some people think. My children have to accept the Divine Command and adore the Cross of My Son, since they maintain themselves in It, and should beseech the Holy Spirit not to depart from you: you should love one another, you should be one single heart.
I hear some requesting that time be shortened, that the Father would come with His Justice now!, but this is because they have not known Divine Justice and therefore ask for it insistently; but when you are faced by It, children, you would already need to be totally converted in order to bear and to be able to love that Justice, because otherwise, in the midst of Divine Justice, some will become apostates, giving up following My Son due to the severity of Divine Justice.
See, My children, how much the Most Holy Trinity loves you and how much I intercede for you, as even at this instant through this invocation and this Novena, Divine Mercy has descended in fullness upon this generation, which does not deserve it, because it has not known how to respond and rebels again and again against the Father. Divine Mercy is so infinite that even seeing you in the state in which the soul of the majority of Humanity finds itself, it descends to offer you the opportunity to amend and return to the path.
THAT IS HOW GREAT IS THE GOD WHOM YOU WISH TO RENOUNCE AT THIS INSTANT...
THIS IS HOW LOVING, HOW CHARITABLE, HOW KIND HE IS, AND THUS HE FORGIVES YOU BECAUSE HIS LOVE IS INFINITE.
My beloved children, may your transformation and the desire for transformation not end on finishing this Novena, but as I have already proclaimed to you before, may this August 28 be the beginning of a resplendent people, of a people reborn in spirit and truth, of a people that have committed to total conversion, because every day is a day of conversion.
THUS IT IS, CHILDREN, THAT I WAIT FOR YOU AT THIS INSTANT AND WILL WAIT FOR YOU UNTIL
ETERNITY TOGETHER WITH THE MOST HOLY TRINITY, BECAUSE I AM THE DAUGHTER OF THE FATHER,
MOTHER OF THE SON AND SPOUSE OF THE HOLY SPIRIT, AND THIS NOVENA WAS GIVEN BY THE FATHER'S MOUTH SO THAT THOSE WHO PRAY IT WITH TRUE LOVE WOULD ATTAIN THE BENEFITS THAT I AS MOTHER OFFER YOU.
I love you and thus I claim you - yes!, I claim you for My Son, I claim you for your salvation, I claim you so that you would love your brothers and sisters, so that you would be true, so that you would not be mediocre practitioners, so that you would not be hypocrites.
WHY DO YOU REFUSE TO DEVOTE SOME INSTANTS OF YOUR LIFE TO MY SON SO THAT YOU WOULD KNOW AND FALL IN LOVE WITH HIM?
WHY IS IT THAT YOU ARE SO FOOLISH, SO DISOBEDIENT, TO THE POINT OF BECOMING COMPARABLE
AS A GENERATION WITH THE GENERATION OF THE FLOOD OR WITH THE INHABITANTS OF SODOM
AND GOMORRAH, SINCE YOU HAVE ACCEPTED SATAN AS YOUR GOD AND HAVE ENTHRONED HIM?
My children, you know that I love you so much that I must mention all of the above so that your hearts might be moved, so that your minds might remember that the Love and Mercy of God are infinite and that even if you renounce being children of God, Mercy stands before you. DO NOT REJECT IT, CHILDREN, DO NOT REJECT IT, ACCEPT THIS MERCY THAT IS OPEN FOR EACH PERSON, FOR ALL.
This is why I have mentioned the Flood and Sodom and Gomorrah, so that you would remember that in those times God found creatures worthy of salvation. Therefore, at this time, also finding creatures striving for salvation, He is sending me as Mother and Teacher to remind you of Mercy. However great the sinner may be, if they truly repent, they will be that Noah who obtained God's Blessing.
My children, the Flood of this time is not a deluge of water, it is a deluge of ideologies that Satan is hurling towards Humanity so that you would be lacking in conscience and submit yourselves to the will of the infernal dragon and his empire, the strongest tentacle of that dragon on earth being Freemasonry.
My children, as Mother I bless you, as Mother I offer you My Love and My Heart so that you would enter into it, and as Queen and Mother of the End Times I ask that each one of you would be that child whom the Father's Hand protects and is born from the Hand of the Father as His creator, representing the Holy Remnant. Do not forget Our beloved Angel of Peace who will come to present Himself to Humanity once the Antichrist is subjecting the People of My Son, so that he would not be confused with the Antichrist.
TODAY I PRESENT THE ANGEL OF PEACE TO HUMANITY ...
A NEW CREATURE, A CREATURE INSTRUCTED BY THE MOST HOLY TRINITY, A CREATURE WHO, IN THE
LIKENESS OF JOHN THE BAPTIST, WILL CRY OUT EVEN IN THE DESERT OF THIS GENERATION SO THAT YOU WOULD RETURN TO AND CONTINUE THE PATH TOWARDS SALVATION.
My children, do not tire of praying; whoever does not pray with the heart finds the path heavy and difficult - pray, children, pray with the heart, learn to pray with the heart.
I bless all of you who on this day have started this holy Novena with love and faith.
I bless you in the name of the Father, the Son and the Holy Spirit. Amen
Mother Mary
HAIL MARY MOST PURE, CONCEIVED WITHOUT SIN
HAIL MARY MOST PURE, CONCEIVED WITHOUT SIN
HAIL MARY MOST PURE, CONCEIVED WITHOUT SIN