Saturday, August 25, 2018
Message of Our Lord Jesus Christ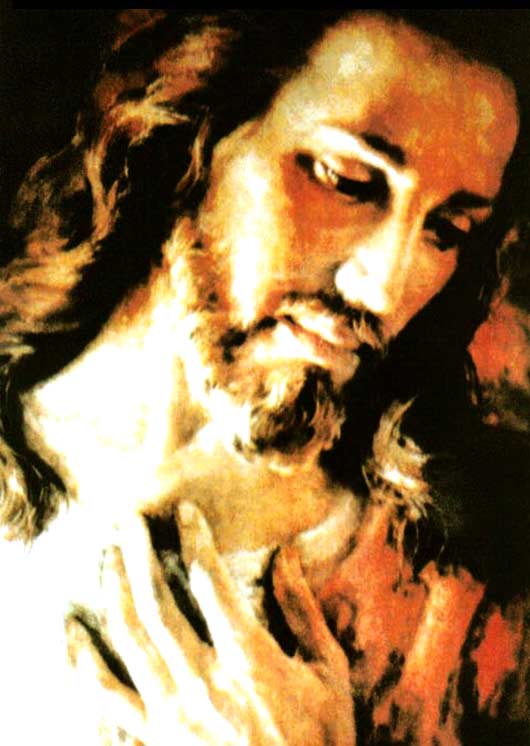 My beloved People:
RECEIVE MY LOVE AND MY BLESSING.
My faithful People will arise with force after the tares have been burned; they will arise no longer capable of being deceived or overcome by the tares and will no longer be confused with the tares or with the lukewarm.
By strengthening themselves with My Word, My Body and My Blood, with My Mother's Love and Her Word, My People will not be brought down by the fall of others of My children who follow men. Their faith will remain in Me.
A People that does not pray is a People subject to the attack of the devil at all instant, without a truce.
Vigilance, My People!, part of the Institution of My Church has fallen into grave errors due to the lack of serious, firm and proper instruction in houses of formation and the lack of truth of some who do not have the ardent desire to serve me in spirit and truth.
IT IS NECESSARY THAT THE FILTER OF FAITHFULNESS BE A SUPPORT IN THE HOUSES OF FORMATION FOR THOSE WHO WISH TO BE A PART OF MY PRIESTHOOD, OF MY MALE AND FEMALE RELIGIOUS.
MY HEART IS GRIEVED AT SO MANY FAULTS COMMITTED BY SOME OF MY PRIESTLY SONS AGAINST THE INNOCENT AMONG MY PEOPLE. Measures towards My priestly People need to be examined so that clarity would quickly prevail, "Woe to the man who is the cause of sin! It would be better for him to be cast into the sea with a millstone tied around his neck than to make one of these little ones fall into sin."(Lk 17: 1-2).
I do not accept the deceptions or the shamelessness with which the wiles of the devil are being deployed towards My innocents.
I need Truth rigorously established in the Institution of My Church so that My priests would be faithful to Me, firm in the faith, dedicated to their ministry and in holiness.
MY PEOPLE ARE SINGLED OUT FOR LOVING ME, BUT SOME OF MY REPRESENTATIVES ARE MY GREAT PAIN, MY SHAME BEFORE HUMANITY THAT REJECTS AND REFUSES ME.
THESE ARE INSTANTS IN WHICH MY PEOPLE SHOULD KEEP ON NOURISHING THEMSELVES WITH FAITH AND SHOULD KEEP THE COMMANDMENTS ALIVE AND CLING TO THEM.
My People, learn to recognize My Word and do not rely on times or days for spiritual awakening. Every instant is a time written by My Father in the great Book of Life, every instant is for you as if it were the last of your lives; at this instant My children should not wait to convert, neither should they reject My Calls.
The aberrations My People commit all over the world are the product of living without My Love and the product of the desire to cling to what is worldly and sinful, to be accepted by a human love without values and without rules.
My People know Me and know that they should not live a distorted love.
You need an inner change, each person individually, in order to live within My Love that is True Love, and not allow thoughts to alter you, nor allow the mind to control the senses or fly off and lead you to believe in what is not sure. Have hearts of flesh so that everything would flow inside; if the heart is clean, the physical and spiritual senses keep fulfilling their function properly, and after a great process of purification, they will see to it that your life and work are a testimony that evangelizes without words.
The hypocrite is not a witness to Me; he easily finds a place for himself with grand phrases, but he who lives in My Love is prepared to be sculpted, he requires himself to be better the whole while, not only for personal benefit, but for that of his brothers and sisters. The hypocrite points the finger, imposes himself, knows no charity, and nothing seems good to him, or else he always says: "I have not decided, I am thinking about the call" - this is avoiding committing oneself to Me.
This is what you, My People, recognize in a greater number of brothers; being My true child goes beyond a prayer, an act of service in a church, it goes beyond a testimony. MY TRUE CHILDREN ARE THOSE WHO GIVE THEMSELVES FOR ME, THOSE WHO KNOW ME, THOSE WHO DO NOT REPEAT MY WORD, BUT THOSE THAT MAKE IT LIVE AND ABUNDANTLY, THOSE WHO ARE DISCOVERING THE "HIDDEN TREASURE", THOSE WHO DO NOT CLING TO WHAT IS EARTHLY, THOSE WHO CONTINUOUSLY THANK AND ADORE OUR TRINITY, THOSE WHO LOVE MY MOTHER AS I LOVE HER...
My beloved People, the path to be followed is steep, under the sun and without water; shoes will wear out yet you must continue towards the summit.
Do not depart from Me, continue being My children. Be those who carry out the Will of My Father and do not accept modern trends.
Pray for Mexico, it will again be shaken.
My Church is being shaken and will be increasingly so, being in the news because of the god of money.
My beloved People, the Earth emanates the unease of man's soul, Nature continues to meet him, climatic variations are indecipherable, they have an impact on man, climates are new.
Food is scarce, steps on the odyssey in search of water are underway.
My beloved People, how I have warned you, and you have not learned and not repented!
Receive with faith the blessings that My Mother, as Queen and Mother of the End Times, gives to each one of you.
I bless you.
Your Jesus
HAIL MARY MOST PURE, CONCEIVED WITHOUT SIN
HAIL MARY MOST PURE, CONCEIVED WITHOUT SIN
HAIL MARY MOST PURE, CONCEIVED WITHOUT SIN