Sunday, August 26, 2018
Message from Our Lord Jesus Christ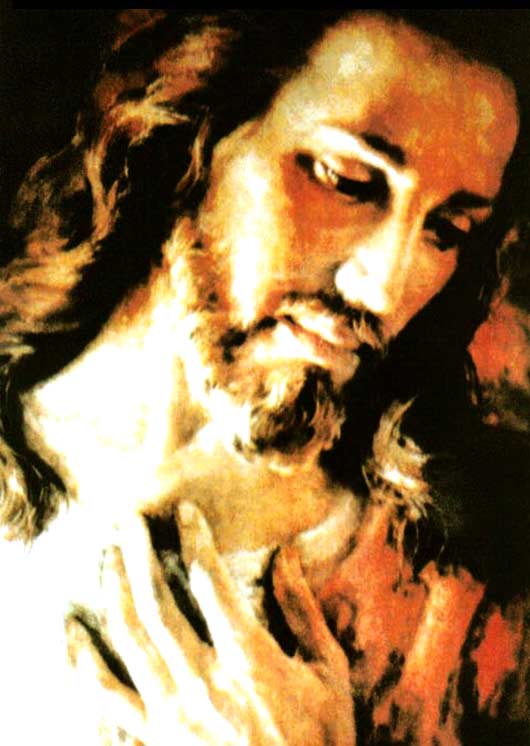 My beloved People:
From My Side from where My Church was born and where I emanated Blood and Water, from that same Side I again emanate Blood and the Oil of My Love to awaken My People faced with so much pain that they are causing Me at this instant, above all in My Church through her hierarchy that is a cause for scandal.
I REQUIRE HOLINESS, AND ALL THOSE WHO CONSECRATE THEIR LIFE TO MY SERVICE HAVE THIS AS A COMMAND.
It was not enough for the devil to introduce his smoke into My Church, but, profiting from the lack of prayer and true dedication of some of My priests to Me, he took hold of their minds and aroused perverse desires, base passions and utterly deviant desires of the flesh. This is a hard lesson for My Church, it is the shaking of My Church of which I
AM THE HEAD.
AT THIS INSTANT MY SIDE IS OPENED AGAIN, AND FROM IT I EMANATE BLOOD OF PAIN AT HOW MANY
SINS AND OFFENSES OF THIS NATURE ARE CAUSING HARM TO MY INNOCENTS - PHYSICAL AND SPIRITUAL HARM.
I emanate Oil of My Love for My faithful, because in the streets, part of Humanity is ferociously screaming out: "Crucify him, crucify him again" and the hierarchy of My Church keeps silence.
WHAT HAVE I DONE TO YOU, MY PEOPLE?
It is urgent that you repent, My People ...
It is urgent that you take responsibility for your errors and convert ...
Sexual deviation at this instant exceeds all limits, because satan knows that by this means he is leading My children to total perdition, deviating them from their nature.
MY SIDE IS OPENED AND EMANATES BLOOD AND OIL OF MY LOVE TO SUMMON MY PEOPLE, not only in
prayer, not only in reparation, but so that My lay People would unite and be bearers of a strong call for change towards their brothers and sisters, sharing My Word and their personal testimony. For this you must be knowers of Sacred Scripture and faithful to My Word, without distorting it.
DO NOT BE APOSTATES! WORK, LABOUR IN AND OUT OF SEASON.
I am saddened by the fact that evil fights freely in the streets of cities and communities, while My pastors close the doors to those who wish to share My Word with My brothers My Word, that which I share with them.
My children must labour on the side of good and not be accomplices of evil, muzzling the good.
YOU, MY CHILDREN, BE THE VOICE OF GOOD!
I bless you.
Your Jesus
HAIL MARY MOST PURE, CONCEIVED WITHOUT SIN
HAIL MARY MOST PURE, CONCEIVED WITHOUT SIN HAIL MARY MOST PURE, CONCEIVED WITHOUT SIN
MANIFESTATION AND MESSAGE FROM OUR LORD JESUS CHRIST TO LUZ DE MARÍA 08.26.2018
On the night of August 26, an intense aroma began to be perceived in the home of Luz de Maria.
Once again a Divine wonder makes itself visible and palpable.
The image of Our Lord Jesus Christ has begun to shed oil from His side.
The Word of the suffering Christ, crucified for man, is expressed through His Instrument Luz de Maria...
With the intention of bringing the revealed word closer to those who for so long have shared these messages, and with Luz de Maria's awareness, we have put up the recording of the message received with her voice and that expresses in ecstasy part of the pain of Christ for us His children.