Thursday, August 30, 2018
Message from the Blessed Virgin Mary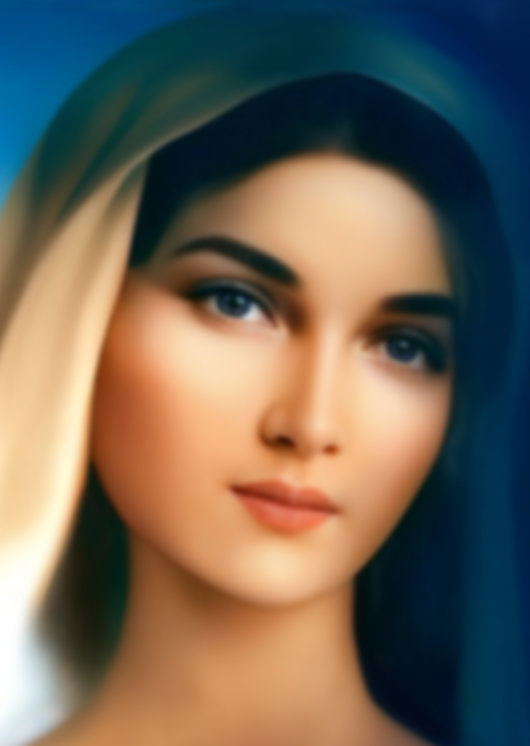 Beloved children of My Immaculate Heart:
RECEIVE THE BLESSING OF MY LOVE, BALSAM AT THIS INSTANT WHEN YOU NEED THE BLESSINGS OF HEAVEN TO CONTINUE IN THE MIDST OF SUCH AN ONSLAUGHT WHICH YOU ARE UNDERGOING.
Trials are necessary for all My children, it is necessary that you come out of comfort, of daily habits, of having whatever you like, for the good of the soul. It is good for My children to be aware that being children of My Son does not make them immune to trials. It is precisely in the midst of trials that man seeks, desires and implores the Most Holy Trinity for the help of Divine Mercy so that miracles would occur. AND THE MIRACLE THAT YOU SHOULD HUMBLY REQUEST IS FIRSTLY THE SALVATION OF THE SOUL AND THEN THAT OF THE BODY, IF THAT IS THE
DIVINE WILL, THE SALVATION OF THE SOUL AND THEN THE SOLUTION TO WHAT IS HAPPENING TO YOU.
You need the existence of Divine Love in the life of each person so that the creature would flourish and bear fruits of Eternal Life.
Beloved, man suffers from rebellion and has entered into enmity towards the Most Holy Trinity, this Mother and with everything that reminds you of Divinity, because you want to live in licentiousness and without being told what is wrong.
THE CENTER OF EACH PERSON IS GOD and, therefore, by rejecting God, man rejects and with his free will renounces Divine Love, losing the axis on which his life is rotating, losing spiritual balance. Man finds himself surrendering to evil, accepting it as his god, he puts up no resistance, and facing it he is dragged into being a participant in wrong deeds and acts.
Beloved children of My Immaculate Heart:
I BEG YOU TO PENETRATE WITHIN YOURSELVES AND TRULY TO COME TO KNOW YOURSELVES SO THAT, LOOKING INSIDE YOURSELVES, YOU WOULD COMMIT TO AN IMMEDIATE CHANGE.
Looking inside yourselves, you will find the strength and security of faith in God, and at the same time you will discover what is holding you back from attaining fusion with the Divine Will.
IN TURNING AWAY FROM DIVINE LOVE MAN HAS WEAKENED HIMSELF SPIRITUALLY, and having been
alerted that this generation finds itself in the fulfillment of the Prophecies, you are a generation of great advances; however, man has delayed spiritual progress, since he has not thought that what is spiritual is indispensable in daily life and is a very important part of man so that, as a human creature, he would reproduce the good that exists within him.
AS QUEEN AND MOTHER OF THE END TIMES I GIVE YOU:
My Heart, so that you would be protected in My Son ...
My Eyes, so that you would see good and want conversion ...
My Rays of light, so that the latter would reach all Humanity ...
My Feet, so that you would be faithful to the path of conversion and not stop under the sun, nor under the water ... I call you to look at the Earth so that you would understand Its value and so that each person would seek to bring peace among the Peoples ...
I offer you My Holy Rosary, because without prayer you cannot reach God ...
I call you to be like children so that you would be worthy of the protection of the Heavenly Father, being authentic and true, since you need spiritual goods at this instant and need to know how to put them into practice.
MY CHILDREN NEED TO BE MORE SPIRITUAL, TO KEEP FAITH ALIVE SO THAT IT WOULD SUPPLY YOU
WITH THE CLARITY THAT IS BORN INSIDE MAN AND SO THAT YOUR WORKS AND DEEDS WOULD BE FOR THE GOOD.
My children, do not lose Salvation, voluntarily protect the soul, nourishing the spiritual senses with a true vision, loving what God has bequeathed to the human race so that you might walk within the Divine Will and understand that obedience is the oil that sees to it that the rudder of Divine Love keeps the human creature in the Palm of His Divine Hand.
Beloved children of My Immaculate Heart:
YOU WILL COME TO FACE MORE CONFUSION THAN AT THIS INSTANT, AND ONLY LOVING GOD AS HE ORDAINS AND LOVING YOUR NEIGHBOR AS HE ORDAINS WILL YOU BE ABLE TO FACE THE CONFUSION WITHOUT FALLING INTO THE HANDS OF EVIL.
My children have the knowledge that evil attracts evil, until the creature freely commits to true repentance and decides to fulfill a firm purpose of amendment in order to convert, emanating different work and action, attached to the good. My children act within the good at all instants so that the good leads them to be true and to work in communion with the Divine Will.
My children, the core of the Earth is in an increased and unusual state of vibration, causing the Earth's layers to expand and contract; Humanity is subjected to facing telluric movements of greater intensity and frequency. Children, do not forget that coastal areas are the most exposed to tsunamis and other sea events.
Pray, the West Coast of the United States shakes, Japan continues to contaminate.
Evil moves very quickly at this instant in all areas, the Church is experiencing critical instants; My Heart bleeds because of this. As Mother of Humanity I suffer for those who transgress the Divine Law. Man's folly and failure to remain united with My Son have led man to rise up against God. Part of Humanity wants to make any trace reminding it of the Most Holy Trinity or this Mother disappear.
Evil moves lukewarm men (cf. Rev 3,16) and those who renounce God.
You, children of My Immaculate Heart, persevere, do not falter, do not forget that My Immaculate Heart will triumph and that I as Queen and Mother of the End Times intercede for each one of My children, even if you do not ask Me.
I DO NOT REST, MY CHILDREN, I AM QUEEN AND MOTHER AND I RESCUE THE GREATEST NUMBER OF
SOULS FOR THE DIVINE GLORY; I THEREFORE CALL YOU TO BE LOVE, TO MAINTAIN FAITH, HOPE AND TO BE CHARITABLE, WITHOUT ALLOWING DESPAIR TO TAKE AWAY YOUR TRANQUILITY.
DO NOT FEAR, HERE I AM: I AM YOUR MOTHER AND I LOVE YOU, I INTERCEDE FOR YOU.
MAY GOD BE ADORED, ONE AND THREE!
I bless you
Mother Mary
HAIL MARY MOST PURE, CONCEIVED WITHOUT SIN
HAIL MARY MOST PURE, CONCEIVED WITHOUT SIN
HAIL MARY MOST PURE, CONCEIVED WITHOUT SIN
(*) A reference to the nuclear disaster at the Fukushima plant following the 2011 earthquake and where even today it is still not possible to control the radioactive contamination, which for the most part is spilled out into the sea.