Wednesday, September 5, 2018
Message of the Blessed Virgin Mary Given in Puerto Rico Before a Manifestation from an Image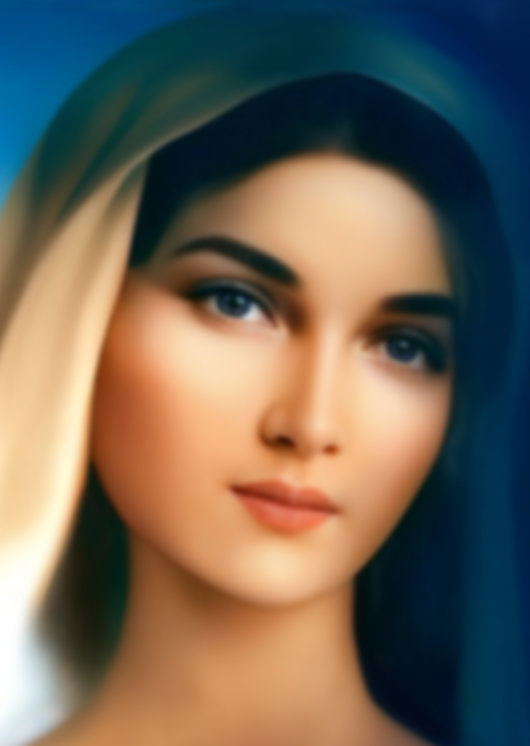 Beloved children of My Immaculate Heart.
MY SON LOVES YOU, AND AT THIS INSTANT HE MANIFEST HIMSELF BEFORE YOU BECAUSE OF EVERYTHING THAT HUMANITY IS CAUSING HIM...
My Son constantly suffers His Passion in every rejection, in every pain, in every profanation, in all lack of love among you.
AS MY SON'S PEOPLE, I NEED YOU TO SEE IN EVERY BROTHER AND SISTER MY SON ON THE CROSS, SUFFERING FOR EACH ONE OF YOU, MY CHILDREN.
ENOUGH NOW!
The suffering of My Son is so great!...
His suffering is so great faced with this Humanity that constantly rejects Him! ...
Look at Him, My children, on His Cross where He gave Himself for you and constantly gives Himself for each one of you...
See Him shedding His Tears, My children...
See My Son suffering...
At every instant His Passion is renewed, at every instant He is crucified...
His Passion is lived and constantly renewed in those who profane Him, who reject Him, who commit abuses against the innocent.
Beloved children of My Immaculate Heart:
IT IS URGENT THAT MY SON'S PEOPLE TAKE ONE ANOTHER BY THE HAND AND THAT YOU DECIDE TO BE MORE SPIRITUAL AND DECIDE TO COMBAT EVIL WITH CONVERSION.
There is so much so that you ignore, My children!
So much that is approaching Humanity!
And even seeing what is happening in the world and how the behavior of men has changed, even so you do not intend to fight against sin ...
With how much pain in My Heart I see My Son suffering again and again for His People!
With how much pain in My Heart as Mother of Humanity I call you again and again and you do not attend to My Pleas!
And I see how the devil is distancing My children from everything that represents the Divinity and I see you dismissing every sign over and over again; you reject The Commandments over and over again, The Sacraments, you mock the Sacramentals, but how are you not going to mock these if you reject God: you have taken Him out of your lives, you have thrown Him out of your heart and therefore the devil has hardened your hearts and has driven the mind of Humanity crazy so that it goes even further astray.
BELOVED CHILDREN, I BESEECH YOU, MAY EACH ONE OF YOU BE A SPOKESPERSON FOR THE LOVE OF MY SON, may everyone take My Son's Word to their brothers and sisters. There are so many souls being lost! ... And the devil has decided to poison the minds of those who serve My Son.
IT IS URGENT, MY CHILDREN, IT IS URGENT THAT YOU PRAY, THAT YOU BEND YOUR KNEES, AND IT IS
URGENT THAT YOU BEND THE KNEES OF THE HUMAN EGO SO THAT YOU DO NOT RISE UP AGAINST THE MOST HOLY TRINITY.
Beloved children of Mine, how is it that your hearts are not moved! ... There are so many events that you yourselves generate because Creation sees you as totally indifferent to It, because you disobey, you do not fulfill the Divine Law, you are not attuned to the Creation...
IT IS URGENT THAT YOU DO NOT FORGET THAT MY SON IS MERCY, BUT EACH OF YOU ON THE WAY IS FORGING MERCY FOR YOURSELVES, EACH PERSON IS DESERVING OF DIVINE MERCY, but when you leave
the path, you scorn the Most Holy Trinity and accept the devil as a god for you, at that instant you are scorning that Divine Mercy with your free will.
I do not want you to be lost; return to the Path, My children, return to the Path, CONVERT! Repent from the heart and amend your path: even those who have committed grave sins, REPENT, confess your sins, as My Son will not delay in pouring out His Mercy upon you.
Beloved children of My Immaculate Heart:
How many, how many more of My children will suffer?
How many more of My children will join the ranks of the devil?
My Son suffers because of this and I also suffer for it.
If you are going to receive My Son, ask in what spiritual condition you find yourselves. Be fearful lest anyone forge their own condemnation.
My Children:
I AM NOT A MOTHER WHO BRINGS YOU ONLY MISFORTUNE, I AM A MOTHER OF LOVE AND THAT IS WHY I WARN YOU, BECAUSE I DO NOT WANT MY CHILDREN TO JOIN THE RANKS OF SATAN.
Do not accept anything contrary to the Law of God because then you will be complicit. You must obey in spirit and truth, you must enter into this Heart of My Son so that you understand that calling oneself a Christian is not a word, but is about entering into infinite Love, infinite Faith, infinite Charity and into infinite Mercy and Goodness. To be a Christian is to pulsate within the Heart of My Son in order to be a doer of the Divine Will.
Pray My children, pray for this wanton Humanity being taken towards the abyss by the reins of evil.
Pray My children, pray for Venezuela that is suffering.
Pray for Nicaragua, this People are suffering.
Pray My children for Argentina: you have disobeyed this Mother and will suffer what I announced to you in the Name of the Most Holy Trinity.
There will be a great event on a global scale, but even so, man, caught up in his whims and debauchery, will pay no heed but rebel more against the Most Holy Trinity and against this Mother.
I FORGIVE ALL OF THOSE WHO TAKE MY IMAGES THAT REPRESENT ME IN ORDER TO COMMIT IMPURE ACTS, AND MY SON MANIFEST HIMSELF BECAUSE HE IS SAYING TO YOU:
"I FORGIVE YOU, I AM INFINITE MERCY, BUT RETURN TO ME, SO THAT EVIL DOES NOT DEFEAT YOU,
RETURN TO ME!"
I bless you in the Name of the Father and of the Son and of the Holy Spirit.
Mother Mary.
HAIL MARY MOST PURE, CONCEIVED WITHOUT SIN
HAIL MARY MOST PURE, CONCEIVED WITHOUT SIN HAIL MARY MOST PURE, CONCEIVED WITHOUT SIN
ABOUT THE MANIFESTATION FROM THE IMAGE
Luz de Maria being in the city of San Juan, Puerto Rico on September 5, 2018, by night, a crucifix of Jesus in agony located in her room began to manifest itself with oil and a red liquid which we believe is blood, with an intense perfume which increased as the oil welled up from the crucifix...
Heaven once again seeks to draw its children's attention, depicting the word revealed and simultaneously explaining the miracle, since at the same time our Blessed Mother transmits a call through Her Instrument.
A miracle of Love condensed in the Oil as a symbol of Peace and Reconciliation, offered by God to His Children at a difficult and decisive instant for all humanity.