Monday, September 17, 2018
Message from Our Lord Jesus Christ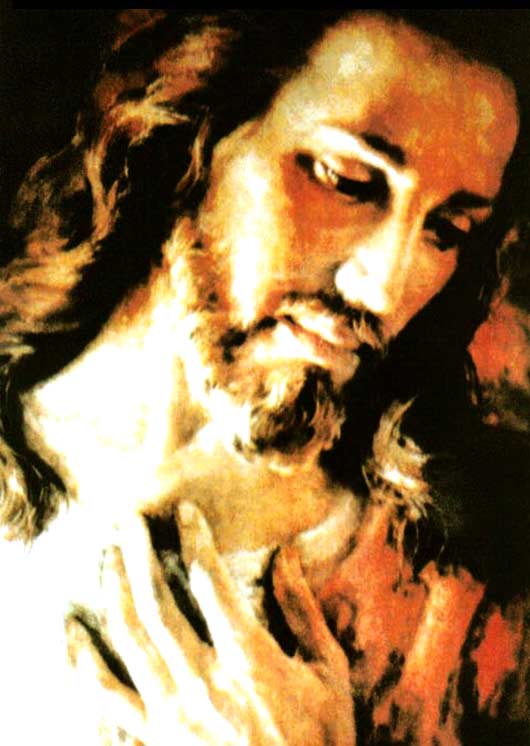 My beloved People:
I BLESS YOU. WITHIN MY WOUNDS I HOLD EACH PERSON IN ORDER TO MAKE THEM PARTICIPANTS IN MY LOVE.
My People maintain their faith in Me, so they will continue standing without faltering or being distracted by those who wish to contaminate them with false doctrines or unhealthy liberal concepts that are the property of the devil.
My People are a People of victory who walk in compliance with the Divine Law, discerning and saying "no!" to what is contrary to Our Divine Will.
My children are surprised by the attacks of the devil who overtakes them, striking them fiercely where he can produce more scandal in order to make a greater impact.
My Church is experiencing instants of uncertainty, being scourged, having neglected since time ago - some of My consecrated – unity with Our House, and having become disproportionately entangled with the affairs of the world, neglecting their obligation of shepherding My Flock, In the face of which the faith of some of My children is shaken due to lack of love towards Our Sacrosanct Trinity and towards My Most Blessed Mother.
HUMANITY HAS NOT PAUSED TO MEDITATE ON THIS INSTANT OF TRANSFORMATION OF WHICH I HAVE
BEEN WARNING YOU, because you go through life by inertia, you have not learned to think or reason, you live without looking ahead nor to the side, due to a terrible submission to everything that facilitates coexistence on Earth without the slightest effort. Therefore, it is comfortable and easy for the devil to draw My children towards what is sinful and to what I as Your God abhor.
Humanity constantly lives with the arrogance within which the struggle of powers occurs, generating the pride with which My children forget Me and forget the Requests of My Mother, devoting themselves to showing off especially what is material, within an "ego" inflated by material possessions.
I COME TO EACH ONE OF YOU LIKE A BEGGAR TO PLEAD FOR WHAT IS MINE AND WHICH I GAVE YOU
TO ADMINISTER, but you have not been good administrators and have taken possession of what I gave you, refusing to listen to My Word, My Calls and the urgent Requests of My Mother so that you come out of your misery and save your soul.
YOU CONTINUE BEING SPIRITUALLY LUKEWARM, RUBBING UP AGAINST EVIL AND RESORTING TO ME
WHEN YOU ARE DOWNCAST, TIRED OR AFFLICTED, BUT YOU LOOK AT ME FROM AFAR IN ORDER NOT TO DETACH YOURSELVES COMPLETELY FROM WHAT IS WORLDLY AND SINFUL.
My beloved People, commence going in the direction of fraternity; those who live comfortably in this instant, will come to be welcomed by some of their brothers and sisters whom they despise at this instant or view with distrust. Those who in the eyes of the world seem devoid of intellect are some of those whom I have chosen to send My Word and that of My Mother in this precise instant when the hordes of evil are everywhere scourging Humanity, deaf and absorbed in sin.
MY PEOPLE SHOULD ASSIST ONE ANOTHER, BEING UNITED SO THAT EVIL DOES NOT BRING THEM
DOWN, BUT GREED HAS TAKEN HOLD OF MAN SO THAT HE FEELS LIKE A KING AND LORD AND DESPISE THE NEEDY, FORGETTING THAT THE ONE YOU REGARD AS NEEDY MAY OWN MY HEART AND RECEIVE MY ETERNAL GOODS.
My children, Heaven labors tirelessly, moving hardened hearts and minds gone astray, minds obsessed by evil and given over to the depraved desires that I abhor (cf. Prov 6,16-17). My House labors tirelessly so that thoughts do not prevent man from being obedient to My Requests and refusing sin.
My People need to react and not depend on the way of the world; My People must be faithful to My urgent Calls, faced with a Humanity that is constantly fighting against itself. The constant innovations presented to you by evil are leading you to the worst moral decay of all periods in the history of mankind.
My People, I have called you to rectify the wrong work and action due to which you mock Me. The human being will taste the bitter cup of justice, finding itself facing what it has generated for itself.
YOU ARE LIVING INSTANTS IN WHICH MY MERCY REMAINS ATTENTIVE TO ALL THOSE WHO WITH A
SINCERE HEART SEEK ME IN ORDER TO AMEND THEIR PATH, AND WITH SADNESS I RECEIVE THE
REJECTION OF MY CHILDREN WHO, SUBJECT TO EVIL, HAVE DEVOTED THEMSELVES TO SOWING SIN IN THE WEAK, THE LITTLE AND THE MOST FRAGILE.
Hypocrites the ones who mock Me by praying in haste in order to rush off to meet with sin. I AM NOT THE GOD OF THE DEAD, BUT OF THE LIVING.
The shadows will go from being shadows to becoming the most terrible darkness that will not give way to clarity until the vault of Heaven is illuminated by two celestial bodies that will touch and illuminate the entire Earth. The day will be brighter and the night will be like the day - I am speaking to you of the Warning – an instant in which every person will be alone with their own conscience faced with their sins, this instant being so intense that some will not resist in experiencing their own evil, without being able to be helped by any brother or sister, since each person will experience that instant in a particular way, but at the same time, at which point everything on Earth will be paralyzed by Me. Man will find himself alone, suffering his own sin or rejoicing in his devotion and truth.
ALL THE ABOVE IS NOT A FANTASY BUT MY TRUTH, BECAUSE I DO NOT ACT WITHOUT WARNING MY PEOPLE (cf. Am 3.7).
My beloved People, how much suffering because of refusing to live within the Divine Law!
You deny everything that I tell you in order to continue with unbridled licentiousness. Your travelling companions, your guardians, suffer the unspeakable because of man's behavior on the path of perdition.
The nations are suffering the least: the true purification will begin and the human creature will lament to the end over its bad behavior and disobedience.
My People, do not neglect the praxis of prayer, be constant in your works and acts. The Earth continues its fierce shaking in one country or another, therefore prayer for one another is necessary - do not forget Chile, Japan and Mexico.
Do not forget prayer for countries invaded and persecuted by communism and by minds manipulated and driven mad by the desire for world power, which will lead Humanity to war.
The Earth will shake to such a degree that some of My poor children will call Me desperately, without loving or obeying Me. They are dry hearts like the fig tree.
My People, I carry you in My Heart. I bless you and I love you so much as I do not want anyone to be lost.
UNITE! YOU CANNOT WALK ALONE, UNITE! DO NOT FEAR, I COVER YOU WITH MY LOVE; BE TRUE.
I bless you.
Your Jesus
HAIL MARY MOST PURE, CONCEIVED WITHOUT SIN
HAIL MARY MOST PURE, CONCEIVED WITHOUT SIN
HAIL MARY MOST PURE, CONCEIVED WITHOUT SIN