Friday, September 28, 2018
Message from Our Lord Jesus Christ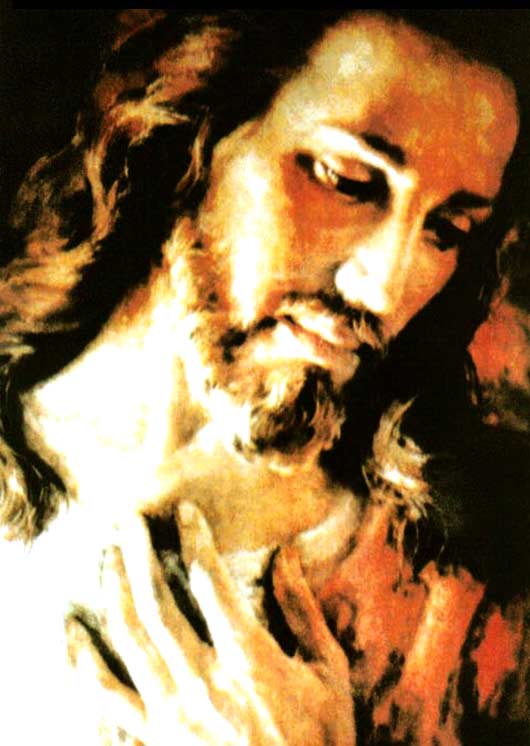 My beloved People:
IN MY HEART YOU FIND MERCY FOR ALL.
The human creature must correspond to Our Divine Love. Everyone is responsible for their personal salvation and, within Humanity, each one must set themselves as a goal the salvation of their brothers and sisters. You cannot give what you do not have: if your personal goal is not to merge with Our Will, you cannot be witnesses to Our Love towards your brothers and sisters.
You have not understood that when Divine Love is lacking in the life of man, the latter falls into the vileness that evil infuses in societies so that sin is permitted as being right. Acts of rebellion towards Our Trinity and towards My Mother denote the advance of evil at this instant for a Humanity that has been taken over by the hordes of satan, who promised to introduce his evil among My Mother's children.
Sin proliferates just like yeast grows; instantaneously everything around it is stained by evil acts and works, sometimes because of little or no relationship to the affairs of Our House.
MY BELOVED PEOPLE, YOU FIND YOURSELVES IN THE INSTANT REVEALED BY MY MOTHER AND BY
ME, WHEN EVERY DAY SHOULD BE A NEW BIRTH FOR YOU, IN WHICH YOU MAINTAIN THE STRENGTH OF MY SPIRIT SO THAT YOU DO NOT FALL INTO THE ATTACKS OF THE EVIL ONE TO WHICH HUMANITY IS CONSTANTLY BEING SUBJECTED.
Confusion reigns at this instant: inappropriate acts, acts of sin, acts of immorality, acts of heresy, acts of evil and sacrileges are viewed and regarded with great indifference by a great number of those who claim to be My children. What is false and improper, sinful, has embedded itself in man and the latter has enjoyed living within what is improper. The Flood, the destruction of the Tower of Babel, Nineveh and the destruction of Sodom and Gomorrah have not surpassed the atrocious behavior of this generation in which great nations have turned themselves into elites of Babylon the Great.
"THEY DID NOT TAKE ANY NOTICE UNTIL THE FLOOD CAME AND SWEPT THEM ALL AWAY" (Mt 24,39)
My beloved People, do not walk carrying sin: you know The Commandments and you cannot alter them, but on the contrary, those who desecrate the Word of My Father are falling into the hands of the infernal dragon and are cooperating with the evil project of raising up the one who will arise to impersonate Me, forming the single government, the single religion, the single currency with which he will control the whole of Humanity in every respect. Age of terror that My children have been enabling him, yielding to the falsehoods of those who betray Me and crucify My children. I call you to amend your path, My children, I call you to conversion.
HUMANITY WILL BE TAKEN UNAWARES BY THESE EVENTS THAT YOU PERSISTENTLY DENY, forgetting
that evil will never recognize its wrongdoing as such. My children are ignorant of these events that My Mother and I have revealed to you, as with the confusion of My People at this instant when within My Church the waters of the evil that has operated undercover are being stirred up.
My Mercy is inexhaustible, therefore I call you to conversion and to make amends, before evil catches you and does not allow you to extract yourselves from its clutches.
MY PEOPLE, THIS IS THE INSTANT THAT MY MOTHER ANTICIPATED FOR YOU IN HER REVELATIONS;
CONFUSION WILL COME AND MY CHILDREN WILL NOT DIFFERENTIATE WHERE THERE IS EVIL FROM
WHERE THERE IS GOOD. THIS IS THE INSTANT IN WHICH THE WHEAT AND THE TARES ARE PLACED ON THE SCALES AND YOU WATCH WITHOUT RECOGNIZING IT...
You have not recognized the errors of evil committed, but you go on from evil to evil, in the absence of a conscience that has been crushed by human arrogance and the whims of living in debauchery and accepting the devil as your god.
The Earth is threatened by celestial bodies that pass nearby, and you are not aware of it. That the Earth's axis will change is not far off, given the unusual and increased temperatures in the core of the earth.
Great changes will happen throughout the Earth, Nature will strike great nations and small nations over and over again. Man attached to money will fall without that god that he has created and of which he is proud.
YOU ARE THE ONES WHO WILL WITNESS THE GREAT CHANGES TO THE EARTH, THE GREAT CATACLYSMS, AND IN THE END YOU WILL SAY: EVERYTHING WARNED ABOUT HAS BEEN FULFILLED.
My People, be aware of the offenses that you are causing Our Trinity and My Mother; a single one of you who is aware of it and is not a participant in the horrors with which you offend the Power of Our Trinity, is a balm that ascends to Our Throne.
The little souls that labor in obedience, those who do not hold back facing Our Requests for amendment and remain attentive to the Calls of Our House and of My Mother, THOSE LITTLE SOULS MUST UNITE AT THE PRECISE INSTANT WHEN OUR HOUSE TELLS THEM, IN EVERY PLACE WHERE THEY RESIDE. THEY ARE PART OF THE HOLY REMNANT, OF THE REMAINING FAITHFUL.
My People, I call you at this instant when Humanity's turmoil is increasing and does not stop, at this instant when My faithful are being singled out and My instruments denied. My people, do not falter, as I do not forsake My children, those who have fought to save their souls - they will sit at the Table of the Divine Feast. (cf. Lk. 14,15)
I protect you, I bless you. I do not let you out of My Sight, I keep you within My Heart.
Your Jesus
HAIL MARY MOST PURE, CONCEIVED WITHOUT SIN
HAIL MARY MOST PURE, CONCEIVED WITHOUT SIN HAIL MARY MOST PURE, CONCEIVED WITHOUT SIN