Wednesday, October 10, 2018
Message from Our Lord Jesus Christ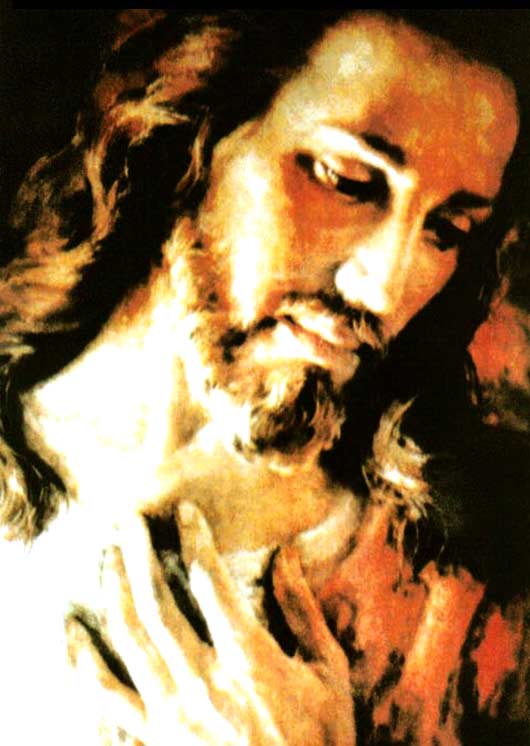 The Lord shares with me.
My daughter:
The inexorable passage of the fulfillment of the Revelations of the end times will cease to be a reason for derision, for distrust, for scandal for some and of unease for others on seeing that human time is passing and what has been announced has not been fulfilled.
My children must realize that man's time is not Divine Time.
My people constantly refuse to convert, departing from Me, creating an ever greater distance from Our Trinity, and with repeated folly and obstinacy they have taken the devil as their god, banishing me from their lives.
HOW MUCH MY MOTHER HAS REVEALED AND WHAT I HAVE REVEALED TO MY TRUE INSTRUMENTS IS BEFALLING HUMANITY. THE FULFILLMENT OF EVERY WORD THAT WE HAVE EXPRESSED IN THE MESSAGES IN ORDER THAT MY PEOPLE PREPARES SPIRITUALLY, GOES AHEAD.
YOU VIEW THESE REVELATIONS WITH DISTRUST OR UNEASE, ALL THE SAME YOU WILL SEE BEFORE YOUR OWN EYES, STEP BY STEP, THE FULFILLMENT OF WHAT HAS BEEN ANNOUNCED PREVIOUSLY.
My Church has come to make judgments, has come to dictate norms that are not contemplated within the Divine Law. Man has rebelled against Our Most Sacred Trinity, against My Most Holy Mother and against all those children of Mine who still resist falling into debauchery, into being casual, and who continue to fight hard to become more aware of what it means to call oneself a true Christian and not be trapped by the harmful and demonic influences that freemasonry, embedded in posts of high command, has set about sending to My People so that they are more liberal in every respect and renounce the Gift of conscience that dictates to them what is right and what is not right.
I CALL YOU BACK TO INTERIOR SPIRITUALIZATION IN ORDER THAT YOUR PHYSICAL SENSES ACT IN
ACCORDANCE WITH YOUR SPIRITUALIZED INTERNAL SENSES; YOUR SPIRITUAL ORGANIZATION MUST RISE UP AND BE GUIDED BY A RIGHT CONSCIENCE, SO THAT THE LATTER ASSISTS YOU IN THE DISCERNMENT BETWEEN GOOD AND EVIL.
Once more I have to tell you that the economies of the world will fall one by one, they will be brought down, and those who have encoded their lives in the god of money will find themselves in a terrible state of despair, so much so that some will not be able to bear it.
Now indeed I tell you, My children, that the poor person will feel rich, because they will no longer lack what they need and do not own, but the rich and ostentatious person will feel poor, because they will lack what they put on display and will be unable to own anymore.
My Beloved People, the intensity with which Nature strikes the Earth and its inhabitants is another sign of the distance that My People maintain with respect to My Will.
Impurity reigns everywhere, but I still have creatures who love Me, and those souls are to be found interceding for those who do not believe, do not love Me and do not wait for Me.
My Will is salvation ...
My Will is more than saying prayers ...
"It is my Will that all men should be saved and come to the knowledge of the Truth" (I Tim. 2: 4), and that knowledge is what will make you free, but truly free...
Be free, turn away from impiety, from the slaughter of innocents, immorality, sexual disturbance, dissatisfaction with everything and because of everything, the rebelliousness of those who do not obey me and who do not want to change because that is what they have intended.
AT THIS MOMENT MY CHILDREN WHO HAVE NOT BEEN INTENDING TO CONVERT VOLUNTARILY, WILL BE TRAPPED BY THE EVIL ONE... MAN MUST DEVOTE HIMSELF TO A TOTAL AND ABSOLUTE SPIRITUAL CHANGE.
My Children:
THERE IS NO TIME, YOU WILL CONTINUE HEARING OF OR EXPERIENCING THE SCOURGING OF NATURE
BECAUSE THE FULFILLMENT OF TPROPHECIES OF MY MOTHER CONTINUES ITS COURSE, AS HAS HAPPENED THROUGHOUT HISTORY, AND THIS GENERATION WILL SEE ITS CULMINATION. I THEREFORE CALL YOU TO QUICKEN YOUR STEP BECAUSE YOU ARE MOVING SLOWLY.
I call you to unite, to unify and intensify fraternity; I call you to compile the Messages in which My Mother or I have given you the natural medicines necessary for you to face the great pestilences, plagues, diseases and chemical contaminations to which you, as Humanity, will be exposed, because it is not only Nature that rebels against man, but also those who, with petty and selfish interests, have conspired to exterminate much of Humanity.
SINS AT THIS INSTANT ARE SO TERRIBLE THAT THEY CAUSE ME DISGUST AND A DEEP PAIN WHEN
SEEING MY CHILDREN COMMITTING SINS AND NOT REPENTING PROMPTLY, WHICH LEADS YOU TO SUFFER DOUBLE AND VIOLENTLY.
I do not mention dates - these are in My Father's power, but I do have to warn you of the proximity of the Purification.
The sin of Humanity is so great and so horrific that Our Divine Will suffers with those who suffer because of the constant persecutions that happen when one wants to quell sin.
BLESSED SOULS, DO NOT GROW FAINT, SEE ME WITHIN YOURSELVES, DO NOT SEEK ME OUTSIDE, AS I AM TO BE FOUND WITHIN YOU; DRAW NEAR TO ME.
I am not pleased that My People are conformed to the old man who always carries the same sin. Know that I want you to be LOVE, principally LOVE FOR YOUR NEIGHBOR, because whoever does not love their brother or sister is far from being called a Christian, since whoever does not love is hypocritical, because whoever does not love and does not forgive their brother or sister, or their nearest, still less will they be able to love Me, for "I Am Who I Am" (Ex 3,14), and to love Me, you must free yourself from the burdens that keep you from coming before Me.
My Beloved People:
YOU ARE ON THE TIP OF THE ICEBERG AND THE ICEBERG IS MELTING LITTLE BY LITTLE, THEREFORE
MY ANGELS AND ARCHANGELS ARE SEALING MY PEOPLE, BUT THAT DOES NOT MEAN THAT YOU
WILL BE FREE OF THE PERSECUTIONS OR THAT YOU MUST NOT EQUIP YOURSELVES WITH WHAT IS
NECESSARY AT THE PRECISE INSTANT. YOU WILL –YES - BE GUARDED BY MY MOTHER IN ORDER FOR THE LOAD TO BE LIGHTER. FOR THIS YOUR REPENTANCE IS NECESSARY.
Be fraternal. The instant will come when you will have to gather in small communities, and you know it. With My Love present in you, transform your character, learn not to wound and to forgive your brothers and sisters so that in those hard moments you are those who bring My Comfort and My Love to your brothers and sisters.
Man's wickedness will cause invasions in large countries first, and some of My consecrated ones will suffer to the utmost and will have to flee to preserve their lives.
IN THE MIDST OF SO MUCH SIN THAT CAUSES ME NAUSEA, WHEN YOU COME TO ME HAVING
REPENTED, I SEE YOU AS IF FOR THE FIRST TIME AND FORGIVE YOU AND CONTINUE LOVING YOU. MY LOVE IS INFINITE. DO NOT FORGET TO LOVE MY MOTHER, DO NOT FORGET IT.
I bless you in the Name of the Father, in My Name and in the Name of Our Holy Spirit.
Amen.
Your Jesus
HAIL MARY MOST PURE, CONCEIVED WITHOUT SIN
HAIL MARY MOST PURE, CONCEIVED WITHOUT SIN
HAIL MARY MOST PURE, CONCEIVED WITHOUT SIN