Thursday, October 18, 2018
Message from the Blessed Virgin Mary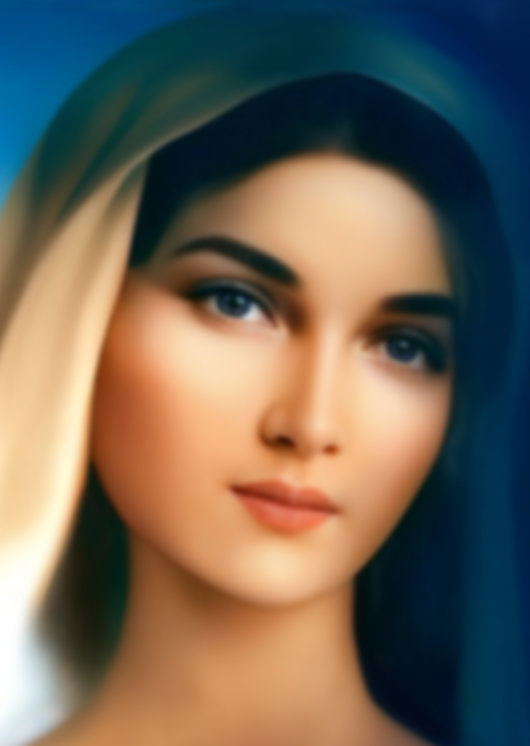 Beloved children of My Immaculate Heart:
IN MY SON'S EVERY GAZE TOWARDS HUMANITY, HIS LOVE EXPANDS FOR THOSE SOULS THAT ARE PREPARED TO RECEIVE HIM.
The Love of My Son is so infinite that it is inexhaustible, so much so that it goes after sinners awaiting their repentance.
My Son constantly calls you to be aware of the reality in which you are living, of the misfortune that you are choosing, of the future towards which you are going, obeying of your own free will the unbridled innovations of groups that are trying to impose themselves on society.
As Humanity you have scorned the gifts and virtues that are latent in man, who is created in the image and likeness of God (cf. Gen. 1:27); you have turned away, of your own free will, from what can lead you to save your souls.
Beloved children of My Immaculate Heart:
DO NOT FALTER, CONTINUE MAKING AN EFFORT, GIVING EVERYTHING, EVEN THOUGH YOU ARE DESPISED, OFFENDED; DO NOT LOOK AT YOURSELVES, BUT LOVINGLY OFFER PAINS AND JOYS FOR THE SALVATION OF SOULS.
My children are testimonies of Love, of Faith, of Hope, of Charity, and fulfillers of the Law of God and of the Sacraments. My children are action; they find happiness in coming to the aid of their brothers and sisters.
Children, maintain unity, at this instant the enemy of the soul is lunging at Humanity in his desperation to attract souls, since he knows that within the confusion that is approaching he can cause those who are lukewarm or have based their faith on a human being and not on God to stumble. For this reason, I call you to go more deeply into the call that each one of you has as a child of God, into the greatness of being children of God, and for this you must not become attached to worldly matters that separate you from God's Truth.
BELOVED CHILDREN, DO NOT WASTE YOUR LIFE ON ACTS OR ACTIONS THAT DISTANCE YOU FROM ETERNAL LIFE; TAKE THE STEP NOW, DECIDE TO SURRENDER TO MY SON'S CALL.
SOME THINK THEY HAVE ALL THE TIME AT THEIR DISPOSAL TO MAKE A CHOICE ABOUT THEIR SALVATION IN THE FINAL HOUR. THIS IS NOT SO, MY BELOVED CHILDREN!
HOW CONCERNED YOU ARE WITH THE THINGS OF THE WORLD!
How much you have received from the Most Holy Trinity, and how you resist surrendering yourselves to Infinite Mercy...!
Some carry the Holy Rosary around their necks, in their pockets, in their hands and yet –
How many are they who devote themselves as they proclaim before starting each mystery?
How many are living true life in God?...
How many forgive?...
How many live in spiritual wretchedness, immersed in material possessions, telling the Most Holy Trinity "I LIVE SPIRITUALITY MY WAY" and end up without living a true life in God?...
How many mornings have you said to God "give me time, tomorrow I will stop everything that I must stop and make amends", and that tomorrow arrives and you repeat it again because you live trapped in some vice, sin, wrongdoing that you do not want to stop?...
BELOVED CHILDREN, THERE IS NO TIME, IT HAS RUN OUT AND YOU NEED TO LIVE EVERY DAY AS IF IT WERE THE LAST.
You know how many calamities are occurring throughout the world, you know about the variations of the climate, you know about atmospheric phenomena, you know about the constant movement of the earth: earthquakes happen constantly, volcanoes erupt. Children, be aware that phenomena are occurring at the same instant, one after another, and this calls you to stop and look at the signs of this instant.
The great trials are coming and I want you to be prepared. As the People of God, you will not be abandoned by the Divine Will or by this Mother.
Then, at the height of the suffering, the Angel of Peace will come to help the People of God, to take you by the hand so that you continue and not be lost, because facing great trials, some of My children will feel that they cannot go on, and our beloved Angel of Peace, with the Divine Word expressed in Sacred Scripture, will rekindle their faith in the Most Holy Trinity, and the People of God will acquire new strength and will be a single People within Divine Love.
Beloved children of My Immaculate Heart, keep in your prayers the countries that suffer and for those who suffer from famine. Do not forget to pray for Mexico, do not neglect your brothers and sisters in Venezuela and Nicaragua in your prayers.
Beloved children, do not wait, do not say: "tomorrow I will do what I did not do today". You must be determined regarding the salvation of your soul, you cannot wait to convert in the future, God speaks to you in so many ways and still you are blinded by stubbornness, forgetting out of convenience that the wheat and the chaff will not be together, they are going to be separated.
COMMIT TO BEING OF GOD AND FOR GOD, SURRENDER, FOR GOD WILL MOLD YOU WITH LOVE AND MERCY, BUT SURRENDER NOW!
As Mother of Humanity I call you vehemently to be determined and to convert, to see the signs of this instant, to turn away from occasions for sin, to be Love for your neighbor and to comply with the Divine Will. There are so many who carry on as if they were playing with God, they do not totally detach themselves from the bonds that keep them away from true surrender. It is the instant for "yes, yes!" or "no, no!" (cf. James 5:12).
Beloved children of My Immaculate Heart, pray with your heart.
I bless you, I love you.
Mother Mary
HAIL MARY MOST PURE, CONCEIVED WITHOUT SIN
HAIL MARY MOST PURE, CONCEIVED WITHOUT SIN
HAIL MARY MOST PURE, CONCEIVED WITHOUT SIN