Monday, October 22, 2018
Message from Our Lord Jesus Christ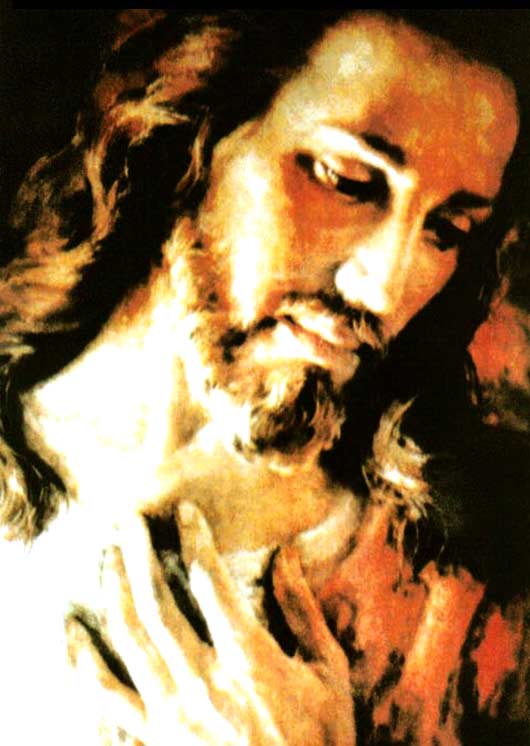 My beloved People:
WHEN YOU COME TO ME I SEE YOU AS FOR THE FIRST TIME, IF YOUR HEART IS CONTRITE AND HUMBLED BY THE OFFENSES COMMITTED AGAINST OUR MOST HOLY TRINITY.
Seek Me before it is too late! The son of iniquity will come, taking My place and confusing those who do not recognize Me; he will make them persecutors of their brothers and sisters, and servants of evil.
My beloved People:
AT THE INSTANT YOU ARE LIVING IN THE PRELUDE TO WHAT HAS BEEN ANNOUNCED...
Those who serve the elite, which sends out the directives of the son of iniquity, have set about confusing those who are Mine so that they turn away from Me.
The son of iniquity is sending out orders so that his followers cause instability in the world through direct confrontation with the Divine Law, so that his followers revolt against the Sacraments, rejecting the Divine and accepting what is of man.
So it will be until I send what men of good will, those who live in spirit and truth, those who are faithful to My Word, love of God and neighbor constantly ask Me, saying: "LORD, COME, HURRY! MAY THE REVELATIONS BE FULFILLED, SEND THE WARNING".
There is too much filth: what should be purity has been invaded by impurity and what is impure has been disguised, welcomed, applauded and agreed to, with the wolves in sheep's clothing bowing in reverence before it (cf. Mt. 7:15).
My beloved People:
SIGNS DO NOT INTEREST MAN; THEY DO NOT MAKE HIM RECONSIDER. YOU PAY NO ATTENTION TO THE SIGNS, but anguish comes among the nations, perplexed by the roaring of the sea and the waves, an event that will not happen infrequently, but that will take place with great regularity.
EVIL ENCRUSTS ITSELF IN THE HEARTS OF THOSE WHO TAKE MY WORD LIGHTLY WITHOUT A LIFE OF PRAYER AND ITS PRACTICE, NOT BEING CHARITABLE AND RESPECTFUL TOWARDS THEIR NEIGHBORS. Selfishness is such that the one who has wants to have more and the one who does not have does not think of those who are dying because of hunger, lack of medication, life in unhealthy environments.
The thought of man is dulled with debauchery: some of My Churches have ceased to be houses of prayer and are transformed into places of shame and hypocrisy, handing them over to the service of the worship of evil, where men in a frenzy due to brazen songs and loud music open themselves to the devil's insinuations.
My People must remain attentive to what is happening around them, you cannot accept modern trends but must adhere to My Doctrine and to My Law that contains the Eternal News applicable to all times. THE DIVINE LAW IS NOT GIVEN FOR A SPECIFIC TIME, BUT FOR ALL THE AGES OF HUMANITY; NOT ONE LETTER WILL BE TAKEN AWAY, NOR WILL ANOTHER BE ADDED (Mt. 5:18).
My beloved People, you receive loving Warnings in order that you convert, although you do not heed them but rather heed the call of evil, of immorality.
The mind of man is atrophied through worldliness; your mind rides the storm and feels good doing so. Reason is not used to distinguish good from evil, but on the contrary, to participate in new forms of depravity.
The ease on which men can count for entering into what is forbidden has contributed to the fact that man's ego demands nourishment; such nourishment is not that of My Word, but what makes the ego grow within evil. Few are My children who enjoy the Things of Me to nourish them: there are few who love Me with the Spirit of Truth.
How you lacerate Me, children, when you come to receive Me without being aware of who I Am, without prior repentance, without loving Me! You do not know how many are condemned because of these attitudes or take it as a vain word, but there are so many who forge their own condemnation!
MY BELOVED PEOPLE, NATURAL EVENTS ARE GROWING STRONGER IN A SURPRISING AND IRREGULAR WAY.
Have you forgotten that before the Warning comes you will see amazing things in Nature? Have you forgotten that there will be confusion?
Have you forgotten that men will move from one country to another in search of help?
Have you forgotten that the climate will not be the same, but in places where the seasons were clearly marked it will no longer be so; there will be two seasons in most countries, and where it was cold, there will be heat and where there was heat, there will be cold?
Man, altered by what he eats, by what his brain receives and the contamination to which he is exposed in every respect, will be so violent that he will not control himself, attacking everything that comes before him.
My beloved People:
FOR SOME MY WORDS ARE FOLLY, FOR OTHERS THEY ARE MERCY ...
EVERYONE TAKES THEIR OWN MEASURE, I SEND IT OUT FOR EVERYONE.
JUST AS THE SUN GIVES LIGHT TO ALL, SO MY LOVE IS FOR ALL: THE JUST AND THE UNJUST.
THE SUN WAS CREATED TO LIGHTEN THE DAY AND MY WORD IS GIVEN TO ENLIGHTEN SOULS.
Do not be ashamed, those of you who love Me; I will not be ashamed of you.
Pray and be prayer in praxis; offer up for Italy, it will experience desolation. In your prayers do not forget the United States, a cause for scandal in the world.
My beloved People:
DO NOT WAIT TO CONVERT ...
WHAT WILL BECOME OF ME IF MY CHILDREN DO NOT WANT TO COME TO ME?
Love My Mother: She listens to you and consoles you, loves you and intercedes for each one of you, even for those who do not love her and who disrespect her.
Be creatures of peace, not only before your brothers and sisters, but deep down.
Be love, not only before your brothers and sisters, but in the depths of your heart.
YOU ARE MY PEOPLE AND MY PEOPLE ARE MY VINEYARD, I TEND IT WITH SPECIAL CARE...
MY LOVE IS POURED OUT UPON YOU.
Your Jesus.
HAIL MARY MOST PURE, CONCEIVED WITHOUT SIN
HAIL MARY MOST PURE, CONCEIVED WITHOUT SIN
HAIL MARY MOST PURE, CONCEIVED WITHOUT SIN