Monday, October 29, 2018
Message from the Blessed Virgin Mary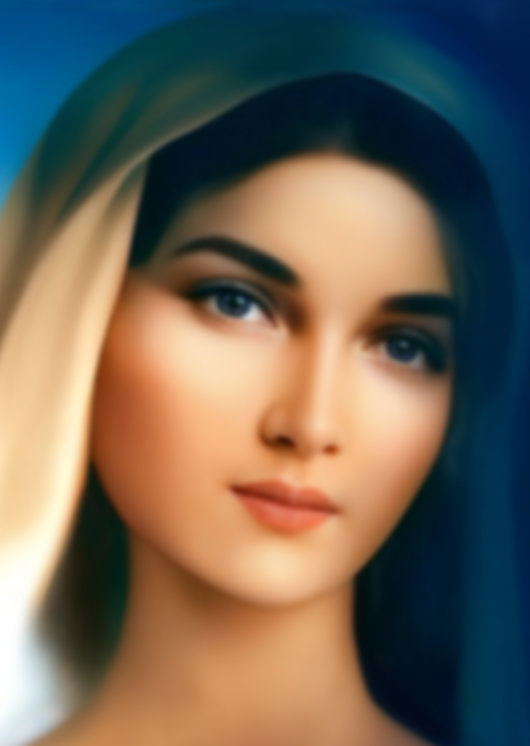 Beloved children of My Immaculate Heart:
I KEEP MY PROTECTIVE MANTLE OVER MY SON'S PEOPLE, PROTECTING AND GUIDING THEM SO THAT THEY DISCERN BETWEEN GOOD AND EVIL.
I WILL NOT KEEP MY VOICE SILENT SO THAT MY CHILDREN BECOME LOST AND SURRENDER THEIR SOULS TO THE DEVIL!
It is imperative that you nourish the faith of each one of you by continuously renewing your conscience so that it does not become lax, and so that conscience, made fruitful in union with My Son, would be close to the Divine Will and lead you firmly, as a source of Grace, on the right path.
Keep your responsibility of being children of God latent, and as children of the King, lead a life in God and for God as a fundamental principle. My Son's People must be strong, especially in order to face what you have never seen: FROM THE VAULT OF HEAVEN YOU WILL RECEIVE A SIGN THAT WILL MAKE YOU TREMBLE.
Beloved children, you do not analyze the fact that My Son suffers for you who forget him ... My Son did not ascend to Heaven and forget about you, My Son continues to suffer for His People, He wants you close to the Trinitarian Will.
You live in the world, but are not of the world ... (cf. Rom 12,2) You live in the world, but not so that you would be lost...
LIFE IS SOMETHING MORE THAN EXISTING AND TAKING UP SPACE...
MAN MUST TRANSCEND AND BE CONSCIOUS OF ETERNAL LIFE, WHICH YOU SHOULD ALREADY BE BUILDING.
I cannot hide from you the instant of regrets and trials in which you are living and which will proliferate everywhere. Man's tears will be constant and your firmness in the faith will have to have been strengthened in order for you not to fall.
Beloved children:
DO NOT FEAR OR RETREAT: BE TRUE, BE CONSTANT, DO NOT FALTER IN LOVE FOR GOD AND NEIGHBOR.
I do not call you to confront your brothers, but you must not keep silent facing the terrible faults that are being committed against the Gift of life, against respect for the churches dedicated to My Son's service. YOU SHOULD NOT BE LUKEWARM CREATURES WHO VIEW WITH INDIFFERENCE THE HORRIBLE SACRILEGES THAT HAVE ENTERED INTO MY SON'S CHURCH THROUGH LIBERALISM.
My children will move constantly, invading nations, which will then send them to defend those who welcomed them; because of this uprisings in countries will gradually be started until turmoil increases and the invasions of various countries begin.
As a Mother, I invite you in your prayers not to forget Italy, which will suffer.
Offer a fast, those of you whose health allows it, for Russia.
Be fraternal and pray for Europe, invasion will be a reality and its streets will be stained with blood.
My beloved children, I have asked you for the daily prayer of the Holy Rosary and to conclude, I commend you not to forget to make reparation for those who worship satan and who at the end of this month entrust themselves to him with inhuman and unthinkable rituals, giving themselves over to the realization of every kind of heresy and desecration that is requested of them, as well as killing their brothers in rituals of darkness.
THE DEVIL EXISTS, therefore: he works to intoxicate and confuse human beings with his black and evil arts.
This generation is going away from My Son and preparing to serve the Antichrist.
WHEN MAN GOES AWAY FROM GOD, THE HUMAN BEING DESCENDS SPIRITUALLY TO THE DARKEST AND DREARIEST PLACES THAT IT HAS EVER KNOWN.
The arts of evil are practiced by many human beings, thus raising up a force that had been minimized and at this instant is coming back up, contaminating some of My Son's People with its evil.
My beloved ones, you must be firm, strong and make the decision to be reunited with My Son so that nothing can separate you. The lack of Love within man makes love the great stranger of this instant.
I ASK YOU TO BE FRATERNAL, THAT YOU WOULD BE AWARE OF THE NEED TO HELP ONE ANOTHER AND OF NEEDING TO BECOME SPIRITUAL.
Beloved children of My Immaculate Heart: wake up as My Son's People!
Evil is invading that which belongs to My Son in order to contaminate everything in its path and you, for lack of a true devotion, pretend to forget what Eternal Life is (cf. Jn 17,3)
YOU CONTENT YOURSELVES WITH LISTENING TO MASS ONCE A WEEK AND CONTINUE BEING AMONG
THE LUKEWARM. HOW WRONG YOU ARE, MY CHILDREN! THIS IS NOT BEING A MEMBER OF MY SON'S PEOPLE, BUT BEING PART OF THE CHAFF THAT IS CUT DOWN AND THROWN INTO THE FIRE ... (cf. Mt
13,30).
EXAMINE YOURSELF, EACH ONE OF YOU! EXAMINE YOURSELF WITH THE TRUTH! Do not lie to yourself and
do not forget that, being human, you fall into what is wrong again and again, but it is serving evil if you continue in error without recognizing it, and boasting about it.
COME, CHILDREN, AS I TAKE YOU BY THE HAND AND PRESENT YOU TO MY SON; I GUIDE YOU TOWARDS THE ONE WHO IS THE LOVE OF LOVES AND THE ABSOLUTE GOOD.
I bless you
Mother Mary
HAIL MARY MOST PURE, CONCEIVED WITHOUT SIN
HAIL MARY MOST PURE, CONCEIVED WITHOUT SIN
HAIL MARY MOST PURE, CONCEIVED WITHOUT SIN