Saturday, November 3, 2018
Message from Our Lord Jesus Christ California, Usa -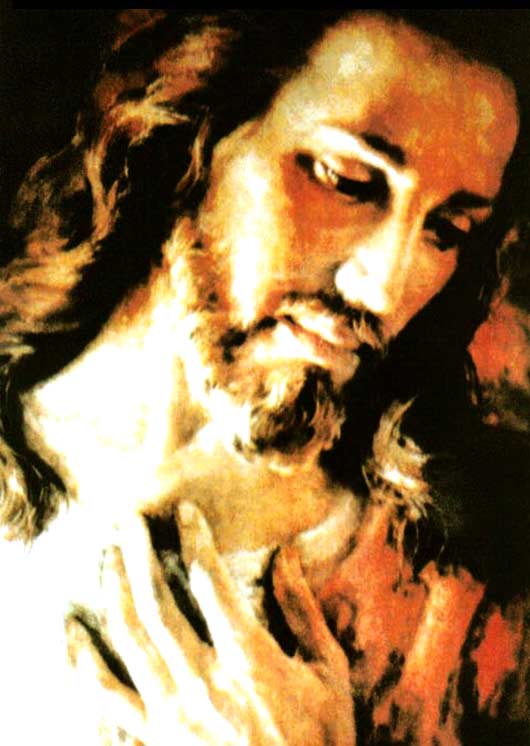 FOLLOWING THE MANIFESTATION OF A CRUCIFIX
My Beloved People:
SEE ME HERE LIKE A BEGGAR OF LOVE BEFORE EACH OF YOU...
How I love you, how I love you, My people!
Even looking at Me you deny Me, and how many wish to silence My Words!
Although they will silence My instruments, I will show Myself to My People in My Way because I love you and I need My children to be aware of the urgency of My Call, of the need for you at this instant to unite with Our Most Holy Trinity in Love.
How many, ignoring My Calls, continue to give the appearance of tearing their garments, but at the least obstacle they stop believing and lose faith in Our Trinity. HOW VOLATILE IS HUMAN LOVE THAT IN ONE BREATH LOVES ME AND IN ONE BREATH STOPS LOVING ME! I AS A FATHER NEED YOU, BUT YOU AS CHILDREN NEED ME MORE...
IT IS URGENT FOR YOU, MY PEOPLE, TO RESUME THE PATH SERIOUSLY, because those who continue
wandering from one side to the other do not think that it will be more difficult for them to overcome all the tests to which they will be subjected.
How can you live calling yourselves brothers if at this instant thousands and thousands of children are dying of hunger in the world? And you let it go unnoticed.
How many and how many millions of innocent children are aborted out of contempt for the Gift of life by those who bear them in their womb! And this is what is leading Humanity into chaos: contempt for the greatest Gift that My Father has given to man.
My Beloved People, great suffering is approaching the world, more than you know, more than you have come to experience, suffering that will reach the bowels of the human being and this because of disobedience, because of surrendering to evil. You do not understand that the devil is taking possession of My People and rising up in My People because you surrender My Place to him. It is because you are still so unaware that, even seeing the great mistakes you are making, the great heresies and desecrations that are committed against Me and everything that can denote My Presence, My Love, My Call, it is because you are still so unaware that you view all this as if it were something normal.
WHERE IS YOUR CONSCIENCE AS MY PEOPLE WHEN YOU SMILE AT A DECADENT AND IMMORAL SPECTACLE, EVEN INSIDE SOME OF MY CHURCHES? As My People, you should not be present at these desecrations.
There are so many souls who do not heed My Calls and continue within the machinations of satan and I, like a madman of Love for My People, call you again and again to become aware of the weight of these acts and other sacrilegious acts that are being committed within My Church that says it loves me. It is the case that the weight of so much human folly is making you sink, My People.
HOW MANY LAUGH AT MY MOTHER'S CALLS AND THESE MANIFESTATIONS OF MINE!
Beloved People of Mine, you must pray in season and out of season, but at the same time you must transform prayer into constant evangelization with the testimony of Love.
I do not wish that within My People you pretend to love one another; I do not want My People to be hypocritical, showing before others that they love Me when it is not true.
And it is the case that some will look at My Manifestations from afar thinking that where I show myself it is because suffering will be only in that land.
Understand that the great dormant volcanic monsters are awakening; understand that great earthquakes will happen in one place or another.
IT IS NECESSARY FOR MAN TO DESIRE TO BE SPIRITUAL, FOR HIM TO DESIRE TO BE SPIRITUAL FOR
HIMSELF AND IN FULL AWARENESS, SINCE IT IS NOT ONLY BY BEING RELIGIOUS THAT ONE COMES TO ME, BUT THAT I AM IN FRONT OF MY PEOPLE AND WISH THAT YOU WOULD BE MORE SPIRITUAL SO
THAT THEN YOU WOULD SUCCEED IN PASSING THROUGH SO MUCH TRIAL AND EMERGE VICTORIOUS BY THE HAND OF MY MOTHER - YES, BY THE HAND OF MY MOTHER, THE WOMAN CLOTHED WITH THE SUN, FULL OF GRACE, THE DOOR OF HEAVEN, AND BY MY HAND.
How many sorrows My People are experiencing and how many are spreading to all Humanity! Nature will scourge you fiercely.
HERE I AM, CHILDREN, BEFORE YOU, PRESENT IN EACH PERSON: DO NOT SEEK ME OUTSIDE - I NEED, YES, I NEED YOU TO LEARN TO SEARCH FOR ME WITHIN.
I have warned you that great signs would occur in the Vault of Heaven, and they are occurring: you have experienced some of them and you will have to wait for others.
My Beloveds, nature is constantly scourging man, but at the same time you will witness spectacles never before seen by man so that you would be aware that I am with you and that for Our Trinity nothing is impossible. Pay attention, My children, pay attention, because the behavior of some of Earth's great leaders is leading to chaos, suffering and destruction, leading Humanity to chaos.
ADHERE TO THE GOSPEL... BE TRUE, ADHERE TO THE GOSPEL, LIVE IT IN SPIRIT AND TRUTH, AND SEE ME HERE LIKE A BEGGAR OF LOVE BEFORE EACH ONE OF YOU.
I love you, I bless you.
Your Jesus.
HAIL MARY MOST PURE, CONCEIVED WITHOUT SIN
HAIL MARY MOST PURE, CONCEIVED WITHOUT SIN
HAIL MARY MOST PURE, CONCEIVED WITHOUT SIN