Thursday, November 8, 2018
Message from the Blessed Virgin Mary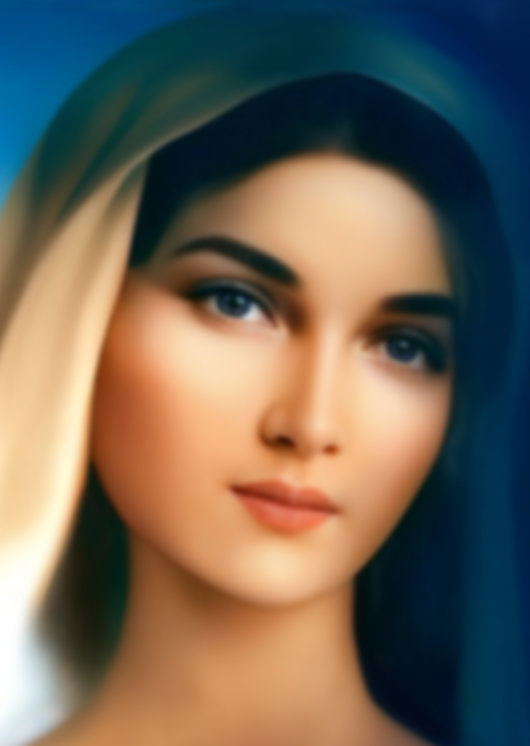 Beloved children of My Immaculate Heart:
I OFFER YOU THE WATER FROM THE FOUNT OF DIVINE MERCY SO THAT YOU CONVERT AND NOT DEPART FROM THE RIGHT PATH.
My children must persevere, although the waters are stormy and you do not see the horizon clearly; Faith works the most indescribable and unthinkable miracles.
MY CHILDREN MUST BE HUMBLE AND PROSTRATE THEMSELVES BEFORE THE MOST HOLY TRINITY WHEN THEY ARE TROUBLED. The act of humility opens the door and gives the light that the human being needs in order to go in the right direction at the precise instant and not make hasty decisions that are not God's Will.
My beloveds, you know full well that the devil and his followers spare no resources in order to make even just one of My children fall, because they know in advance that by My Hand I will bring whoever entrusts themselves to My care before the Divine Presence.
You are living in the midst of turmoil coming to you from one extreme and to another in all areas in which man evolves. The mind is continually being attacked so that it causes the spiritual senses to stray and make them break out against My Son and against everything related to the path of holiness.
The effervescence of evil is proliferating everywhere, and how many members of My Son's People are striving to labor in season and out of season so that souls are not lost?
They are so few, so few, and so many are they who are becoming ferocious wolves against My Son's People!...
THE ONE WHO SAYS THAT THEY LOVE MY SON YET REFUSES TO COMPLY WITH THE DIVINE LAW IS A HYPOCRITE.
THE HUMAN BEING WHO SAYS THEY LOVE ME AND BECOMES A PERSECUTOR OF THEIR OWN
BROTHERS AND SISTERS, WHEN THEIR HUMAN EGO DOES NOT SHARE THE SAME THOUGHT, FEELING OR THE SAME UNDERSTANDING, IS A HYPOCRITE.
There are so many obstacles surrounding My children, so many temptations in all areas, that at this instant you are all being tested: in Faith, in humility, in Hope, in Charity, and the family is being tested because the devil needs to destroy the institution of the family in order to bring down the cradle of love for God.
YOU HAVE INTRODUCED THE MOST FEROCIOUS OF THE ARTIFACTS WITH WHICH HUMANITY HAS BECOME MODERNIZED: TELEVISION, and homes have been transformed into centers of grave perversions, gymnasia where each individual trains to placate the requests that the devil makes through this medium in order to make man fall, leading him to uncontrolled ambition for everything, being a puppet in the hands of the devil, who has cunningly evolved through misused technology that harms the souls of My children.
Everything has been said: man will worship the false gods created by himself and will live without God, Creator of Heaven and Earth; he will feed on sin and its abominations, he will grow in heresies and will strive to eliminate every sign of Divine Love from everything around him, starting with the Cross, thereby succeeding in giving power to the Devil so that he gathers strength against Humanity, undermining the human heart to harden it; and thus man destroys himself without fearing anything.
MAN'S MIND DOES NOT HOLD BACK, ATTRACTED BY THE LIES AND IGNORANCE INTO WHICH HE PLUNGED WHEN HE PUT GOD ASIDE AND PRIORITIZED WHAT IS WORLDLY AND SINFUL. THEREFORE, CHILDREN, YOU SHOULD NOT BE OFF YOUR GUARD FOR EVEN AN INSTANT SO THAT YOU DO NOT DENY GOD WHEN THEY SINGLE YOU OUT FOR LOVING HIM ABOVE ALL THINGS AND BEING TRUE. As the world
is in the hands of the king of lies and deception, how many of Mine will fall and close themselves to Me due to the skillful words of those who do not want Humanity to awaken!
THE MAN OF FAITH WILL BE PERSECUTED AND WILL SUFFER FOR HIS FAITH, BUT DO NOT FORGET
THAT MUCH IS ASKED FROM THOSE TO WHOM MUCH IS GIVEN, AND IN THE SAME WAY, THE ONE WHO GIVES MUCH RECEIVES THE CROWN OF ETERNAL GLORY.
Do not forget prayer for your brothers and sisters in Mexico and the United States, persevere in this.
You need to be aware and to help one another, you need to walk in unity in order to be the operative force of good on Earth and so that the latter is not abandoned to the hands of evil. You, My Son's People, must not be distracted, but must grow and announce to all your brothers and sisters that the true good is to be found united to My Son.
Wait patiently: My Son will send you His Angel of Peace when you need Him most, so that He helps you.
My Beloveds, Humanity asserts itself in the economy, therefore it is essential for the World Order to destabilize Humanity through the fall of the economy. The constant insecurity in the world economy is part of the plan of those who dictate the nations' direction. This insecurity has brought growth to nations that are stealthily preparing to shake the world, invading it unexpectedly.
The People of My Son will be purified, the church of My Son will experience the unexpected, being shaken.
My Son has called everyone, but not everyone has listened to Him...
The voices of evil speak to your ears to separate you from the good. Be servants of good, do not return evil for good, be messengers of Love.
AS MOTHER OF HUMANITY, I CALL YOU ALL TO BE SERVANTS OF YOUR BROTHERS AND SISTERS AND
NOT TO FORGET THAT YOU MUST ASPIRE TO HOLINESS, BUILDING ON GOOD WORKS. GROW, CHILDREN, GROW!
I bless you from My Immaculate Heart. MY MANTLE COVERS YOU, DO NOT FEAR, I AM HERE.
Mother Mary.
HAIL MARY MOST PURE, CONCEIVED WITHOUT SIN
HAIL MARY MOST PURE, CONCEIVED WITHOUT SIN
HAIL MARY MOST PURE, CONCEIVED WITHOUT SIN