Tuesday, November 20, 2018
Message from Our Lord Jesus Christ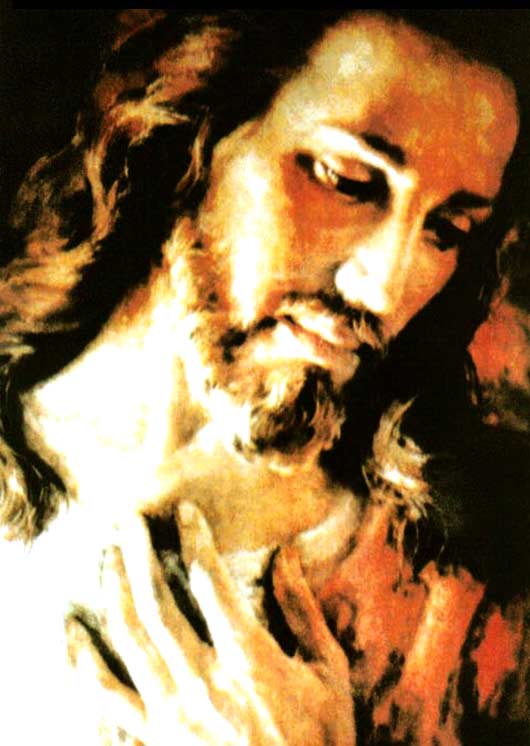 My beloved People:
I LOVE ALL WITHOUT EXCLUSION, ALL ARE MY CHILDREN SINCE I REDEEMED ALL.
I see constantly:
How many human beings declare themselves saved, declare that they have the truth, My Truth!
How many appropriate My Word in order to confuse My People!...
ALL HUMAN BEINGS ARE MY PEOPLE, BUT WHO ARE MY SONS AND MY DAUGHTERS? THOSE WHO OBEY, LIVE, WORK AND ACT WITHIN THE WILL OF OUR MOST HOLY TRINITY.
How many say they have attained the Gift of living in Our Will and yet still lack so much!...
How many declare that they have attained Salvation and yet still lack so much!...
How many claim that they have a place at the Eternal Banquet and yet still lack so much!...
My Beloved People, I wish that all enter into the knowledge of the Truth, and you find that Truth in being fulfillers of the Divine Law. A Law exists, a principle has been given to the human race: "to love God above all things and your neighbor as yourself". (cf. Mk 12,29-31).
DO YOU TRULY LOVE YOUR NEIGHBOR OR ARE YOU LIVING IN A SHELL WHERE LOVE DOES NOT PENETRATE AND STILL LESS FORGIVENESS? ARE YOU TRULY MESSENGERS OF PEACE?
How many of My children speak of peace, but their hearts are saturated with their own pride, their own thoughts, their own desire, and that peace is not ruled by Our Will!
My Beloveds:
How much division within My People!
How much interpreting of My Divine Commands!
How much licentiousness dwells within My People at this instant! ...
I SEE SO MANY WHO HAVE CREATED A GOD TO SUIT THEM, A LAW TO SUIT THEM, EVEN SOME WHO REPRESENT ME AND WHO SHOULD BE MY LOVE TO GUIDE MY CHURCH. HOW MY HEART SUFFERS
OVER IT, BUT HOW IT OFFENDS ME, AND HOW MUCH SIN THEY ARE LOADING ON THEIR SHOULDERS!
This is why I come to call all men to conversion, to the true faith, I come to call you all, I exclude no-one, because My
Mercy is infinite and within It all who repent truly and with a firm purpose of amendment are welcomed within My Heart. This is why some do not understand My Love, some do not penetrate even with their smallest thoughts into what My Mercy is and how far it can reach to work and act in favor of souls.
The mind of man has structured itself so linearly that you do not conceive that I expand My Mercy to all human creatures, you do not know that I desire the salvation of all (cf. I Tim 2: 4). Those who, seized by arrogance, feel superior to Me, do not look at themselves and maybe sin continually, commit sacrilegious acts and constant heresies, yet claim to possess Eternal Life. I do not see, I do not only see the great of the world, but those who feel small, those who live constantly acting on behalf of others, those who constantly struggle to be faithful to My Word, those who, without looking at themselves, are disposed to work for My Kingdom.
MY PEOPLE MUST FIGHT IN ORDER TO BE SAVED, TO ATTAIN SALVATION AND HOLINESS, BUT YOU CANNOT CALL YOURSELVES OWNERS OF ETERNAL LIFE.
My Beloved People, many diseases are hanging over Humanity, and I mention this and bring it to your attention in order for you to protect yourselves. Viruses are swarming in the air and you must protect yourselves; that is why My Mother has given you and will continue to give you the necessary natural medicines so that you put them into practice, because some viruses have been deformed in laboratories so that they do not react to human medicine. It will be then that unbelievers, having to make use of everything found in Nature and that My Mother has mentioned to you, will see with surprise how their health, if it is Our Will, is restored.
I see others of My children worrying too much, more than necessary, over what is material, when before you plagues are looming that can exterminate entire peoples.
MY CHILDREN, THIS INSTANT IS A FIERCE, HARD INSTANT AND AN INSTANT OF PURIFICATION, BUT YOU SHOULD NOT ALWAYS REGARD PURIFICATION AS PAIN; I RATHER ALLOW PURIFICATION THROUGH MY LOVE AND MY MERCY.
Do not forget that you should avoid agglomerations: they easily transmit diseases. Do not forget that vested interests want to exterminate a great number of My children. To what is this due? To the fact that they wish to exterminate those who believe and have faith in Me so that the worshipers of satan are greater in number and stir up the waters of Humanity, and so that the number of My faithful ones decrease.
My beloved People:
I DO NOT PUNISH YOU: YOU ARE PUNISHING YOURSELVES DUE TO DISOBEDIENCE TO MY WORD, DISOBEDIENCE TOWARDS MY COMMANDMENTS, DUE TO THE LACK OF LOVE THAT EXISTS IN A GREAT NUMBER OF SOULS.
It is lack of love that causes pride and the lack of humility; the lack of love is the cause of envy that gnaws at My children and divides them, when I need them to be firm and united so that all souls are saved and share the Eternal Banquet. But bear in mind that it is essentially you who need Me.
I invite you to keep Germany in prayer. When man has power, he forgets all the basic principles of fraternity and becomes cruel and ruthless.
My Beloved People, I call you to pray for Japan, pray in season and out of season.
Continue praying for the United States, and I ask you not to leave Argentina out of your prayers; suffering approaches. And do not stop praying for small countries. Keep Chile in mind.
My beloved ones, I invite you to pray, yet you wish that what I invite you to pray for would be fulfilled "ipso facto", but you can not demand fulfillment within human time; but with the occurrence of the events that I have mentioned to you, keep in mind that My Word is being fulfilled.
YOU ARE NOT ALONE, YOU HAVE MY MOTHER WHO CONSTANTLY TAKES YOU BY THE HAND, you have that Maternal Assistance of She who is Full of Grace, the Blessed One, Most Pure and without blemish. She is My Mother and Mother of all Humanity, yet it is the case that within My Church, My Mystical Body does not remember Her, looks at Her from a distance, and by love for My Mother being ignored, it is not made known, and My People are not called to love My Mother. This happens more than you can imagine.
What is holiness for you?...
What is loving Me above all things?...
What is loving your neighbor?...
What is honoring My Name?...
What is knowing Me?...
What is it for My People to receive Me in My Body and in My Blood?...
WHAT IS MY PEOPLE? THOSE WHO CARRY OUT THE WILL OF MY FATHER.
Lovingly I call youth; I see that so few remember Me, and instead the streets are swarming with human creatures who, guided mostly by adults, shout ardently and madly in favor of abortion, in favor of practices that offend the image and likeness that man possesses: the image and likeness of Our Trinity.
AND SO IT IS THAT MY CHURCH SHOULD UNDERSTAND THAT MAN IS A TEMPLE AND TABERNACLE OF
OUR HOLY SPIRIT, BUT NO, YOU HAVE NOT BEEN LED TO UNDERSTAND SO THAT YOU WOULD LIVE
OUT THIS GREAT TRUTH, AND I THEREFORE SEE YOU FOLLOWING DOCTRINES ALIEN TO ME, IDEOLOGIES ALIEN TO MY WILL.
My beloveds, come back soon, as you measure everything by human time and those who say that everything is far off will be surprised!
COME TO ME! WITH INFINITE LOVE AND INFINITE MERCY I WELCOME YOU SO THAT YOU ARE A SINGLE
PEOPLE, MY PEOPLE WHO LOVE ME, WHO ADORE ME, WHO RESPECT ME, WHO CONTINUOUSLY BLESS ME AND THANK ME.
The blessing of Our Trinity is poured out upon you.
Your Jesus
HAIL MARY MOST PURE, CONCEIVED WITHOUT SIN
HAIL MARY MOST PURE, CONCEIVED WITHOUT SIN
HAIL MARY MOST PURE, CONCEIVED WITHOUT SIN