Tuesday, December 11, 2018
Message from Our Lord Jesus Christ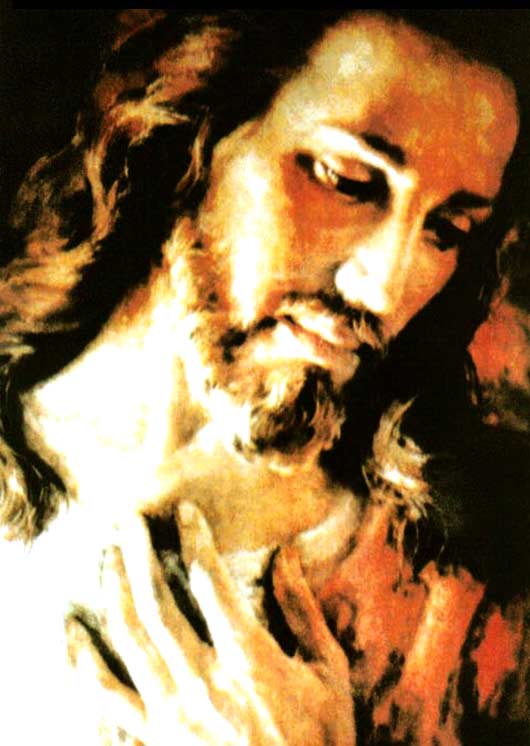 My Beloved People:
I AM PEACE, TRUTH, I AM WORD AND SILENCE AT THE SAME TIME...
My People are not a muted people, but a people who preach, not only with the word, but with something else that is extremely important, since this cannot be improvised - each human being carries it within themselves: TESTIMONY.
MY CHILDREN, YOU MUST LIVE AS IF YOU WERE WHERE NOBODY SEES YOU, ACT AND WORK IN THE TRUTH, AS YOU ARE, WHERE NOBODY SEES YOU, IN ORDER THAT YOU ARE TRUE.
Man, for the great majority, does not show himself as he truly is, since at this instant selfish interests prevail, hence so much failure and so much unbelief.
MY BELOVED PEOPLE, YOU HAVE FREE WILL THAT YOU USE TO DEFY ME, AND I CALL YOU SO THAT THOSE WHO SO WISH MAKE AMENDS AND SAVE THEIR SOULS.
You ignore great mysteries that you share with the rest of Creation. Man and Creation share the fact of having emerged from the Divine Hand, and what takes place in Creation has repercussions for man. The acts man carries out also have repercussions for Creation. There is that existing symbiosis among all created things.
Humanity, forgetting this principle, has taken which has been created and has arranged it for his own welfare, thus altering this whole ecosystem of Divine Love that makes it possible for harmony between the universes and man to keep the Divine Agreement.
Creation maintains a harmony: man has come to discover it, so much so that you have found that the Creation radiates music - yes, music, that is emanated by what is born of the Hand of My Father.
YOU CHILDREN, ARE CONTAINERS IN WHICH LOVE OR HATE ARE BEING ACCUMULATED, PRIDE OR HUMILITY, GREED OR GENEROSITY, LUST OR CHASTITY, ANGER OR PATIENCE, GREED OR TEMPERANCE, ENVY OR CHARITY, LAZINESS OR DILIGENCE ...
WHAT THE RECIPIENT IS FILLED WITH, SO TOO ARE ITS FRUITS; THE RECIPIENT ATTRACTS MORE OF WHAT IT CONTAINS TOWARDS IT.
Keep in mind that "the sun shines for all, just and unjust" (cf. Mt 5,45); thus with My Mother - I gave Her for all men and She carries all of them within Her Immaculate Heart.
MY PEOPLE, YOU ARE ACTING IN CONFUSION, THUS IT IS DIFFICULT FOR YOU TO FACE LIFE, AND THEREFORE THE CREATION REBELS AGAINST MAN WHO GOES FROM DISORDER TO DISORDER.
The man who loves Me or decides to love Me, knows that he must not give free rein to the baleful reactions of human egoism and must hinder within himself reactions that are out of control, those that in an instant cause great and serious, irreparable chaos on most occasions. Just as man has abused the Earth and devastated it, so man abuses himself and his brothers and sisters, overthrowing Love, fraternity, friendship, and respect; and thus chaos enters and causes sometimes irreparable havoc. In the same way, on a global level, wars are born of the disordered desire of nations; this pride of evil has taken hold of man who desires to dominate all of Humanity, and this will lead this generation to experience the worst.
My People must remain calm, they must protect each other as brothers and sisters of the same Father. Do not give free rein to the mind, but subject it so that it does not destroy but construct. DO NOT FEAR ONLY WHEN THINGS OCCUR THAT YOU FEAR, MAINTAIN A LOVING FEAR IN ORDER TO NOT OFFEND ME.
Pray, My children, pray for your brothers and sisters in Venezuela and Nicaragua; faced with so much pain, request the intercession of My Mother with a chain of prayer on December 12, beginning at 3 in the afternoon of each country with the Holy Rosary.
My people, remain attentive, the volcanoes Etna (Italy) and Mont Pelée (Martinique, Antilles) will roar. Pray now already for those children of Mine who will suffer.
MY PEOPLE, CELEBRATE THE WOMAN CLOTHED WITH THE SUN WITH THE MOON UNDER HER FEET (cf. Apoc 12,1), THE WOMAN WHO REMAINS WITH CHILD THE HUMBLE AND SIMPLE TO REVEAL HERSELF.
SUCH IS MY MOTHER, SHE USES WHAT THE WORLD DESPISES SO THAT THE WORK OF MY HOUSE MAY BE SEEN.
In this relationship of man with Creation this invocation of My Mother is that She tells the man of this generation, who has so many scientific advances at his disposal, MARVEL AT THE WORK THAT BY DIVINE DECREE DWELLS WITHIN ME...!
MY PEOPLE, WHAT BY DIVINE WILL REMAINS ON MY MOTHER'S TILMA IS YET TO BE REVEALED and has not been found - but it will not be man who will unveil it, rather My House will unveil it to man.
My beloveds, pray that faithfulness does not decrease, but that faith among My People increases and that each of you are a voice of encouragement for your brothers and sisters, for those who walk aimlessly, allowing what is worldly to lead them astray.
MARVEL, MY CHILDREN! YOU HAVE A MOTHER WHO LOVES ALL HER CHILDREN. THEREFORE YOU ENTER INTO DISPUTES BECAUSE YOU DO NOT UNDERSTAND THIS MYSTERY OF LOVE THAT COVERS ALL MEN.
I SEE YOU AS IF IT WERE THE FIRST TIME, WHATEVER SINNERS YOU MAY BE, IF YOU COME BEFORE ME HAVING REPENTED. COME TO ME, CHILDREN, COME TO ME.
IT IS NOT THE INSTANT FOR LAMENTS, BUT FOR GETTING UP AND DECIDING TO BE TRUE CHILDREN,
CHILDREN WHO WANT THEIR BROTHERS AND SISTERS TO PARTICIPATE IN KNOWING ME AND IN BEING CHILDREN OF MY MOTHER.
I bless you. I love you.
Your Jesus
HAIL MARY MOST PURE, CONCEIVED WITHOUT SIN
HAIL MARY MOST PURE, CONCEIVED WITHOUT SIN HAIL MARY MOST PURE, CONCEIVED WITHOUT SIN