Monday, December 24, 2018
Message of St. Michael the Archangel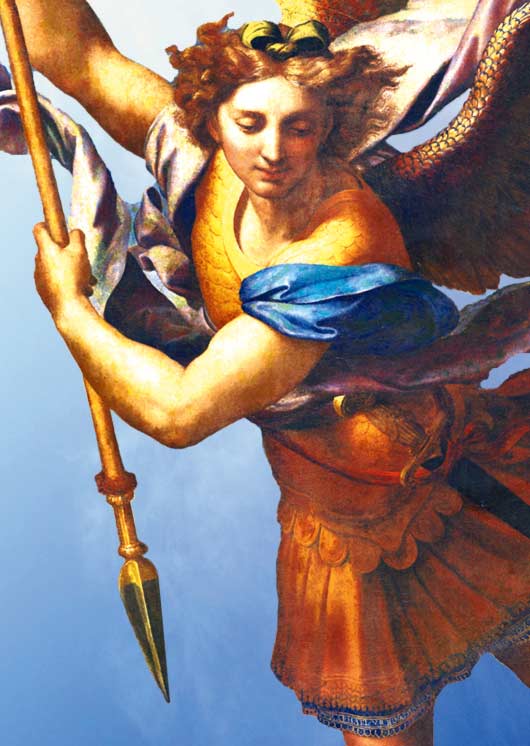 Beloved children of God:
Finding myself enraptured in the love radiated by the Divine Child in the Manger of the "King of Kings and Lord of Lords," (Rev. 19.16; I Tim 6:15) the Angelic Choirs sing what Creation, in a respectful silence of adoration, does not say:
GLORIA IN EXCELSIS DEO, ET IN TERRA PAX HOMINIBUS BONAE VOLUNTATIS.
"GLORY TO GOD IN HEAVEN AND ON EARTH PEACE TO MEN OF GOOD WILL". (Lc 2,14).
I see the Divine Word being fulfilled and before all creation, the defenseless Man-God is protected by all the Angels of God. PREPARE THE WAY, THE SAVIOR HAS COME!
The Savior, until the end of time, will permanently keep calling His children so that they accept being saved and so that His Sacrifice is not in vain.
Humanity has been purified because of its lack of obedience and humility ... How difficult it is for man to see his own mistakes and recognize the Love of loves in his brothers and sisters!
MAN MUST FEAR THAT THE WINDS OF THE LACK OF LOVE FOR NEIGHBOR, OF THE LACK OF HUMILITY, OF THE LACK OF CHARITY, OF THE LACK OF FAITH, EXTINGUISH THE LIGHT OF HIS PERSONAL LAMP.
O Man!, eyes clouded by the darkness of pride and stubbornness are an obstacle preventing the drops of Divine Love from clarifying the vision of those who never find satisfaction for their reasoning, for their intellect, and these stone hearts will be forcefully polished.
The Great Maker does not want any of His children to be lost, therefore what is given to the simple and humble of heart is not given to the learned, because some will never come to recognize the Light of God in a humble creature, but the humble will indeed recognize the one who, like them, bears the Good News. People - look, do not close your ears, for night is falling!
THE ENEMIES OF THIS DIVINE CHILD WILL BE UTTERLY CONFUSED, SINCE THOSE AND ONLY THOSE WHO LOVE IN SPIRIT AND TRUTH WILL FIND THE LIGHT OF THIS KING, WHO WITHOUT AN EARTHLY PALACE IS THE MASTER OF ALL CREATION.
That approaches which will maintain the heart of man as if in darkness without being darkness, and in confusion out of fear of recognizing how finite man is. Man prefers to remain isolated out of fear of confessing his need for God in his life, he refuses to be instructed out of fear of accepting what is of God.
THE KING OF KINGS HAS COME: AS A CHILD HE IS NOURISHED BY HIS MOTHER AND OUR LOVE
WARMS HIM. OH ADORABLE MAN-GOD, YOU CAN DO ALL THINGS, YOU ARE EVERYTHING, YOU KNOW
AND KNOW ABOUT EVERYTHING! YOU GIVE ORDERS TO THE CREATION AND IT RESPONDS "IPSO
FACTO"; ONLY MAN, WHOM YOU LOVE THE MOST, REJECTS YOUR LOVE AND DOES NOT ACCEPT
BEING CORRECTED, BUT ON THE CONTRARY, THE TIME WILL COME WHEN HE WILL FORGET YOU AND WILL ERECT ALTARS IN HIS HEART TO LOVE HIS OWN SELF.
How limited is the man who expands without any breadth where he ought not to and, without limits, crosses over where he ought not to, coming spiritually to a halt while being capable of transcending more of what his eyes can see!
How much I would like to see man rising up in his spirit and scaling the heights of true Wisdom proceeding from the Holy Spirit, without halting the growth for which he should long, believing in Almighty God, Creator of Heaven and Earth, of what is visible and invisible!
O Man, see the one who has come to save you! Do not close the door to Him, carry faith forward and ascend, but say: "I believe in God Almighty, Creator of Heaven and Earth ..." Say it, confess it with your words that the Word was not made, the Word already existed from the beginning. Do not forget that in the beginning God made Heaven and Earth through the Word that was with God, that was God ... (cf. I John 1,1).
God made man did not come to man as a sinner - no! - but He did come to save the sinner who wishes to make amends and to be saved.
O HUMANITY! ACCEPT SALVATION; MAY EVERYONE BE A LAMP OF PRAYER AND A PROCLAIMER OF THE DIVINE WORD; MAY ALL BE BROTHERS AND SISTERS IN SPIRIT AND TRUTH.
Every prayer is light, every prayer is charity, every prayer is brotherhood.
Every amen is light, every amen is a yes, every amen is love.
Every Mass celebrated worthily and every Communion worthily received, spreads throughout creation.
Salvation is for all Humanity and every act in favor of that knowledge is light that spreads, repairs, and is an act before the Celestial Throne in favor of people of good will who intercede for their brothers and sisters.
WE GUARD YOU, WE STAND BEFORE HUMANITY, SEEING THOSE WHO DO NOT HOLD BACK SPIRITUALLY IN FAVOR OF THEIR BROTHERS AND SISTERS, AND SEEING WITH DEEP SADNESS THOSE WHO SCORN SALVATION.
Do not hold back, people of good will, do not hold back, and confess in words: "I believe in God Almighty, Creator of Heaven and Earth..."
THIS DIVINE CHILD IS REBORN IN HUMBLE HEARTS, IN THOSE WHO SEEK HIM, IN THOSE WHO WANT TO KNOW HIM, AT DAWN OR AT NIGHTFALL.
THIS DIVINE CHILD BORN OF THE VIRGIN MARY CALLS YOU TO CONVERSION.
Pray, people of goodwill, the earth shakes and the People of God pray and cry out, make reparation and act, love with Divine Love in the unity of the Sacred Hearts.
May you be blessed for your works,
St. Michael the Archangel
HAIL MARY MOST PURE, CONCEIVED WITHOUT SIN
HAIL MARY MOST PURE, CONCEIVED WITHOUT SIN
HAIL MARY MOST PURE, CONCEIVED WITHOUT SIN