Thursday, December 27, 2018
Message of St. Michael the Archangel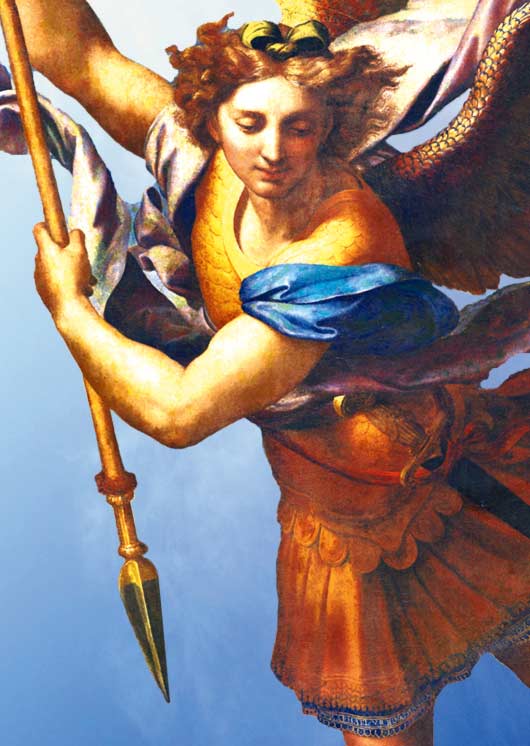 Beloved children of God:
EVERY HUMAN BEING SHOULD REJOICE AT BEING A CHILD OF GOD AND HONOR HIM AS GOD DESERVES, SERVE HIM AND WORSHIP HIM, KNOWING THAT GOD DOES NOT NEED MAN, BUT LOVES MAN.
WE ARE THE SERVANTS OF GOD AND WITH INFINITE ADORATION OUR JOY ATTAINS ITS CULMINATION IN LIVING THE WILL OF GOD, AND THIS WILL DIRECTS US TO SERVE MAN, but within this service we are not allowed to act against man's free will, because man is free and within freedom he must choose salvation by his own merit. That salvation which a great part of Humanity rejects because of having become dehumanized, scorning its essence as children of God and taking as its own a collective mentality, thoughts and desires that are alien to it. The man of this generation has immersed himself in modernistic thought where there is no room for God.
Therefore Our King and Our Queen constantly call you to look inside each one of yourselves, but you do it superficially because you have not come to understand that to see yourselves within, you do not have to look at your brother, but at yourselves:
You cannot compare yourselves with your fellow man, but look at yourselves ...
You cannot value the works or acts of others because it is personal truth dwells in each person, not that of others..
HENCE THE FAILURE OF THOSE WHO WISH TO GROW IN THE SPIRIT BY LOOKING AT THEIR BROTHERS
AND SISTERS, HIDING THEMSELVES BEHIND THEIR BROTHER IN ORDER TO HIDE THEIR ERRORS.
Therefore man does not rise up, he does not aspire beyond what is earthly, he does not long for greater closeness to the Divine; it is only, yes only by facing the enemies of inner truth that man will be able to see his own reality.
WHEN MAN ACCEPTS THAT ALL STRENGTH COMES FROM GOD (Cf. Ps 37,39, Hab 3,19),THEN PERSONAL CHANGE WILL BEGIN.
People of God: look, meditate and be aware of what is around you - the Universe with the elements is maintained for the service of man, and WHAT HAVE YOU DONE WITH IT? YOU HAVE DESTROYED, CONTAMINATED, TRANSFORMED IT FOR EVIL, YOU HAVE DISOBEYED SEEKING THAT WHICH YOU CONSIDER TO BE HAPPINESS.
Men have created frontiers for thought by limiting themselves, taking possession of knowledge that is not their property.
Children of God: you, at this instant, must share the love that comes from the Divine Will in order to create the force to counteract the demonic wave experienced among Humanity, anticipating the pain to which the Church will be subjected.
You know full well that love prevents evil: it is a wall that holds it back; love is reflected in the actions of creatures that do not cause harm to any brother or sister and seek the common good (cf. I Cor 13,4-8ff).
You must be those who forge love in the likeness of Our Queen...
You must be disciples and missionaries at the same time, like Our Queen, who from the Annunciation to her Assumption into the Heavens, through Her Faithfulness and Her Motherhood, reached Eternity.
THE PEOPLE OF GOD WALK TOWARDS THE FEAST OF OUR QUEEN AND MOTHER OF HUMANITY AND
BEFORE THIS SOLEMNITY ITS GLORIES ARE SUNG IN HEAVEN. FOR THIS MEN OF GOOD WILL SHALL
UNITE ON THE 29TH, 30TH, AND 31ST OF DECEMBER AT 6PM IN EVERY COUNTRY, WITH THE PRAYING
OF THE "ANGELUS" (*), OFFERED FOR THE NEEDS OF HUMANITY.
When the Cross is despised, you must love it more ... satan suffers enormous torments when he sees the Cross: for that reason he has ordered it to be taken out of every place. What the devil forgets is that Christians carry the Cross in their hearts, in their souls, where evil and its followers cannot erase it.
Children of the Most Holy Trinity, the future of Humanity must be fought with love. Our Celestial Armies remain attentive to the work and action of Humanity, and therefore to the events in the natural order which Humanity will face.
Pray children of God, in the Mediterranean there will be subsidence in the seabed.
Pray children of God, the South Pacific shakes.
Pray children of God, the volcano Etna is changing its activity.
Pray children of God, in Turkey many innocents suffer persecution for being faithful to Our King.
Pray children of God, pray for Nevada in the United States, it will be flooded by water.
It is not human predictions that the children of God are reading, but I have been sent to warn you out of Mercy, since the one who loves God knows that from His Love emanates knowledge so that man takes it, and so that, with the knowledge of the events that are approaching, man understands that whoever loves does not fear.
Children of the Most High, I shelter you, you are protected by your Guardian Angels, whom you must not forget.
HOW MANY HERODS THERE ARE! ... LOOK AT YOURSELVES, EXAMINE YOURSELVES, IT IS NOT ONLY THE ONE WHO USES A WEAPON WHO KILLS.
Humanity is seething with a total lack of love, and the children of God must not sleep, but respond within the love to which the Most Holy Trinity has called them.
Evil has become entrenched within Humanity and claims souls for itself; you must remain faithful to God and not allow yourselves to be confused. The Angel of Peace, Envoy of God, will arrive to protect man; the children of God will never be abandoned by God.
I bless your acts and your works.
St. Michael the Archangel
HAIL MARY MOST PURE, CONCEIVED WITHOUT SIN.
HAIL MARY MOST PURE, CONCEIVED WITHOUT SIN.
HAIL MARY MOST PURE, CONCEIVED WITHOUT SIN.