Thursday, January 3, 2019
Message from Our Lord Jesus Christ
To His Beloved Daughter Luz De Maria.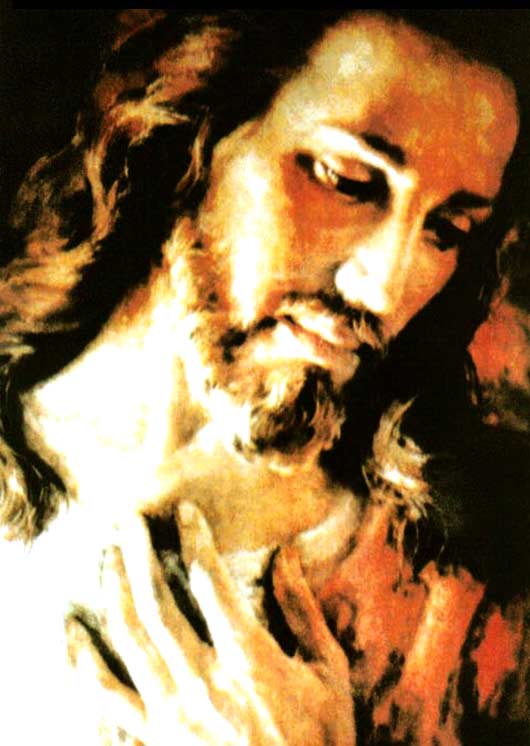 My Beloved People:
I HOLD YOU IN THE PALM OF MY HANDS, IN THE SHELTER OF MY LOVE YOU CAN TAKE REFUGE.
Your ways are not My ways (cf. Isa 55: 8-9); you do not understand the essence of My Call because you do not have awareness of the reality in which humanity is living.
Egoism has preyed on man and caused his discernment, thinking and heart to atrophy so that he does not look beyond his interests.
My Beloved People:
MY CHURCH WILL SUFFER TO THE CORE BECAUSE OF MINIMIZING THE EFFECTS OF SIN ON THE HUMAN BEING. DIVISION INCREASES, MODERN TRENDS - FRUIT OF THE PERMISSION OF SIN - ENTHRONE LICENTIOUSNESS, WHICH TAKES MY CHILDREN FAR FROM MY WILL TO PERDITION. The sacrileges being committed in some Churches in which there remain relics of Saints and Martyrs who gave their lives for that same Church cause Me great pain, and you scourge Me and crown Me with thorns again when I see rock groups and youth transforming My Churches into places of perdition: I feel great sorrow and shock at the permission for these acts on the part of My consecrated sons.
My Church will be purified by man himself in his striving to exalt human power above My Divinity.
Division within My Church will increase until the weight of errors will halt the evil that is developing within Her, which humanity will witness, seeing with astonishment that which My People ignore.
MY REAL PRESENCE IN THE EUCHARIST IS DENIED BY THOSE WHO DO NOT BELIEVE IN THE MIRACLE OF TRANSUBSTANTIATION (cf. Mt 26,26-27; I Cor 11,24) AND MY CHILDREN WILL BE PREVENTED FROM RECEIVING ME. This will be when My Own will gather in My Name, brought together by those who, fulfilling their priestly promises, call on them to receive Me.
The waiting has been long because of the requests of My Mother and My children who pray for all humanity.
The firmament will briefly be darkened; do not fear, My children, do not fear.
MY PEOPLE, SATAN IS TOUCHING YOU SO THAT YOU LOSE YOUR PEACE; YOU HAVE TO PRAY IN ORDER TO REMAIN FIRM IN WHAT I HAVE REQUESTED OF YOU, AND THAT IS: THAT YOU SERVE MY WILL, NOT THE PETTY INTERESTS OF THOSE WHO SOMETIMES WANT TO BUY CONSCIENCES WITH MONEY.
At this instant, humanity excels in pride, who denies being creature made by God. Man carries on his shoulders the "ego" with which he exalts himself and likes to trample his brothers and sisters, especially the humble and those who are My true and faithful instruments, whom it pleases the Devil to mortify through man; THEREFORE YOU, CHILDREN, MUST GIVE FAIR AND RESPECTFUL TREATMENT TO THOSE WHO SERVE ME, SO THAT WITH PRAYER AND FRATERNITY YOU SUSTAIN THOSE WHO HAVE A GREAT RESPONSIBILITY BEFORE OUR MOST HOLY TRINITY, BEING TRANSMITTERS OF OUR WILL.
Keep in mind that the instrument is an instrument inasmuch as it is faithful to Me, otherwise it will no longer be one, it is a human being like everyone else. I am the Owner of all that they transmit, they are not the owners of the Truth, but "I am who I am" (Ex 3:14).
My Beloved People, the waters of some oceans are making known what had been submerged in the depths of the seas. When the earth quakes, new cracks open and join other tectonic faults, triggering movements of great magnitude that are a serious danger and will make man suffer severely.
Pray My children, food becomes scarce due to drastic changes in climate. Pray My children, pray, cold reaches the tropics.
My people, do not go through life without bearing fruit, do not be like the fig tree; conversion is urgent when the devil appropriates for himself what is mine.
Remain on alert: serious epidemics are appearing before humanity and they attack the respiratory system, for which I call you to use pinus needles/leaves (1), with extreme prudence, in doses no greater than twice a day, in the form of tea.
Beloved My People, remain attentive, the economy is fragile and without the god of money man forgets that he is man and becomes like a beast, so do not be among those who lose sleep over money and those whom greed causes to be foolish and to despair over the world news about the economy; everything can fall except the faith of My People.
Do not lose sight of the world powers; the slightest spark can produce the beginning of war, before the eyes of the world no power shows itself as it truly is.
YOU MUST PREPARE YOURSELVES SPIRITUALLY, BE DEDICATED, PRAY AND ACT SO THAT YOUR BROTHERS ARE FULFILLERS OF THE DIVINE LAW, BE MISSIONARIES OF MY LOVE.
I bless you and cover you with My Precious Blood.
Your Jesus
HAIL MARY MOST PURE, CONCEIVED WITHOUT SIN
HAIL MARY MOST PURE, CONCEIVED WITHOUT SIN
HAIL MARY MOST PURE, CONCEIVED WITHOUT SIN
(1) PINUS: Christ mentioned to me that Pinus is the tree known as Scots/Scotch pine, red pine, white pine; the pine exists throughout almost the whole world. It belongs to the Pinaceae family, Pinus sylvestris. Boil three tablespoons of dried pine needles/leaves in a liter of water (4.22 cups), take one cup twice a day. Not to be used by very small children or pregnant women.
The scientific name is Pinus sylvestris, of the pinaceae family.