Monday, January 14, 2019
Message from the Blessed Virgin Mary
To Her Beloved Daughter Luz De Maria.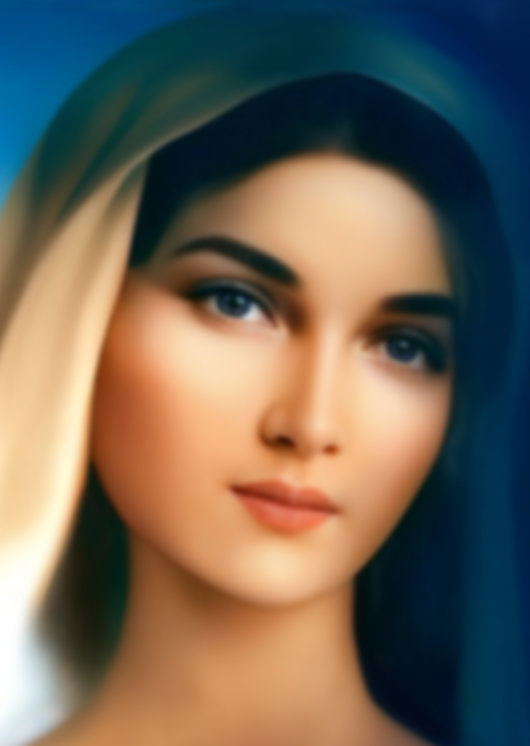 Beloved children of My Immaculate Heart:
I BLESS ALL PEOPLE OF GOOD WILL WHO LIVE IN THE DIVINE WILL.
Beloved children, My Immaculate Heart beats for each one of My children, those who dedicate every instant to growing in love for God and neighbor, with the hope of handing the Earth to God in the state in which He gave it to man.
HUMANITY WILL EXPERIENCE PURIFICATION, IN WHICH IT WILL BE SERIOUSLY TESTED BY EVIL; it will tempt it as never before, it will lead it to cruel instants, trying to make you deny being a child of God. Evil's striving will reach its culmination with the goal of leading My children to evade the pain of that cruel instant, offering themselves to be marked (*) in order to obtain the benefits of those who will have whatever is necessary in order to live without needing anything.
Beloveds of My Immaculate Heart:
BEING ACTIVE WITHIN MY SON'S LOVE MEANS GROWING SPIRITUALLY AND SURRENDERING UNRESERVEDLY TO THE DIVINE WILL.
TESTIMONY IS ACCOMPLISHED BY WORKING AND ACTING AS GOD ORDAINS; THIS IS ACCOMPLISHED BY THOSE WHO LIVE COHERENTLY, DETERMINED TO BE DISCIPLES OF MY SON.
Man by himself cannot give what he does not have; he cannot pretend to be authentic without having first grown in the spirit, without having been formed and strengthened in faith. The human creature needs to feel the strength, the security, the solidity, the unsurpassable love of the Most Holy Trinity towards the Disciples of the end times, in order to be filled with the same faith, and thus the fears, horrors and persecutions of this instant and those to come will not crush them.
My children, the nations will be involved in great uprisings and endless revolutions, men will not know where to go and then will be more confused; the force will arise of men who, with ideas that are modern and encouraging in the worldly sense, will want to fill the interior void with extreme modernism that is not the Divine Will, and My children will go from country to country in search of what they will not find.
THE EMANATION FROM THE ERUPTIONS OF A SUPER VOLCANO WILL FORM A CLOUD OF GASES THAT WILL PREVENT THE SUN FROM PENETRATING THE EARTH, AND THIS WILL CAUSE A GREENHOUSE EFFECT: TEMPERATURES WILL DECREASE SO MUCH THAT IN TROPICAL COUNTRIES THE COLD WILL CAUSE A NUMBER OF DEATHS.
MOVING FROM ONE COUNTRY TO ANOTHER WILL BE IMPOSSIBLE AND HUMANITY WILL FEEL THAT ITS PROGRESS HAS BEEN OF NO USE. YOU, MY CHILDREN, DO NOT LOSE FAITH: WHAT MAN WILL NOT BE CAPABLE OF DOING, DIVINE OMNIPOTENCE WILL DO.
I call you to pray for China before its power spills out over humanity.
Pray for Mexico, its soil shakes and My children suffer, and together with this country, the United States and Canada will be affected.
Pray for My children of Jamaica; it will be scourged by nature. Puerto Rico will be tested again, not to the extent that men predict in order to alarm you.
I invite you to pray for one another: you must not allow feelings within yourselves that are contrary to the Love of God and man.
My Words: "IN THE END MY IMMACULATE HEART WILL TRIUMPH" have not been understood ...
Humanity will have to become aware that calling oneself a Christian is more than a name, it is Eternal Salvation when one works and acts consciously within the Divine Law that calls all My children to be love in the midst of the calamities in which You will see the Church of My Son enveloped because of the betrayals to which it has been subjected and that will lead it to be totally renewed according to the Divine Will and not that of men.
From pain and persecution, the Church of My Son will go to finding the door of Glory, totally surrendered to Divine Love, not to what you call "love for God" in this instant. SOME SAY THAT THEY LOVE GOD, AND YET DIVINE LOVE IS VERY DIFFERENT: IT IS THE FUSION OF MAN WITH HIS CREATOR. THE DIVINE WILL WILL TRIUMPH AND ALL CREATURES WILL LIVE IN IT AND PEACE WILL REIGN IN ALL PEOPLE.
THE KINGDOM OF GOD WILL TRIUMPH "ON EARTH AS IN HEAVEN" (Mt 6, 10b) AND MY CHILDREN WILL LIVE JOYFULLY IN TRUE LOVE. But now, My children, you must pray and act, for you have not been purified of everything.
Blanched sepulchers are plotting against My children; the learned feel that they have God's truth and because of this they take justice into their own hands. Do not fear, children, as this Mother keeps you on constant alert and defense so that evil does not take you unawares.
Beloved children, do not stop: Heaven notifies you in advance of the events so that you prepare and come to God in humility. Do not dimiss this Revelation of mine; on the contrary, pray and act on behalf of your brothers. You will not go on living in the same way: learn to share fraternally, since you will be living in community in order to protect yourselves from the evil that will possess many of My children, and My Heart bleeds for them.
DO NOT BE AMONG THOSE WHO WAIT, BUT THOSE WHO COME TO THE DIVINE LOVE OF THE MOST HOLY TRINITY, OFFERING THEIR SERVICE TO GOD FOR THE TRIUMPH OF THE DIVINE WILL ON EARTH.
My Love is before all My children; you are the ones who welcome or reject it. I call you in the name of My Son. My Blessing is for you.
Mother Mary
HAIL MARY MOST PURE, CONCEIVED WITHOUT SIN
HAIL MARY MOST PURE, CONCEIVED WITHOUT SIN
HAIL MARY MOST PURE, CONCEIVED WITHOUT SIN