Wednesday, January 16, 2019
Message from Our Lord Jesus Christ
To His Beloved Daughter Luz De Maria.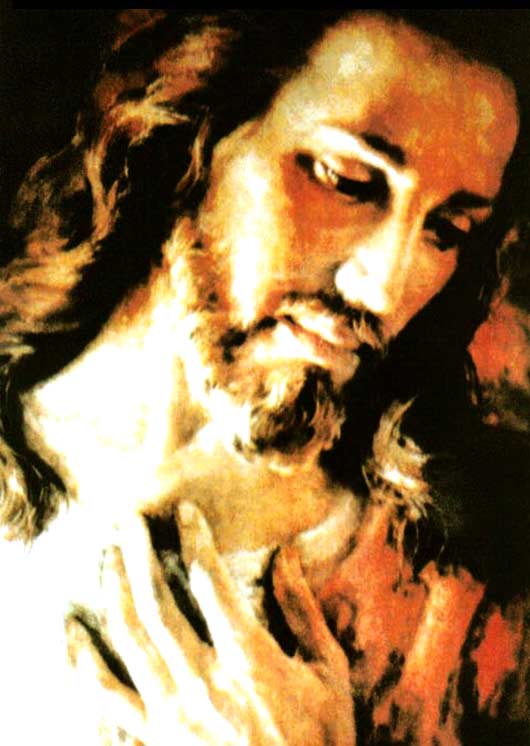 My Beloved People:
I CARRY YOU IN THE PALM OF MY HANDS (cf. Is 49,16) SO THAT YOU DO NOT GO ASTRAY, BUT EVEN SO SOME OF YOU LEAVE THEM AND WALK AWAY IN ORDER TO STAIN YOURSELVES WITH EVIL.
Living in My Will is magnificent; learn to find pleasure in living correctly, finding the fruits that lead you to Eternal Life and delights for the soul when good remains in the human creature.
In the streets of some cities, however clean they may seem, at some point you will find something that will not be pleasant for you; it always happens that some brother does not abide by the rules and makes the place ugly. The same happens when you move away from My Will; while you walk in It you feel good and everything is very manageable, but when the "ego" emerges that has not been channeled down the right path, it muddies the good intentions and in comes the storm, creating disasters and removing even what you believed was well-grounded in you.
BELOVED MY PEOPLE, THE CURRENT CONDITIONS ARE NOT ONES FOR WAITING TO CHANGE INTERNALLY. THE DEVIL IS LYING IN WAIT MORE THAN AT ANY OTHER INSTANT, lashing out fiercely against my children in order to convince them to turn away and renounce Me: possession by evil is therefore more frequent, but less recognized.
I INVITE YOU NOT TO DISMISS THIS REVELATION: IT IS THE FOOD THAT DOES NOT RUN OUT SO THAT YOU, CHILDREN, SEE THE SIGNS AND SIGNALS. I warn you so that you understand, comprehend and put into practice your comprehension, thus restraining the free will that causes you to think that without Me you can emerge unscathed from what is happening on Earth.
My Beloved People:
THE LAW HAS NOT BEEN GIVEN IN ORDER FOR YOU TO CONTINUE IN LICENTIOUSNESS...
THE LAW HAS BEEN GIVEN SO THAT YOU FULFILL IT AND NOT DO WHAT YOU WANT.
I call My People to live in goodness, not to deprive yourselves of it. I call you not to desire lower things because of misused human will...
I call My People to live by what is higher, by spiritual ascent, which you fear because you does not see it.
My Kingdom is one of glory; it is not a kingdom of the dead, but of the living, who listen, who look, who proclaim, who recognize Me and know that they are My children and I am their Father.
My people, how many calls you have received, how much learning so that you would be sensible; how much knowledge you have received so that you would be grown-up and educated children, not ignorant ones!
My Beloved People:
THE EARTH DOES NOT ONLY ACT LIKE A MAGNET FOR MAN'S BENEFIT, BUT THAT MAGNET CAN DRAW TOWARDS THE EARTH SOME HEAVENLY BODY ROAMING THROUGH THE UNIVERSE AND APPROACHING THE EARTH.
HUMANITY IS NOT UNAWARE AT THIS INSTANT OF THE CHANGES OR THE EVENTS WITH WHICH THE EARTH CAN BE FACED AND WHICH HAVE ALREADY HAVE ANNOUNCED BY ME, BY MY MOTHER OR BY MY BELOVED ST. MICHAEL THE ARCHANGEL.
The Earth's magnetic field (*) has entered into a process of definitive alteration and the protective effect upon Earth has therefore weakened, exposing humanity to a loss of scientific advances and an unprecedented technological regression.
Children, I call you to take into account that you will go through various severe changes in climate; you will experience several climatic changes in a single season. Man has caused serious damage to nature, he has taken hold of nature without thinking about the future, and you want to correct the damage in a single instant, yet this is not possible; the humidity in the soil has decreased and because of it, what man sows does not produce the expected harvests, thus famine in the world will grow and water will become the element most desired by men.
My children, at this instant you can not assure yourselves of obtaining a good harvest, since the climate is not stable or definitively predictable. Faced with these events, the human being will be subject to the changes in his brothers' states of mind at the fear of not possessing the basics for their survival. Man, feeling a threat to his subsistence, changes culture, fraternity, love, morality and even religion too in order to assure himself of survival.
My people, most of you have not labored directly for such destruction of the planet, but not all have acted to stop such destruction. The great nations, carrying out nuclear tests in the earth, have altered the tectonic faults near where they carried out the said tests, and these faults have altered others nearby in some strata of the earth, and at the same time causing greater heat towards the center of the earth which, more than at other instant, has heated up.
Evil has long since been hard at work and has carried out the development of its plans in order that this generation be subject to the product of the power of evil. You know full well that humanity is involuntarily subjected to a dome of economic power that guides the destiny of countries, ordaining immorality, licentiousness, great famines in various countries with the aim of reducing the global population. Diseases of the past are regaining strength and this is because in some laboratories they have been brought up to date. Such is the manipulation in which you are living, My children, so much so that with great surprise you will experience an announcement that will shake My Church and cause the false prophets to differ in their predictions.
MY PEOPLE KEEP FAITH IN ME, I WILL NOT GIVE YOU STONES FOR BREAD, I WILL NOT TELL YOU: "HERE I AM" AND CONFRONT YOU WITH EVIL. I AM YOUR LORD AND BEFORE ME EVERY KNEE BOWS (cf. Rom 14,11).
You belong to the Owner of the vine; you are My children and need to draw near to Me, not only praying with words, but remaining in My Love, under the discernment of My Holy Spirit. Degenerescence has taken hold of a large part of humanity, and for some this has happened out of ignorance, for others out of stubbornness, for others out of rebellion and for the rest because they do not want to love Me and want to possess strength, power which as human beings they do not possess unless given it by evil in order to act against their brothers and sisters.
Pray for the United States, its arrogance leads to the pain of the unexpected; this people therefore suffers severely through nature.
Pray for India, nature scourges it. In your prayers do not forget My children of Calcutta, pray for them.
Pray for one another and quicken your step.
Persecution will not delay; My faithful ones are stalked by those who do not love Me or want Me to warn them.
I bless you, my beloved People.
Your Jesus
HAIL MARY MOST PURE, CONCEIVED WITHOUT SIN
HAIL MARY MOST PURE, CONCEIVED WITHOUT SIN
HAIL MARY MOST PURE, CONCEIVED WITHOUT SIN