Monday, January 28, 2019
Message from Our Lord Jesus Christ
To His Beloved Daughter Luz De Maria.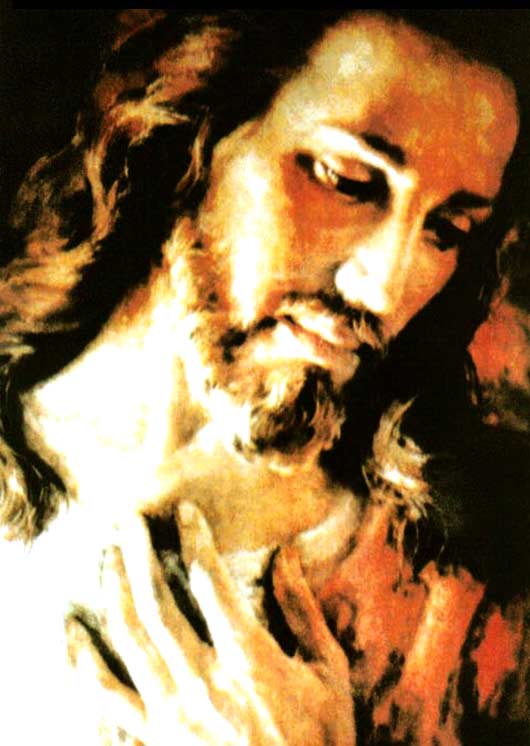 I AM THE MASTER OF TIME...
THIS IS THE INSTANT OF THE BEGINNING OF MY PEOPLE'S LAMENTATION... AND MY PEOPLE ARE THE WHOLE OF HUMANITY.
My Beloveds:
If you had faith like a grain of mustard... (cf. Lk 17: 6)
If you had faith, you would not be led to despair, nor to not accept that what mankind is experiencing is part of the action of evil upon man.
The proud say that all is well, when much of humanity is adrift; they go from one extreme to another and because of this they are permissive towards what is improper, easily going on to what is prohibited.
The wheat becomes tares when tares are inserted into the wheat: it is no longer the same. The tares invade it by force so that the wheat would not produce fruit, so that it would not shine.
I CAME TO THE WORLD SO THAT MAN CONTINUES STRIVING FOR CONVERSION, AND SO THAT THE CONVERTED ARE NOT CONTENT WITH THEIR STATE, BUT ARE FIRM AND CONTINUE EMBRACING THE FAITH IN ORDER NOT TO FALL DUE TO TEMPTATION OR TRIALS.
My beloved People:
My Church has been invaded by the tares that some of Mine have introduced within Her, allowing My People to falter when they are called to take a path that I have not ordained for them.
My Church has been invaded by those who hide within Her in order to perpetrate horrible sins at which My Heart bleeds.
MY CHURCH IS HEADING TOWARDS SCHISM DUE TO THE CONTINUOUS TRANSGRESSION OF MY LAW by some of those whom I call My favored sons, My male and female religious, accepting what I have identified as sin and as abominable in My Eyes.
My favored sons who are faithful to My Law, My Sacraments, remain fearful out of respect for these transgressors, like sheep facing a wolf.
MY LAW IS LOVE AND MY PEOPLE MUST BE LED TO MY LOVE, NOT TO THE LOVE OF MAN, BUT TO DIVINE LOVE IN ORDER THAT THEY PENETRATE MY TRUTH.
My Love does not stay within Me, but rather dwells in each of My children and works wonders in those who seek Me with a contrite and humble heart. My Love is found in the expression of the Creation which, with its wonders, reveals itself to you at all instants, making you participate in the greatness of the power of My Divinity, but when the Divine Love of which Creation partakes is rejected, man becomes a strange human creature who does not communicate My Love but destroys My Creation.
Creation is not only what surrounds you in nature, in the universe or in the elements; man is the total expression of Our Trinitarian Love, and yet does not exhale Our Love; a great number of My own commit sins and continual errors, exposing themselves to the condemnation of their soul if they do not truly repent and make a very strong purpose of not offending me any more. THESE CONTINUAL SINS AND CONTINUAL SACRILEGES THAT ARE HAPPENING THROUGHOUT THE EARTH THROUGH GREAT AND HORRIFYING SINS SUCH AS ABORTION, WHICH IS SIN AGAINST THE GIFT OF LIFE, ARE ACCELERATING HUMANITY'S SUFFERING.
Premeditation on the part of those who are going to abort and of their collaborators in such a great crime, results in My Tears being poured out upon the Earth, and nature reacts against man, similarly with the variety of sins that the devil has put into man's mind and which man accepts, even if they go against human nature.
I SEE SO MANY HERODS WHO SIGN BILLS AGAINST THE GIFT OF LIFE SO THAT MAN IS PROTECTED UNDER HUMAN LAW AND FORGETS THE DIVINE LAW: THESE HERODS WHO ARE THE MINIONS OF THE WORLD ORDER, WHO DICTATES HUMANITY'S LAWS.
ALL THE ANGELS IN HEAVEN CRY ALOUD: ABOMINATION, ABOMINATION! AT EACH ACT AGAINST MY HOLY SPIRIT.
Such grave acts of sacrilege impel nature to act against those who act outside Our Trinity, and Our Trinity is love.
My people suffer when going against the Divine Law, since they cannot make their brothers and sisters partake of what they do not carry in their hearts.
My people, they abhor Me and shake their naked bodies in the streets with cries against Me, anesthetized by the devil.
This is what the antichrist has sown, who, without appearing publicly, has come to dominate you so you depart from Me, in order to rob you of Salvation.
WAKE UP, CHILDREN, WAKE UP!...
THE EVENTS ARE CONTINUOUS, THEY DO NOT WAIT, THEY REACH ONE COUNTRY AND ANOTHER.
The earth is turning against man, not being firm, but running like water, and water hurls itself at the earth and My children suffer for it. The boiling of the Earth's core comes out through volcanoes. Where there was no water there will be water and where there was water there will be none. Droughts will increase and floods take man by surprise. The earth cracks and the sea sinks in order then to rise up over coastal areas. Cold comes, My children suffer and I suffer for it.
Pray for My children, pray for Iceland, nature is fierce against it.
Pray My children, My Church will be surprised by a piece of news.
Pray for My children, pray for China, man will live in anxiety.
Pray My children, pray, Spain will be surprised, death looms.
My beloved People:
I AM INFINITE LOVE AND AT THE SAME TIME INFINITE TRUTH CALLING YOU TO BE PREPARED, WHILE PURIFICATION HANGS OVER SOME COUNTRIES AND SPREADS TO OTHERS.
I AM INFINITE LOVE, INFINITE MERCY, YET AT THE SAME TIME I POINT OUT TO YOU THE SERIOUS OFFENSES THAT AT THE INSTANT ARE A DAILY MATTER.
I AM INFINITE MERCY AND I CALL YOU TO DRAW NEAR TO ME WITH HUMILITY SO THAT YOU HEAR ME; YOU ARE MY CHILDREN WHOM I LOVE AND FOR WHOM I SACRIFICED MYSELF ON MY CROSS OF LOVE.
Do not dismiss My Calls, look up, look up!
Do not fear, come to Me and find My Peace, enjoy My Love. I bless those who become aware of My Divine Love implicit in this Call. I bless you.
Your Jesus
HAIL MARY MOST PURE, CONCEIVED WITHOUT SIN
HAIL MARY MOST PURE, CONCEIVED WITHOUT SIN
HAIL MARY MOST PURE, CONCEIVED WITHOUT SIN