Saturday, February 2, 2019
Message from Our Lord Jesus Christ
To His Beloved Daughter Luz De Maria.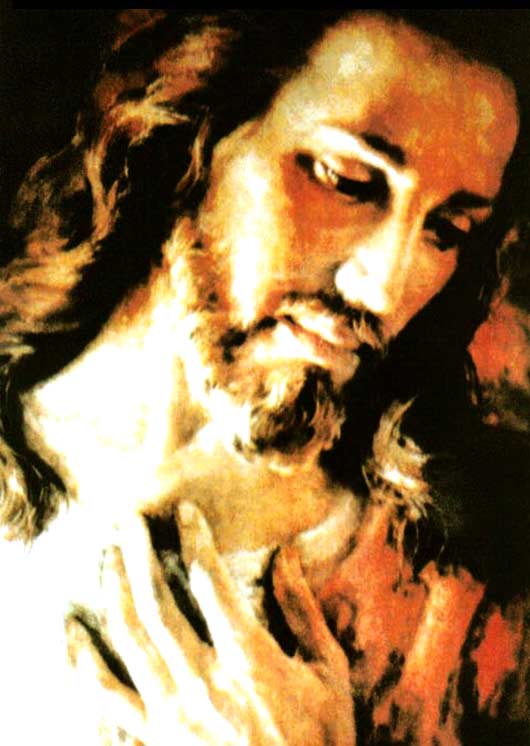 My Beloved People:
IN EVERY BEAT OF MY HEART THE PAINS THAT I SUFFER ARE FOUND DUE TO THE INGRATITUDE THAT HUMANITY CAUSES ME, JUST AS IN MY HEART IS FOUND THE CONSOLATION OF THOSE WHO LOVE ME AND MAKE REPARATION FOR THOSE WHO OFFEND ME.
I have warned My children throughout the Earth to be aware of their deeds and acts and the consequences of vices and seductions for the human soul. I have warned you about the presence of the Devil, lying in wait for you so that you go against human nature and commit acts of the most unthinkable baseness.
YOU FORGET THAT ALL ACTS AND WORKS WILL BE JUDGED, SINCE YOU HAVE AWARENESS OF THE "SCIENCE OF GOOD AND EVIL" (cf. Gen 2.17) AND HAVE FREE WILL, AND THEREFORE HAVE SET BEFORE YOU THE INEFFABLE JOY OF MY HOUSE OR THE ETERNAL PAINS OF HELL.
I have called you to be apostles of My Love; the apostle knows that with only good intentions they will not be able to change themselves or change their fellow men, but they must be a fulfiller of My Law and then help their brothers and sisters with My own love and My own charity, forgiveness, faith, hope, with prayer and a consistent commitment to the fulfillment of the purposes with which they have decided to surpass themselves in the spirit. I hear so many good intentions, but the majority stop at that, at good intentions, since they are so inconsistent; therefore few possess the necessary inner strength to succeed in being the yeast of My Love.
My people, teaching of doctrines contrary to the faith, contrary to My Teachings, is spreading. May you be beacons by which the instants in which you are living can be seen, and do not deny what you cannot deny, so that you remain attentive to improving and not allow yourselves to be intimidated by those who, pretending to be great scholars, impose norms on you that are contrary to My Law.
I CALL YOU TO REMAIN IN PRAYER AND TO PUT IT INTO PRACTICE WITH YOUR BROTHERS AND SISTERS IN ORDER THAT SATAN DOES NOT HAVE POWER OVER MY CHILDREN, BECAUSE I AM ARRIVING WITH MY JUDGMENT AND NO ONE WILL ESCAPE MY HAND, BECAUSE I WILL FIND ALL THOSE WHO HAVE DISOBEYED ME, WHO HAVE CORRUPTED MY INNOCENTS. THEREFORE YOU MUST CHANGE, YOU NEED TO REPENT AND COMMIT TO CONVERSION AT ALL INSTANTS.
Everyone has had an opportunity, I have offered it to all so that you do not get lost and manage to repent, but you have scorned it, you have accepted evil as the staff on which you lean in order to walk.
DO NOT EXPECT MUCH TIME, BECAUSE THE OFFENSES AGAINST OUR TRINITY ARE THE WORST, the most repulsive and heartbreaking to which man can consent in order to wound Us.
The Devil has usurped hearts and led them to edict norms that go against Me, those about which I have warned you and which you see before your eyes. My faithful do see them; those who do not love Me do not see evil in anything, but I will arrive when they least expect it.
My beloved People, you are heading towards the abyss and yet you feel that you are living in security; you have abused My Mercy and I will not allow it any more.
Remember what happened in Sodom and Gomorrah: thus with lightning, unbearable thunder, lightning never seen, unstoppable and strong winds carrying fire with them (cf. Gen 19: 23-29), so this generation will suffer more than Sodom and Gomorrah, because the crimes of this generation have surpassed all previous ones.
You see me as one who has no power on Earth, and you have emptied the human heart of My Love. You will feel insatiable thirst and it will be the thirst of My Word in your midst.
Repent, repent of the horrors that a great part of this generation are committing, abominations that will increase by the will of those who hold decision-making power on Earth; city after city will fall into terrible sins and for all it will be a great triumph to raise one's hand against the innocent.
The Devil whispers in man's ear and urges him to act by raising his hand to kill; this is the culture of death, the devil's madness that will not be long in coming for humanity.
Pray children, pray for Germany. Pray children, pray for Chile, it suffers severely. Pray children, pray about the ravages of nature in the United States. Pray children, pray for Cuba so that its inhabitants convert. Pray for Ecuador, it shakes.
My beloved people, blood flows over various lands; disobeying My Commands, man walks without meaning through life, causing damage to himself.
I call you to renew love for Our Trinity and for My Mother; it is urgent that spirituality be the hallmark of My faithful People.
As I am all Mercy, I do not deny My Forgiveness, but you need to come before Me with your heart, mind, thought and all senses directed towards a goal: NOT SINNING OR TAKING PART WITH THOSE WHO OFFEND ME; YOU NEED TO BE TRUE AND TO ACCOMPLISH WORKS OF MERCY (cf. Mt 25,31-46), DECIDE TO GROW IN LOVE TOWARDS NEIGHBOR AND BE CHARITABLE, WITHOUT DECREASING IN HOPE, SO THAT FAITH REMAINS FIRM.
My people, you are the apple of My Eye and you forget it: you become engrossed in what is worldly and easily fall into the mire of the darkest and most terrible sins. Because of this I call you to be faithful to Me, to listen to My Mother, to fulfill My Law properly.
The goodness of My Love does not delay in the midst of great calamities; I will amaze you with the wonders of My Love for My faithful People.
MY ANGEL OF PEACE WILL COME IN ORDER TO RENEW LOST HOPE. (*)
MY MERCY IS POURED OUT IN ABUNDANCE ON THOSE WHO SURRENDER TO ME WITHOUT HOLDING BACK, ON THOSE WHO REPENT AND CONVERT, ON THOSE WHO DO WORKS IN FAVOR OF THEIR BROTHERS AND SISTERS SO THAT THEY SAVE THEIR SOULS.
I am your God and I assure Eternal Life for Those Who Keep The Faith.
Do not stop, do not look at the falsehood of the promises of men, do not distort the Divine Law, respect the Gift of life, do not allow families to be defeated by evil.
Speak to me!, I am in you ...
Seek Me in the Tabernacle! ...
If you are in tribulation, seek me, call My Mother: She is Queen and Mother; go to your Guardian Angels, to My Saints to intercede for you - you are not alone...
Come to Me!, I bless you with My Love.
Your Jesus
HAIL MARY MOST PURE, CONCEIVED WITHOUT SIN
HAIL MARY MOST PURE, CONCEIVED WITHOUT SIN
HAIL MARY MOST PURE, CONCEIVED WITHOUT SIN