Friday, February 8, 2019
Message from the Blessed Virgin Mary
To Her Beloved Daughter Luz De Maria.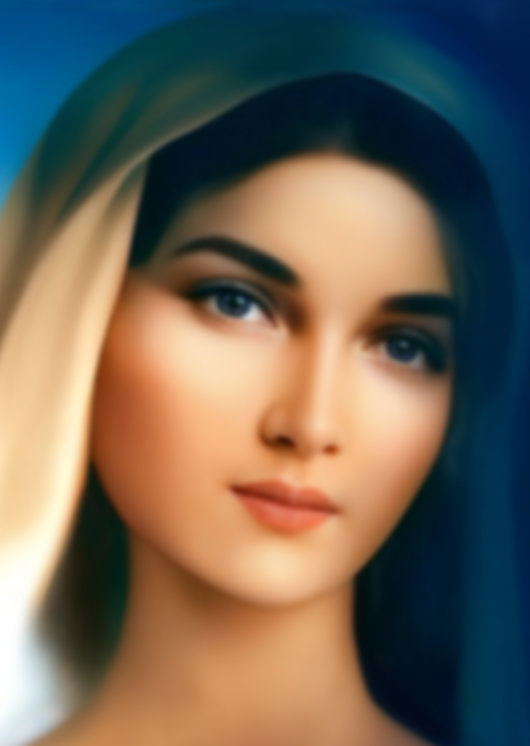 Beloved children of My Immaculate Heart:
I BLESS YOU ALL, I LOVE YOU ALL SINCE YOU ARE ALL MY CHILDREN...
In man's time you are witnesses that everything is happening, but you are not aware that it is happening at great speed. My Son, the Master of everything, has allowed the Earth to accelerate its course so that His People would approach the fulfillment of what is expected.
AS YOUR INTERCESSOR I HOLD UP THE HAND OF THE FATHER, IMPLORING HIM TO CONTINUE GIVING YOU OPPORTUNITIES SO THAT YOU DO NOT GET LOST AND THAT YOU SAVE YOUR SOULS, BUT MAN'S OBSTINACY IGNORES THE OPPORTUNITIES AND CALLS OF THE FATHER'S HOUSE.
I have traversed epochs, I have gone from country to country, from people to people, alerting you because I love you; a few listen to Me, others are totally sceptical and others follow the revelations of all the beloved instruments of the Father's House, and they get confused and do not know what to do or where to go.

I HAVE COME TO CALL YOUR ATTENTION SINCE EVENTS ARE CONTINUING TO OCCUR; nature exerts its force over the Earth so that man watches her power – that of nature - attentively, but man is afraid in the instant in which he faces suffering, and when that suffering has passed he stops crying out to the Father, stops calling My Son, stops invoking the Holy Spirit and stops asking for My intercession, because when he is free from hardship We are no longer necessary...


This spiritual reality in which the man of this generation is living is sad, and for that reason he decays more at every instant by embracing the great innovations of the so-called liberation that evil offers you: it offers you liberation for sin and freedom in all areas of life. The man who has not yet understood that in order to follow My Son he must renounce himself, his desires, his whims (cf. Mt 16,24), embraces all the debauchery that evil has disguised as freedom.
I see how My children fall one after another into the clutches of evil and that My Son's People do not meditate on the words that the devil has uttered. He has unleashed his strength against My children in order to wound My Immaculate Heart, for he knows that in the end My Immaculate Heart will triumph and he therefore wishes to crush My children because he knows that I love My children even though they do not understand it, because it is easier for them to belong to the world and go with the majority that have been indoctrinated to follow falsehood, lies, and to reject the Path of Grace that leads you to Eternal Life.
How many come on Sunday to the Holy Eucharistic Celebration and the rest of the week do not invoke the Holy and Divine Name of My Son for a single instant, and on that Sunday, unaware of what they are doing, they add to their own condemnation, since they approach the Eucharistic Table, the Divine Banquet, and receive My Son laden with sins of which they do not repent. How My Son suffers! They do not think, they do not feel the pain of My Son, because they make Him continually live His Passion and the whole journey of the Sorrowful Passion.
YOU MUST DECIDE FOR A CHANGE OF LIFE, ALTHOUGH I HEAR SO MANY OF MY CHILDREN SAYING: "THOSE WHO ARE LOST ARE LOST AND THOSE WHO HAVE SAVED THEMSELVES HAVE SAVED THEMSELVES", BUT MY SON, WHO IS INFINITE MERCY, AND I, MOTHER OF THAT MERCY, WE CONSTANTLY WATCH YOU, WAITING FOR A WORD TO COME FORTH FROM YOU: "FORGIVE, LORD, FORGIVE", AND MY SON WILL WELCOME YOU AS A FATHER RECEIVES A NEWBORN CHILD.
MY CHILDREN, PLEASE PAY ATTENTION! ... The Antichrist (1) is walking in the world, is acting in the world, is moving his tentacles in order to confront you, to offend and crush you, to lead you to commit more sins, to make you despair, to destabilize you emotionally. He is moving all the tentacles he has in order to go against My children, and you do not react to this.
Beloved children of My Immaculate Heart, Oh how great is the suffering that I carry in My Heart for this generation, that escapes from the Hands of My Son and the Hands of this Mother like water between the fingers!

You are accustomed not to think, not to discern, not to become aware, not to think about the consequences of your actions because you walk in mass; in this way you have been collectivized so that it would be the majority that dominates and drags you along, but you - do you not think of Eternal Life or the suffering of the flames of hell? - and I say this even against those who say that hell does not exist, that it is experienced on Earth, but the pains of earth are not comparable to those of hell, and the Trinitarian Mercy is infinite, but it is just and will forgive those who repent; it will not forgive those who in their lives freely consent to sin and who act against the Divine Laws. About this you need to be clear.
Oh men of this generation!
How you are continually rebelling!
How many sins of My children will come to light, bringing great pain to My Son's Church!
How much sin there is in the corridors of the Churches, and I know that some of My children will say: "Forgive them, Lord"!, but you are temples of the Holy Spirit and...
How much sin I continually see in the corridors of your lives when you do not love your brother, but principally when you break the Law of God!
Great alliances are happening in the world and you forget Revelation that tells you that it is when great alliances are made that you will find yourselves closest to the great tribulations. (1 Thess. 5.3)

Children, you are not thinking about a Third World War because you see an apparent peace, but the Third World War began some time ago and is advancing stealthily, from one place to another, enflaming men, raising the flames of war.


My children, with the tenacity with which you pay heed to meteorological services when they warn you of great cyclones approaching your countries, prepare in order to save your souls! How many of those who perish lose Eternal Life!


YOU MUST PREPARE MATERIALLY, BUT BEFORE THAT...
PREPARE YOURSELVES IN THE SPIRIT! COME TO MY SON AND LIVE IN PEACE WITH HIM!


I intercede for you, because you give so much importance to the things of the world and forget the main thing. Maybe because in homilies you have not heard that you have a soul and what the soul is...
Maybe because you have not been warned about the changes that humanity will suffer...

BUT I, AS SENT BY THE HOLY TRINITY, COME TO YOU TO WARN YOU BY DIVINE WILL, SO THAT YOU DISCERN ABOUT YOUR LIVES, YOUR DAILY WORK AND ACTION, AND SO THAT YOU MANAGE TO SAVE YOUR SOULS.
My children, how man despises life! How man has become an executioner, how is it that woman consents to killing a child!... Such is the Divine Mercy that the Most Holy Trinity has waited in order not to pour out the Cup completely over humanity, and yet man, feeling himself to be God, kills a defenseless creature. Where is the heart of man? I am not asking you about the mind or thought, but the heart of stone that has become debased against itself.


MY CHILDREN, RECONSIDER, AND MAY EACH ONE OF YOU BE A SPOKESPERSON FOR THIS MOTHER. TAKE THIS WORD TO YOUR BROTHERS AND SISTERS, BE BRAVE CHILDREN. SPEAK OF THE MERCIFUL LOVE OF THE MOST HOLY TRINITY AND THIS MOTHER TO THOSE WHO, KNOWING THAT LOVE, HAVE DECIDED TO RENOUNCE IT IN ORDER TO CONTINUE IN THE PLEASURES OF THE WORLD AND OF THE FLESH.
Beloved children of My Immaculate Heart, you will see the sun reborn, the Sun of the Divine Will reborn and placed in the life of each one of you in order to sustain you when necessary. Not all is penury: My Son is freedom, is love, is freshness, is wind that blows and refreshes when the heat is overwhelming, is crystal-clear water that quenches thirst, is infinite sweetness, even in the midst of sorrows.


MY SON COVERS YOU, HE CRADLES YOU IN HIS ARMS, MY SON IS INFINITE FULLNESS, THEREFORE WALK TO MEET HIM. I LOVE YOU ALL AND WANT TO SEE YOU ALL DRESSED IN WHITE, WALKING TOGETHER WITH MY SON WITHOUT ANY SIN, AND THIS IS POSSIBLE IF YOU DECIDE TO LIVE FOR HIM (cf. Rev 3,5).


I bless your sacramentals, I bless the path of each of you and your families.

I bless your hearts and the hearts of each one of your relatives.


I bless all those who are sick so that in sickness they may be able to find love when it is offered up for the salvation of souls.
I bless those in tribulation, those who despair, so that they may offer everything to God for the salvation of souls and view life's situations with different eyes.

AS MOTHER I BLESS YOU AND WITH MY IMMACULATE HEART I ASK YOU TO PRAY TO MY SON THAT HE SENDS HIS ANGEL OF PEACE. (2)
Mother Mary
HAIL MARY MOST PURE, CONCEIVED WITHOUT SIN HAIL MARY MOST PURE, CONCEIVED WITHOUT SIN HAIL MARY MOST PURE, CONCEIVED WITHOUT SIN
(1) Revelations concerning the Antichrist: read…