Thursday, February 14, 2019
Message from Our Lord Jesus Christ
To His Beloved Daughter Luz De María.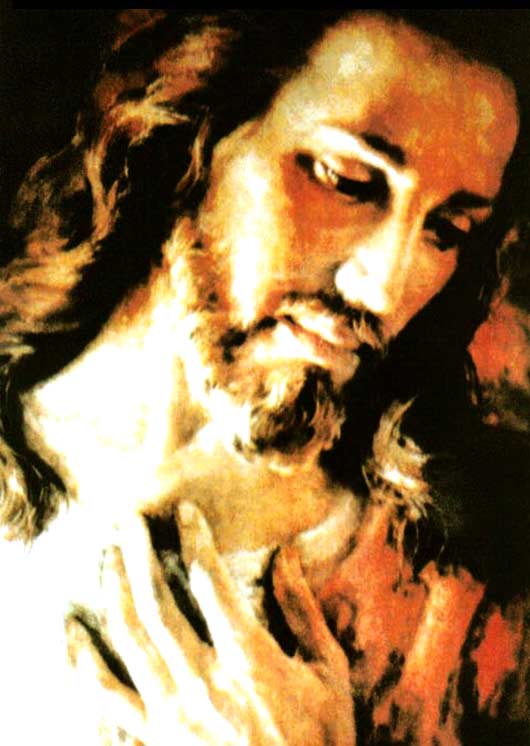 My beloved People:
MY OPEN SIDE HAS POURED OUT BLOOD AND WATER FOR MY CHURCH... (*)
Confusion succeeds in dividing, and division is the cause of the disintegration with which the antichrist has set out to create schism in My Church.
THE BATTLE BETWEEN GOOD AND EVIL HAS NOT CEASED, IT REMAINS IN EFFERVESCENCE. Evil is increasing its strategies against My children who, weakened by worldliness and adhering to the tentacles of evil, have been corrupted by licentious ideologies and their falsehoods. My People have created gods at will, adoring them, debased by the depravations of the evil one against Me.
YOU CONTINUE IN WHAT IS WORLDLY AND PROFANE, YOU FORCE ME TO LOOK AT THE PROFANE, YOU MOCK MY MOTHER AND HAVE MADE HER A CAUSE FOR DERISION AMONG THOSE WHO DO NOT LOVE ME ...
My children, I carried the cross of each one of you, I carried it with your sins, and yet humanity minimizes it with such depressing concepts that even My Angels cry over it. YOU VIEW MY PASSION AS A SPECTACLE, PUTTING ASIDE THE LOVE OF MY FATHER FOR HIS CHILDREN.
How some of those who think they represent Me insult Me!
They exalt ideologies; man revels in the power to kill those who are helpless and innocent. Thus the devil, magnified by sins against the Gift of life, now claims his plunder, that of the souls of those who pronounce the death sentence against the innocent.
I AM MERCY; THE MAN WHO CARRIES OUT PLANS AGAINST THE GIFT OF LIFE IS FREE, AND IN HIS FREEDOM HE IS RESPONSIBLE FOR HIS JUDGMENTS.
My people, the closer you are to the fulfillment of the Revelations that My Mother and I have given for the world so that all men convert and save their souls, the more strategies the antichrist uses against My children and the children of My Mother so that they would be lost.
Sacred Scripture is forgotten, annulled by some and distorted at will by others, with the aim of belittling Me as King and Lord of Heaven and Earth (cf. I Tim 6:15; 1:17).
You should believe in Our Trinity and as faithful children open your consciences in order to understand that sin leads you to misery, to fatigue, and that the Devil will not offer you a state of permanent joy, but gives you over to states of euphoria so that you stain your souls and contaminate your brothers and sisters.
I will come to separate the wheat from the chaff (cf. Lk 3:17), the good from the bad - the manure that did not serve as fertilizer, but dirtied wherever it went. But before that, FROM MY HOUSE WILL COME MY MERCY AND FROM HEAVEN WILL COME THE LIGHT THAT WILL BE SEEN BY ALL MANKIND AND WILL FORM MY CROSS PRIOR TO THE DAY OF CONSCIENCE. (1)
Beloved My People, at this instant it seems that man likes to view himself as one body, without being one. Not all love me, not all obey me, not all adore me, not all honor me, not all love My Mother or respect or revere Her.
I see you absorbed in evil thoughts that do not bring you any fruit, but you enjoy those desires to which the devil incites you because you have separated yourselves from Me.
BELIEVE, MY CHILDREN, BELIEVE! NOT WITH A WEAK FAITH, BUT WITH YOUR MIND...
I DO NOT WANT A FAITH WITHOUT FOUNDATION, WITHOUT INNER LIFE, WITHOUT WORKS, " FOR AS THE BODY WITHOUT THE SPIRIT IS DEAD, SO FAITH WITHOUT WORKS IS DEAD" (James 2:26).
My beloved people, be aware that -
My love is not an ideology...
My love is not an expression...
My love is not a modern trend...
MY LOVE AND MY WORD ARE THE WAY, THE TRUTH AND THE LIFE (cf. Jn. 14:6).
My beloved People, do not be anxious about the things of the world (Mt. 6:25); you are different, you love My Truth, therefore you experience and will suffer pain for not departing from My Truth.
I HAVE POURED OUT BLOOD AND WATER (*) FOR THOSE CHILDREN OF MINE WHO IN CONFUSION CHOOSE THE WRONG WAY, ADHERING TO LICENTIOUSNESS AND TO ERROR.
My people, remain united by praying in season and out of season, without forgetting that you need to put your faith into practice towards your brothers and sisters. Be My own Love.
My beloved People: humanity embraces so much progress, especially in technology, and I am showing you that humanity will be deprived of this technology. The Earth has been martyred by man and by the great world powers that have inserted misused technology into it, with which they have poisoned it. The Earth has changed in its core, being vulnerable and making man vulnerable to the effects of the sun.
Beloved children, social uprisings do not cease; they are increasing and the scourging of My children is continuous.
COME TO ME, DO NOT CONTINUE TO REFUSE ME; DO NOT OFFEND MY MOTHER, SHE IS THE DAUGHTER OF MY FATHER, MY MOTHER AND THE TEMPLE AND TABERNACLE OF OUR HOLY SPIRIT.
I call you to pray for the United States, it is fiercely shaken.
I call you to pray for yourselves so that you are not confused in the faith.
I call you to pray: the earth shakes from one end to the other.
My beloved People:
Do not turn away from Me; My Mother continually stretches out Her Hand in front of each person.
My Angel of Peace (2) watches you and is waiting in My Will in order to help My children. My Angel of Peace suffers at the refusal of My own to love and respect Me, He suffers at the refusal of My Mother's Love.
I do not forsake you, I stand by you: accept Me.
Do not forget that the devil has come to divide My own so that they are easy prey for Him, since united he will be unable to bring them down. Be My own Love, forgive so that I forgive you, be humble and charitable so that with your testimony you are a reflection of My Love.
My Blessing is with you.
Your Jesus
HAIL MARY MOST PURE, CONCEIVED WITHOUT SIN
HAIL MARY MOST PURE, CONCEIVED WITHOUT SIN
HAIL MARY MOST PURE, CONCEIVED WITHOUT SIN
(1) Reference to the Great Warning of God to humanity: read...