Wednesday, February 20, 2019
Message from St. Michael the Archangel to Luz De Maria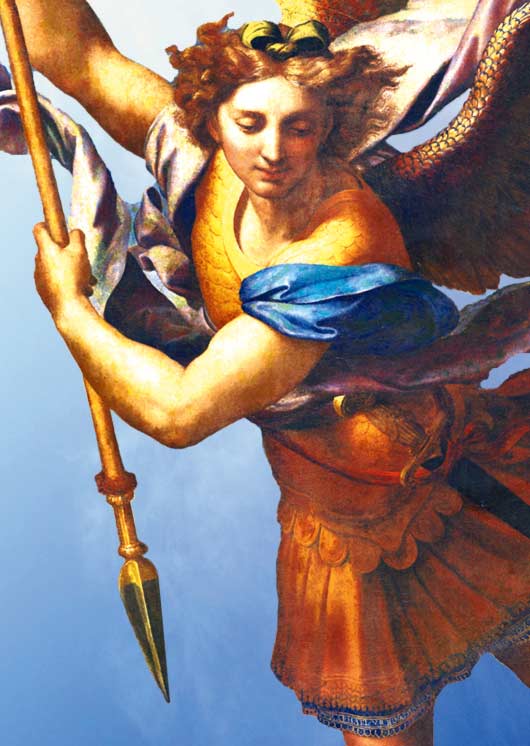 Beloved of God:
I INVITE YOU TO BE PREPARED TO ACT IN GOODNESS, WITH YOUR FREE WILL DIRECTED TOWARDS GOD.
Humanity is being increasingly collectivized, and with this trend, evil is dominating the great majority of human beings. It is difficult for evil to attack men separately; for this reason, it unites them with same wrong tastes and the same sinful actions, so that humanity views what is wrong as right.
People of God, man contains within himself the need for unity; evil takes advantage of this, convincing him to follow the majority in order to be accepted. In this process, man becomes lost, convinced by the leaders of the world, and he acts gravely offending the Most Holy Trinity and our Queen and Mother.
WHEN THE HUMAN CREATURE SETS OUT ON THE BROAD PATHS OF WORLDLY PLEASURES, THESE ENVELOPE HIM/HER AND MAKE HIM/HER DISREGARD THE DIVINE CALLS.
Humanity, enter into relationship with God before night arrives; go to God's protection. Do not turn away from the Queen and Mother. Evil remains attentive in order to ensure you are lost.
These are instants in which the devil afflicts human beings in order to bring them closer to him; he saturates them with spiritual fatigue so that they surrender to perversion, not only corrupting themselves, but corrupting their brothers and sisters.
Children of God, do not be distracted or foolish: you are blessed with the knowledge of the Revelations that our King and Lord Jesus Christ and our Queen and Mother, the Blessed Virgin Mary, have given to humanity. It is the Love of Heaven so that the People of God are not lost. Man's patience is put to the test. The Queen and Mother of Humanity has upheld the Divine Arm so that you have the opportunity to convert, and so more souls might be saved. EVIL, KNOWING THIS, SPEAKS TO MAN, TELLING HIM THAT TIME HAS PASSED, AND NOTHING HAS BEEN FULFILLED—LIES AND DECEIT SO THAT YOU WOULD BE LOST. YOU CAN SEE WHAT HAS BEEN PREDICTED BY HEAVEN BEING FULFILLED BEFORE YOUR EYES, AND IT WOULD BE BETTER FOR YOU NOT TO WANT WHAT IS STILL TO COME IF YOU ARE NOT PREPARED.
Our Queen and Mother and Mother of humanity has appealed to the Most Holy Trinity so that Divine Mercy would flow towards humanity, and how do you respond? By rebelling - you do not repent of so much evil but enjoy it. The Sacred Hearts are constantly grieved, human coldness towards God limits spiritual ascent. And the demons, intent on causing God's People to be lost, do not wait before invading the minds of human beings, permeable to the devil through violating the Divine Law—repaying good with evil, being foolish, conceited and liking being credited with being the best in front of their brothers and sisters, being creatures who are proud, arrogant, envious. Ego, ego, ego ...
I therefore come to warn you. You know about nature and its changes being more drastic, such as you have not experienced them. The earth will be in constant danger, relations between the West and the East will worsen, provocation will be mutual until the coming of lamentable events for all humanity. The Church of Christ is not advancing: it is regressing and shaking.
The great earthquake shakes much of America and awakens other fault lines; the earth's movements increase; where it did not shake, it now shakes. This will be in order to awaken men who remain immutable!
Pray children of God, pray for the United States; the earth trembles and nature gives no truce.
Pray children of God, pray for France, terrorism shakes it.
Pray children of God, pray for Mexico, it shakes and its volcanoes awaken.
Pray children of God, pray, the economy takes the predicted course (1).
As messengers of God, we go to meet man if you allow us to do so; we remain attentive. Your guardian angels beg you for conversion before evil completely confuses you and gives you stones instead of bread. You are living according to plans that you draw up in human fashion, plans separated from God, with human feelings and an apparent awareness that what you believe is right, within the concepts of the masses whom you follow. Not everything that man does is wrong, but ... WORK AND ACTION IS MECHANICAL FOR THE MOST PART; YOU ALMOST CANNOT DISTINGUISH ONE FOOT FROM THE OTHER BECAUSE YOU DO NOT PAUSE IN ORDER TO DISCERN, AND THUS YOU FALL INTO MISERY.
The Divine Plan is perfect - and man? Are those who call themselves children of God collaborating with that Divine Plan or have they destroyed it? In order to cooperate with the Divine Plan, you must attract blessing and be a blessing, but your interests are different from those of God. Evil has penetrated within man and has made him an object of its plan; personal interests stand out without bringing happiness.
PURIFY YOURSELVES, BE BLESSING IN YOUR LIVES AND THOSE OF YOUR BROTHERS AND SISTERS; DO NOT WISH TO IMPOSE YOUR TASTES AND PRETENSIONS, BUT ACT WITH UNDERSTANDING IN ALL ASPECTS OF LIFE, SINCE LIFE IS A GIFT FROM GOD. Some display great knowledge but fall continuously into human egoism; satan leads them to this and they continually fall in the small details, where the human ego stands out: the desire for mastery, and this is not pleasing to God...
It is those who humbly offer their works and actions for the good of their brothers and sisters, for the good of those around them, for the good of humanity, who increasingly manage to unite with the Divine Plan. Whoever lacks this goal imposes himself/herself, his/her ego emerges and it is more difficult for him/her to grow spiritually. Be a blessing!
Pray for the true instruments whom I protect; do not be a stumbling block, but a blessing and help for them.
ARE YOU PREPARING FOR THE WARNING? (2)
I bless you, I protect you.
WHO IS LIKE GOD? Rev. 12:7
St. Michael the Archangel
HAIL MARY MOST PURE, CONCEIVED WITHOUT SIN
HAIL MARY MOST PURE, CONCEIVED WITHOUT SIN
HAIL MARY MOST PURE, CONCEIVED WITHOUT SIN
(1) Reference to the fall of the world economy: read...