Tuesday, February 26, 2019
Message from St. Michael the Archangel
To Luz De Maria.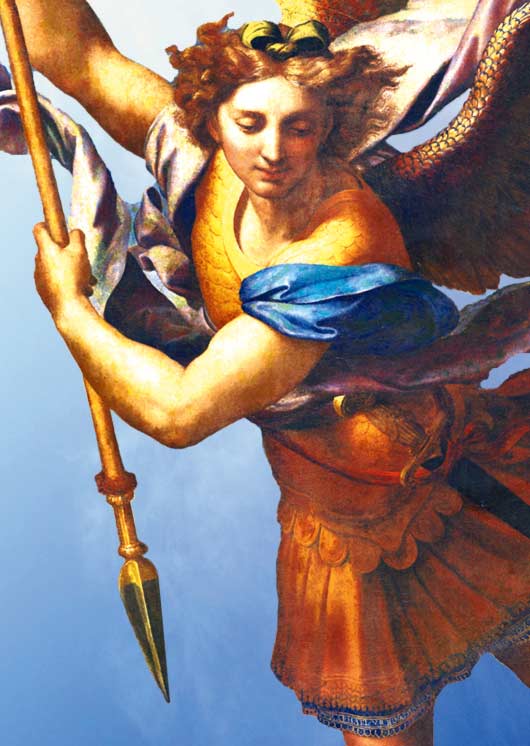 Beloved children of God:
AS PRINCE OF THE HEAVENLY HOST, I AM SENT IN ORDER THAT YOU MAY WOULD REFLECT.
You need to return promptly to being children of Our King.
You need to return with faith, hope and charity, firstly for yourselves and then for your neighbors.
Our King's side remains open on seeing His children who are in permanent confusion, not knowing where to go.
Humanity finds itself dispersed by thousands of situations, conflicts, dangers, changes, projects, and because of this you have decided to immerse yourselves in what you consider your rights and happiness, health and well-being, triumphs and blessings.
Children of Our King, to what do you have a right?
HOW IT GRIEVES ME TO SEE YOU REJECTING OUR KING! ...
AND I AM NOT REFERRING SPECIFICALLY TO THOSE WHO DO NOT LOVE HIM, BUT ALSO TO THOSE WHO, "LOVING" HIM, CONSTANTLY WOUND HIM.
Man has fallen in his evolutionary level through refusing to recognize himself as a child of God ... What does humanity fear? Why has it driven Our Lord and King away from its life? Is it that you fear the obligation to continue in what you reject at this instant? Is it that you fear commitments, even though they come with Divine Mercy?
O humanity, how many will be lost! How many of those who claim to have faith will lose it at times because of not knowing the Giver of life!
YOU REJECT THE TRUTH IN ORDER TO ESTABLISH NEW CONCEPTS OF SOCIETY, OF FAMILY, OF TOLERANCE, LOVE AND CARRYING OUT THE DIVINE WILL...
Children of Our King, you have decayed, you are decaying in Truth and therefore decaying spiritually, having less ability at this instant to resolve what life presents to you. Man has lost the spirituality for remaining firm in faith because the mind of man has been damaged, has been altered, contaminated to the very root, and man, unprotected by his spiritual capacities, falls into a constant to and from like the waves of the sea; he acts according to inertia, automatically; he has become accustomed to being less sensitive, less rational, and to taking what turns out to be most convenient for him, even when that goes against human nature itself.
You want to find answers to what is unknown to you and yet you will not find them because they are not all love, but wrong copies of what the majority have established as being love.
You have become weak for living in unity with Our King; you repudiate Him and do not love Our Queen, hence this detachment, hence so many ruptures, so much debauchery and the constant scourging facing humanity and so much scourging that you will face.
YOU ARE HEARING THE VOICE OF ONE WHO FOUGHT AND FIGHTS FOR THE KINGDOM OF GOD, and yet at this instant I see Satan joyfully taking human creatures down the path of perdition. Those of you who adore Satan, !repent!, as this sin causes spiritual leprosy and the leprosy of the body that will scourge humanity.
YOU DO NOT BELIEVE, YOU ARE SPIRITUALLY BLIND... The struggle between good and evil has not ended, it continues advancing in order to bring down the Church of Our King (Rom. 12:21). Being spiritually blind, how do you intend to guide your brothers? You will be blind leading the blind, and both of them can fall into the abyss (cf. Mt 15:14).
YOU ARE SICK AND I HAVE TO CALL YOU TO BE HEALED SO THAT YOU DO NOT LOSE ETERNAL LIFE.
HOLD TO THE TRUTH, DO NOT GO ASTRAY, RECOGNIZE WHEN YOU HAVE FALLEN AND BE FULFILLERS OF THE LAW OF GOD SO THAT YOU ENJOY ETERNAL LIFE.
Do not align yourself with ideologies; Our King, Christ, is not an ideology, He is the "Way, the Truth and the Life" (cf. Jn 14:6). Embark on the way of conversion: it is urgent. Humankind is suffering and will suffer through bearing its own torments.
Divine Mercy calls you make amends in order to welcome you. Do not forget that you have the freedom to choose between the right path and the easy path of perdition.
Pray as the People of God for peace where pain provoked by man reigns at the instant.
Pray as the People of God for one another so that all decide to make amends.
These are not the instants for the lukewarm to contaminate the wheat with the pests of crises of faith, improper and forbidden innovations. Do not let your faith be made to falter; turn away from what is worldly, as the instant is coming when the living will envy the dead (cf. Rev. 9:6). What your eyes see is painful; what they will see will be heartbreaking and what is coming for humanity carries the smell of death.
YOU DO NOT NEED TO BE LEARNED, BUT TO BE FAITHFUL TO THE MOST HOLY TRINITY, LOVERS OF OUR QUEEN, TO BE HUMAN BEINGS WHO ARE CONVERTED AND CONVINCED, ENTERING INTO THE KNOWLEDGE OF THE TRUTH AND READY TO BE FULFILLERS OF THE DIVINE WILL.
Do not be troubled if you love in "Spirit and Truth"; be defenders of the faith, be faithful to the Most Holy Trinity and to your Blessed Mother.
WE ARE YOUR TRAVELLING COMPANIONS, YOUR PROTECTORS; WE COME TO PROTECT YOU WHEN YOU ALLOW US TO DO SO: BE AWARE OF THIS.
Believe and bless one another.
St. Michael the Archangel, servant of God One and Three, and servant of the Queen of Heaven and Earth.
HAIL MARY MOST PURE, CONCEIVED WITHOUT SIN
HAIL MARY MOST PURE, CONCEIVED WITHOUT SIN
HAIL MARY MOST PURE, CONCEIVED WITHOUT SIN