Monday, March 4, 2019
Message from Our Lord Jesus Christ
To His Beloved Daughter Luz De Maria.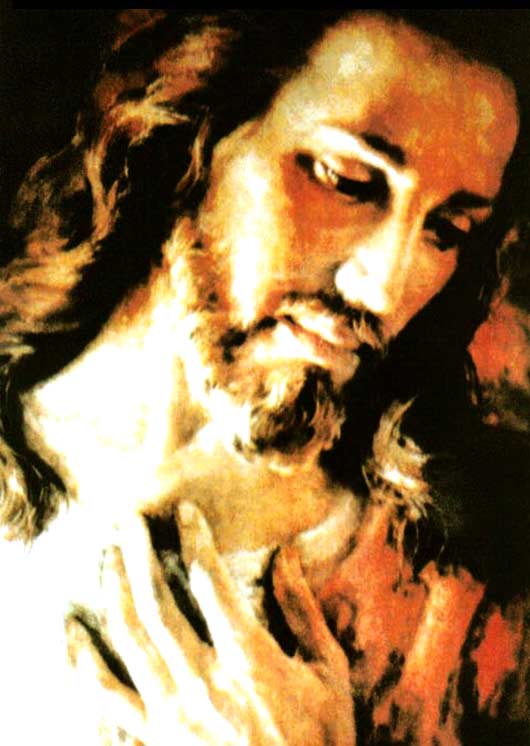 My Beloved People:
I call you to meditate on My Words, although the lack of awareness among some of My children obscures My Calls. I THEREFORE COME BEFORE HUMANITY WITH MY LOVE, MY MERCY AND MY JUSTICE.
My Mercy sees a child of Mine who is repentant and has a firm purpose of amendment, as if looking at them for the first time, offering them the best of My House. My Mercy overflows in front of a child who is truly repentant and prepared not to offend me anymore. I am clement and just at the same time.
I DO NOT WANT YOU TO CONFUSE MY MERCY WITH IMPUNITY...
I WILL ARRIVE AND ALL MY CHILDREN WILL HAVE JUDGMENT, EVERY ONE.
At the beginning of the Lenten season, My People find themselves before My Mercy, and if there is proper repentance, I will place you in My Sacred Heart, where you will profit from the strength to withstand what is coming to humanity, in the midst of the folly of those who are causing My Church to shake.
Pray and entrust yourselves to My Most Holy Mother who, as the Door of Heaven, constantly intercedes for each one of My children, calls them, sustains them again and again so that they are not lost.
Reflect and do not retreat in the face of the evil that is distilling filth over My children so that the demons with their snares do not suffocate them, to the point of making them scorn Salvation, which I offer them in this Lent in a special way in order that they would save their souls.
My Church is suffering, and how many rejoice at this suffering of Mine!
My Church is being undermined: woe to those who are undermining it!
Woe to those who are stumbling blocks for My children and are leading them to the precipice or to suffering!
My People, I call you to be strong, to resist by loving Me, without retreating, but testifying to My Love present in you.
ALL MY CELESTIAL LEGIONS COME TO ACCOMPANY MY FAITHFUL CHURCH: FAITHFUL TO ME, TO THE HOLY SCRIPTURE, FAITHFUL TO THE DIVINE LAW, FAITHFUL TO MY TEACHINGS AND OBSERVANCES.
THESE ARE INSTANTS OF BEING AT THE CROSSROADS FOR THOSE WHO LOVE ME AND ARE OBSERVERS OF MY TRUTH.
Do not fear, do not retreat, continue being testimonies of My Love; only then will you be able to continue going forward. Those who are not testimonies of My Love will be confused and led down other paths that only lead to perdition.
MY CHURCH IS ONE IN MY WILL: THERE ARE NOT VARIOUS WORDS, BUT ONE SINGLE WORD THAT IS THE WAY, THE TRUTH AND THE LIFE (Jn 14:6).
In this Lent especially, do not falter; continue being faithful and loving My Mother; accompany Her especially during My way to Calvary.
MY PEOPLE, YOU MUST BE MY VERY OWN LOVE. I INVITE YOU TO BE NEW CREATURES, TO PUT ASIDE THE SIN THAT LEADS YOU TO SPIRITUAL DEATH; DISPOSE OF YOUR OLD GARMENTS, FIGHT AGAINST THAT DRUNKEN "EGO" WITH WHICH YOU HURT YOUR BROTHERS AND SISTERS, WITH WHICH YOU HURT THOSE CLOSEST TO YOU, AND ME.
Man forgets that with the judgment by which he judges, he will be judged, and with the measure by which he measures, he will be measured. (Mt 7:1-2).
Practice Works of Mercy and exercise them.
Pray My children, pray for Mexico, it suffers, its land shakes.
Pray My children, pray for the United States, its ground is shaken and it suffers due to nature.
Pray My children, pray for Italy, it suffers, the earth shakes.
Beloved My People, My Angel of Peace will bring you My Light; He will accompany you, pray for this. (*)
Reconcile yourself with My House; I receive you with My Love.
Be firm with yourselves, very firm; do not allow yourselves to be separated from Me.
Live this Lent ready for the true encounter, in communion with My Love, My Truth, My Peace, supremely aware that you are My children.
Pray, offer, let those who can fast do so.
Live in My Peace.
I bless you, I carry you in My Sacred Heart.
Your Jesus
HAIL MARY MOST PURE, CONCEIVED WITHOUT SIN
HAIL MARY MOST PURE, CONCEIVED WITHOUT SIN
HAIL MARY MOST PURE, CONCEIVED WITHOUT SIN