Friday, March 29, 2019
Message of St. Michael the Archangel
To Luz De Maria.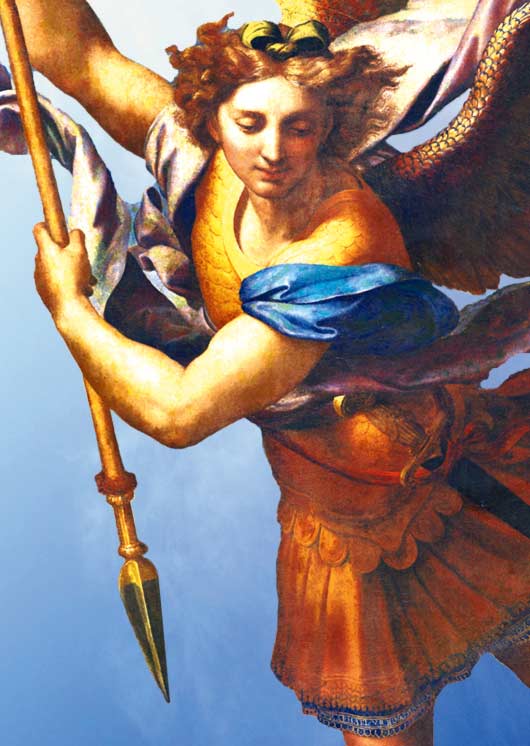 Children of God:
GIVEN THE CONTINUOUS REQUEST OF THE MOST HOLY TRINITY THAT NO SOUL WOULD BE LOST, I COME AS CAPTAIN OF THE CELESTIAL HOST TO CALL YOU TO RADICAL CHANGE.
HUMANITY IS HANGING BY A DROP IN THE FATHER'S CUP because of the persistent wave of crimes with which man is inwardly succumbing because of his already contaminated and sick senses, like his mind and thoughts. Without fear of offending God, the great majority of humanity has thrown itself into the abyss of passions and immorality, rejecting its own nature. Oh, what human audacity, going against the Will of God! How you will lament as a result of acting in this way!
Evil's cunning and its interference in humanity is intense, just as evil has introduced itself into all areas of society and of great organizations that should provide good for humanity; the scenario was prepared slowly and silently - man, a child of God, lives without God, he has thrown Him out of his life, accepting the offerings of Satan: comfort, social position, status, materialism, cunning for living in deception, a comfortable lack of awareness, great irresponsibility, immorality, perversion, insensitivity, egomania, disrespect for the Law of God, debauchery, false gods and others that detract from the human spirit and conscience.
Children of God, you know that evil has entered into the Church of Our King; the People of God must therefore remain attentive to observing the fulfilment of the Law of God and to the observance of the Divine Word present in Sacred Scripture. The People of God are being confused and divided, interpretations will be increasingly frivolous so that men would be attracted by permissiveness that is not accepted in Heaven.
YOUR WEAKNESS FACED WITH EVIL OUGHT TO CAUSE YOU TO STOP AND ASK YOURSELVES:
What is happening to me personally?
What do I believe?
Do I want to save my soul?
Do I understand that this critical instant in the history of humanity makes me responsible for responding to Christ the King of the Universe and to my brothers and sisters?...
As Prince of the Heavenly Host, I will answer myself. Man does not want to question himself in order not to change, because of the comfort that sin offers him. Do you know the structure of the spiritual organism, do you know what the soul is? You are not aware that acts and individual works collaborate with the whole as a race and as children of God.
How many human beings would save their souls through the intercession of your prayers for your brothers and sisters! Just as the Universe maintains its order, so you cooperate in the order of humanity.
WITH HIS ABERRANT ACTIONS MAN DOES NOT ATTAIN INNER PEACE BECAUSE OF PARTICIPATING IN WRONGFUL BEHAVIOR. IMPROPER THOUGHTS ARE CONSTANT AND BAD HABITS AND INCLINATIONS INCREASE, DARKENING THE MIND AND THOUGHTS THAT BECOME UNCONTROLLABLE, UNTIL THEY ARE CARRIED OUT IN REALITY.
THIS IS THE DEVIL'S ACTION IN MEN, THE FORCE THAT MAKES THE WEAK IN FAITH COMPLY, THAT INDUCES THEM TO COMMIT INHUMAN ACTS THAT DEMEAN THE HUMAN CONDITION, IN WHICH SATAN DELIGHTS AND CELEBRATES. YOU HAVE CHANGED INTO CREATURES WHO SATISFY AND FEED THE DEVIL.
Children of God, the instant of trials and great pains for humanity is being exacerbated; the smoke of Satan has entered forcefully into the Church, Freemasonry has taken over the House of God and handed it over to evil, crucifying our beloved King Jesus Christ again and again. The water of the seas does not calm down, tsunamis are more frequent. From on high strong rays fall that cause death, events on high make even the strongest tremble, man is seized with fear faced with the unforeseen, a product of the lack of faith.
You must continue refining yourselves: onward, Beloved of God – do not stop, for the struggle between good and evil does not stop and Divine Mercy has been opened up for His People.
BE SPIRITUAL, BE AWARE OF THE DIVINE POWER AND IMPRINT IN WHAT IS CREATED: HONOR GOD AND MAKE REPARATION FOR THOSE WHO OFFEND HIM AND DO NOT LOVE HIM.
Humanity:
YOU ACT WITH GREAT INCOHERENCE, offering worship to Satan, participating in heresies and dark rituals in order to magnify evil. Human stubbornness makes you forget that the worshipers of Satan are the forerunners of the Antichrist and will be killed.
The misfortune of those who have forgotten Divine Love and wound it by spitting disobedience, rebellion, death, debauchery, immorality and the suffering of innocents is so serious, that repentance must be equal to the offenses committed.
THE LAW HAS BEEN GIVEN FOR MAN TO FULFILL, OBEY AND LOVE IT AND THUS AVOID THE CHASISTEMENTS THAT HE HIMSELF IS GENERATING. This perverse generation is not making amendments and is conspiring with the Devil to lacerate our King and our Queen and Mother, your Blessed Virgin Mary. Massacres without cause will increase, violence grows in the streets, the worshipers of evil will enter God's churches and commit grave sacrileges.
Man reads and does not believe, he waits and despairs; only God knows what you will experience in the midst of the Great Purification. "God is Mercy", shout those who do not want man to come to conversion – you sin and are forgiven, LIES! THOSE ARE FORGIVEN WHO INTEND TO MAKE AMENDS AND TO SIN NO MORE.
I DECLARE TO YOU BY ORDER OF THE MOST HOLY TRINITY: COME TO DIVINE MERCY AND REPENT OF WHAT YOU SHOULD REPENT OF, LOOK AT WHAT IS HAPPENING ON EARTH: HOW MANY SIGNS AND SIGNALS, how much fulfilment of what has been announced... Do not deny what you cannot deny, the Earth has changed, man has abused it, the poles continue their process of inversion, and darkness and cataclysm are coming, the sun will darken.
The public appearance of the Antichrist leads you to two extremes: allowing him to seal you in order to belong to him or die; that is how his allies will present it. You know that God guards those who are faithful, but what would happen if at this very instant the Antichrist were to appear and call you to seal yourselves? How many would stay faithful to God?
Beloved of God, a great plague is heading towards France, likewise terrorism will continue making itself present. Terrorism is precisely one of Satan's weapons so that governments neglect what is really important for the people and divert their attention to fighting terrorism; Satan will enter into action globally, implanting the microchip. Are you aware that your personal communication devices are not personal, that your data remains in the possession of others and they will use it when necessary for them?
The human mind is hardening and offenses against our King intensifying, transgressing the natural law, with the human being becoming contaminated in its physical and spiritual essence, being more permeable to evil.
Prepare yourselves: war continues - it has not stopped; on the contrary, nation will rise against nation and thus it will run with the wind until men have no strength whatsoever.
Spain will be shocked, at these men will rise up and Spain will experience great pain.
The ring of fire alarms the whole world, the great fault line is activated, and this leads man to great suffering.
Oh Italy, visited by men, you will become dominated and overwhelmed, you will go from admiration to knowing anguish and pain!
In the end the faithful will be crowned with glory; whoever refuses to surrender to evil will be great among men and then the greatness of Our King will be sung on earth.
"SURELY NONE OF THOSE WHO WAIT IN YOU WILL BE ASHAMED; LET THOSE BE ASHAMED WHO REBEL WITHOUT REASON." (Ps 25,3)
Children of God, do not despair, increase your spiritual strength and see yourselves for what you are: God's creatures.
WHO IS LIKE GOD?
St. Michael the Archangel
HAIL MARY MOST PURE, CONCEIVED WITHOUT SIN
HAIL MARY MOST PURE, CONCEIVED WITHOUT SIN
HAIL MARY MOST PURE, CONCEIVED WITHOUT SIN