Thursday, April 4, 2019
Message from St. Michael the Archangel
To Luz De Maria.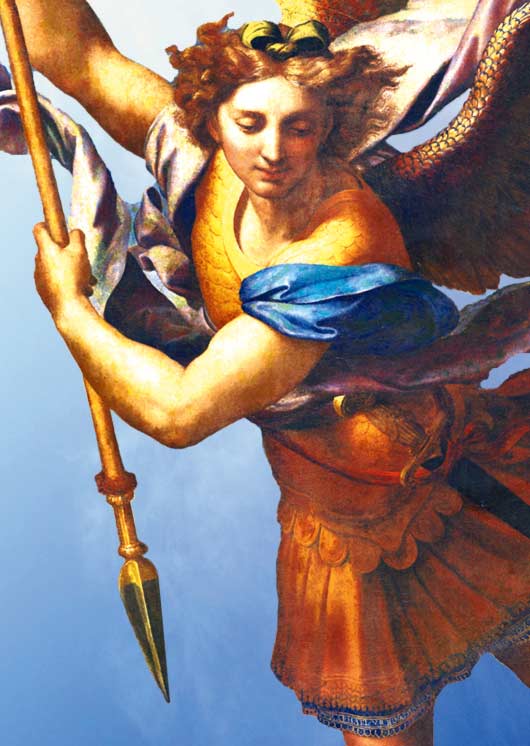 Beloved children of God:
The person who is conscious of the seriousness of this instant must resume their path towards God ...
Those who know that this is a time of waiting for Divine Mercy must alert the People of God in season and out of season so that fewer children get lost.
TRINITARIAN MERCY WILL POUR OUT ITS FOUNTAIN OF FORGIVENESS FOR THOSE WHO WISH TO MAKE AMENDS, TO PREPARE AND ACCEPT THIS DIVINE GRACE WITH FIRM PURPOSE OF AMENDMENT, THUS HUMAN BEINGS MUST MEDITATE ON WHAT IS WORLDLY AND FINITE OR ON THE ETERNAL GREATNESS OF SAVING THE SOUL.
Man accepts modern trends very quickly at an instant when he has been turned into a mass for this purpose, as an anticipation of the great revolts that you are experiencing and which will intensify over the Earth. Armed struggles in various countries, the shortage of food and famines caused by plagues in various countries, the lack of awareness concerning poor and abandoned countries and the usurpation of countries by men who are foreigners in other lands, will result in continual threats of war.
Do not forget, beloved of God, that war has not stopped; believe it still less when peace treaties are made, as these are not true.
Pray without hesitation, do not recite, but pray with your heart, powers and senses, until prayer becomes one with you. Prayers are not lost, neither are they held back on the way, but on the contrary, prayers are not unheard, and given the infinite Love of Our King, prayers can attenuate, not everything, but in some measure, yes, the attacks with which humanity will be dealing throughout the planet.
Children, you have knowledge of the tireless work of Satan, and yet you remain with your lamps almost empty of faith, and you sleep with great ease, while the enemy of the soul causes destruction among the People of God.
My Calls cause you to fear and yet sin does not make you afraid, even knowing that eternal death awaits the unrepentant sinner. It is not a fable, it is the lake of fire where the absence of the presence of God is the most terrible torment.
Great Tribulation awaits the Earth, great suffering for man: water, fire, air and earth cracking and shaking due to earthquakes.
Japan will suffer to the core: pray for Japan.
Pray for Puerto Rico: it shakes with its Heart.
Pray for Costa Rica: its land is shaken.
How does Christianity commemorate each event of the Life, Death and Resurrection of Our Lord Jesus Christ, King of the Church? With pronounced liberalism, without decorum or respect, for in every place there has ceased to be heard human beings praying. Prayers have been exchanged for strident, senseless music, offensive to God and to man himself, without thinking that character, emotions and human sensations are transmitted in the human body depending on what it has inside.
In this instant before man faces the events, he needs to grow in the spirit, ordering himself in the spirit, in order to overcome the crucial instants that he will face. Some children of the Most High are preparing great refuges in which to stay in bloody instants for humanity, and this is not bad, only that before saving the body you need to save the soul, at the same time being united as brothers and sisters, keeping yourselves properly prepared; whatever you undertake will flow for good.
I call you to pray for France, which suffers invasion.
I call you to pray for Mexico and the United States, their soil will be shaken.
A STRANGE ILLNESS IS COMING TO HUMANITY, HIGH FEVERS AND WOUNDED SKIN WILL BE A SCOURGE FROM ONE INSTANT TO ANOTHER, FOR WHICH YOU SHOULD USE THE PLANT CALLED CALENDULA (1).
WALK SHELTERED IN THE LAW OF GOD, do not flirt with what is unnatural, sinful and causes spiritual leprosy, which proliferates abundantly in those who offend our King and Lord Jesus Christ, making the evil spirits that roam the air in search of souls adhere to them.
Great diabolical infestation in human beings is growing, finding fertile ground in those who live without the Law of God.
Beloved of God, evil gives malignant meaning to what man uses; evil acts immediately and the people of God accept everything very foolishly this indicates the spiritual ignorance of those who say they follow Christ.
Remain attentive and be faithful in fulfilling the Law of God and fulfilling the Truth of Sacred Scripture.
UNITE AS THE PEOPLE OF GOD - BE A SUPPORT FOR ONE ANOTHER: PRAY FOR ONE ANOTHER, OFFER EUCHARISTS FOR YOUR BROTHERS AND SISTERS AND FOR YOURSELVES SO THAT FAITH DOES NOT DECLINE BUT BE STRENGTHENED BY THE PROTECTION OF OUR QUEEN AND MOTHER.
Blessed are those who trust in the Lord, whose trust is the Lord. They shall be like a tree planted by water, sending out its roots by the stream. It shall not fear when heat comes, and its leaves shall stay green; in the year of drought it is not anxious, and it does not cease to bear fruit… (Jeremiah 17:7-8)
WHO IS LIKE GOD?
St. Michael the Archangel
HAIL MARY MOST PURE, CONCEIVED WITHOUT SIN
HAIL MARY MOST PURE, CONCEIVED WITHOUT SIN
HAIL MARY MOST PURE, CONCEIVED WITHOUT SIN
(1) Scientific name: Calendula officinalis, Family: Asteraceae