Wednesday, April 10, 2019
Message of Saint Michael the Archangel
To Luz De Maria.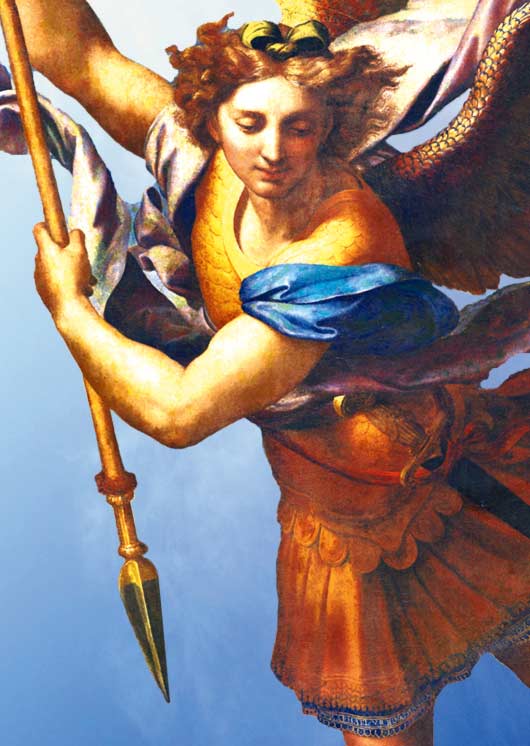 Beloved children of the Most Holy Trinity:
BY ORDER OF THE TRINITY I OFFER YOU THE DIVINE WORD AS FRESH WATER FOR THE SOUL.
You are heading towards the commemoration of Holy Week and it is precisely on this journey where Our King and Lord Jesus Christ offers you liberation from the chains of evil, from the misused human ego, from the self that has allowed depersonalization and has been mixed with new unnatural definitions with which your personality is being taken over.
THE ART OF EVIL INVADES WITHOUT THE HUMAN CREATURE PERCEIVING IT, FOR THE PURPOSE OF ALIGNING A GREAT MAJORITY WITHIN A SINGLE PSYCHOLOGICAL SCHEMA, ACCORDING TO ITS NEFARIOUS PLANS: keeping man in lower states in order that he offends Our King and Lord.
Humanity has received a command without this command being imposed, but disguised as an apparent assertion of rights, to which humanity has responded by raising its voice with an
"I HAVE THE RIGHT TO DECIDE ABOUT MY LIFE AND THE LIFE OF THOSE IN GESTATION... I CAN CHOOSE MY SEX..."
Beloved People of Our King Jesus Christ, man - depersonalized and overrun by evil – has accepted thinking rejected by Creation and behavior unknown to Creation.
Man believes he has the right to act freely and demonstrates it by rebelling against everything that can be an obstacle for him; those who act responsibly do not fear being left alone because of not being understood for not being within forms of modernism and licentiousness.
Preparing for Holy Week, take the personal cross and do not let go of it, since it is in the Cross where you find growth, it is in the Cross where you are strengthened for greater trials, it is in the Cross where you are fused with Christ. Loving God transcends human thought, the human mind, human concepts: you must go in the Divine Way, living the virtue of the Faith of Love, of Mercy, of Charity, of Patience, of Hope...
THE CROSS IS NOT TO BE UNDERSTOOD, IT IS TO BE LOVED, in It is found the whole life of each one of you, with your defects and virtues, successes and failures, so that you never think of yourselves exempt from successes or failures. The Way of Calvary is the life of every human creature who loves God, hence the falls, spitting, whipping, shoving, rude words, shouts, misunderstandings, falls and Simons of Cyrene, as in life everyone needs a Simon of Cyrene.
WHOEVER CLAIMS TO UNDERSTAND THE CROSS WILL REMAIN LAGGING BEHIND, NOT FEELING UNDERSTOOD BY GOD AND THEIR BROTHERS, SEEING THEIR HUMANITY AND THEIR IMPOTENCE, FORGETTING THAT THOSE WHOM GOD LOVES HE MOULDS IN DIFFERENT WAYS AND BY VARIOUS MEANS AT WHICH MAN IS SURPRISED AND WHICH HE DOES NOT UNDERSTAND.
DO NOT FORGET THAT EVERYONE WILL BE TESTED, at the most critical point of their humanity: one by one all will be tested, one by one you will know mercy or impiety, charity or rejection, that abounds at all levels of society.
This period of Mercy is grace and blessing that the Most Holy Trinity offers you, it is an instant prior to when you will see yourselves as you are, therefore Mercy does not come only from God, but from among men of good will, where man must exercise his virtues.
On the cross man becomes smaller so that Our King Jesus Christ might shine more brightly, and in this way what is primal in humanity will no longer be of man, but will remain subject to Divine Love.
Our and your Queen is the Flame that enlightens the People of Our King and Lord Jesus Christ, leading you along the paths necessary for the human soul in order to keep it strong, convinced and converted before the true tests of great divisions and great persecutions wreak havoc on God's people.
The hosts of evil are wandering the world in complete freedom, freedom granted to them by man's detachment from the Divine.
The souls that continue like the fig tree without bearing fruit (cf. Lc 13:6-9) and do not make amends are like the fig tree and will not bear fruits of Eternal Life.
Man's debauchery has led him to fall into the fetid abyss where sin is reproduced uncontrollably; evil wastes no time in fulfilling its objective.
The People of God must take advantage of every instant to grow without leaving space for evil to enter their ranks.
In the past, leaders of humanity made pacts with Satan, committing the nations that they were governing in the service of the Antichrist and his tentacles, and this succession of pacts has continued to be upheld by economically powerful families.
You are continually being tested, provoked, urged, induced so that pride would take hold of you, and you have not thought about the sun, which affects the action and work of the human being, who is more and more violent.
People of God, Freemasonry prevails within the church of Our King and Lord Jesus Christ, maintaining pacts and alliances that undermine the structure of the Church, leading to schism; THAT WILL BE WHERE THE FAITH OF THE PEOPLE OF GOD WILL KEEP YOU FIRM, STRONG, SINCE THIS PEOPLE OF GOD WILL BE PERSECUTED, NOT UNDERSTOOD, SINGLED OUT; THEN FRATERNITY WILL MAKE THE NECESSARY LOVE GERMINATE SO THAT OUR QUEEN AND MOTHER, MOTHER OF HUMANITY, AND WE THE CELESTIAL HOST, MAY GUARD YOU AND SUSTAIN YOU SO THAT THE SMALLEST NUMBER OF CHILDREN OF OUR KING AND LORD JESUS ​​CHRIST WOULD DESERT.
People of God, faith is tried, the ravages of nature increase and come unexpectedly; the Sun puts Earth on alert.
The threat of a celestial body coming from the Universe is alarming, and humanity will suffer.
Prepare yourself tenaciously and without distractions; the earth shakes.
The water of the seas does not calm down, but on the contrary, it enters the land.
Man must instruct himself correctly, not incorrectly, because without God, he is nothing.
Who is Like God?
Saint Michael the Archangel
HAIL MARY MOST PURE, CONCEIVED WITHOUT SIN
HAIL MARY MOST PURE, CONCEIVED WITHOUT SIN
HAIL MARY MOST PURE, CONCEIVED WITHOUT SIN