Sunday, April 14, 2019
Message of Saint Michael the Archangel
To Luz De Maria. Palm Sunday.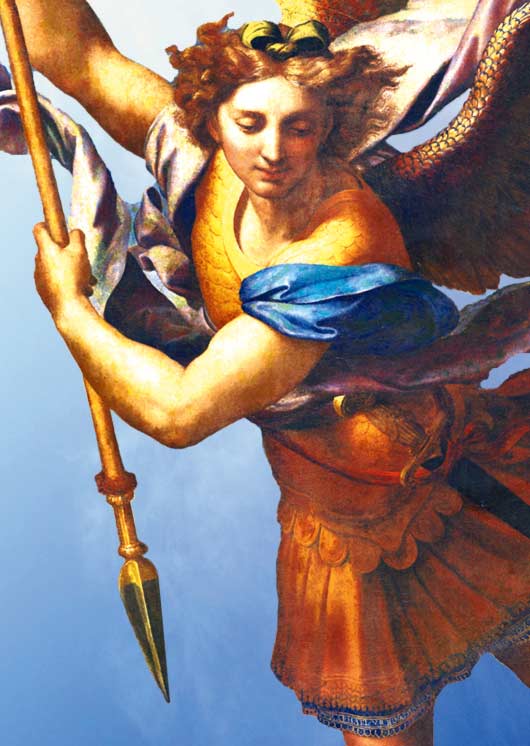 People of God:
IN TOTAL ADORATION OF OUR KING AND LORD JESUS ​​CHRIST (cf. I Tm 6:15), WE THE CELESTIAL LEGIONS REMAIN POSTRATE BEFORE THE INFINITE DIVINE LOVE, THE GIVER OF MERCY TO HUMAN BEINGS.
MAN'S REJECTION OF GOD IS SURPASSED BY THE DIVINE MERCY THAT AWAITS THE CONVERSION OF THOSE WHO DO NOT LOVE HIM IN ORDER THAT THEY WOULD SAVE THEIR SOULS.
Holy Week does not have any meaning for a great majority of God's children. It is something forgotten, an opportunity for vacationing and for coming into direct contact with sin: it is an opportunity for entertainment.
IF THE HUMAN CREATURE WOULD STAY SANE, IT WOULD FIND IN THIS COMMEMORATION THE OPPORTUNITY TO ADHERE TO EACH ONE OF THE INSTANTS IN WHICH OUR KING AND LORD JESUS CHRIST WAS UNVEILING DIVINE LOVE FOR HIS CHILDREN. That Love which man will regret having forgotten at the instant when, he will enter into communion with his conscience and will have before him the reality of his sins.
HUMANITY WILL NOT BE THE SAME: THERE IS A "BEFORE" AND AN "AFTER" FOR THIS GENERATION.
THE DISMISSAL OF THE VALUE OF THE PASSION, DEATH AND RESURRECTION OF OUR LORD AND KING JESUS ​​CHRIST CONTINUES TO DRAG MAN TOWARDS SPIRITUAL DISASTER, THE DEVIL'S OBJECTIVE.
Humanity is at its greatest crossroads: it has again sentenced Our King and Lord Jesus Christ (cf. Lk 23:13-25), and sentenced itself. The world burns with evil and therefore those who are of Christ and those who do not wish to be of Christ are divided - those who overcome trials in order to remain with the King of Heaven and Earth, and those who have surrendered to evil.
PEOPLE OF GOD: CHRIST, KING OF THE UNIVERSE, CALLS YOU TO LOOK INSIDE EACH ONE OF YOU, where only the creature itself knows its works and actions - those that cry out: CRUCIFY HIM!, those that dwell within the human creature and and live in apparent silence - but in reality man carries inside himself that which he does not want to acknowledge, a little of those who shouted: CRUCIFY HIM!, those who betrayed Him, who abandoned Him.
Human ignorance causes humanity to put aside the event of the Cross or to remember it and not live it out. Man is unable to live inner fullness, the path of encounter on the road to Emmaus, the mysticism of the spiritual path. For this reason humanity is heading towards what it has generated, along its own path, where it has not invited Our King and Lord Jesus Christ.
THIS HOLY WEEK SHOULD NOT BE COMMEMORATED, BUT LIVED FROM WITHIN THE GREATEST INTIMACY IN MAN'S HEART, IN FAITH, IN HOPE AND IN CHARITY, WITHOUT WHICH THE PASSAGE OF THE CHILD OF GOD IS MORE PAINFUL.
People of Our King and Lord Jesus Christ, this is the moment in which you must remain in a different atmosphere so that your faith would be full, you must stay within a microclimate without contamination so that hope would not be lost. You need to purify the air you breathe so that charity would not be a spontaneous act, but would be innate to the child of God – not feigned, but "natural", and then your work, action and reactions will follow the Divine way.
ON THIS DAY OF ACCLAMATIONS AND CHEERS FOR OUR KING AND LORD JESUS ​​CHRIST, IN RAISING UP THE BRANCHES TO ACCLAIM THE SON OF GOD, MEDITATE SO THAT YOU DO NOT LATER ACCLAIM WHAT IS CONTRARY TO THE DIVINE LAW, SO THAT YOU DO NOT LATER CHEER FOR THE ANTICHRIST.
People of God, the cruel reality of humanity cannot be described; the horrors suffered by the Church of Our King and Lord Jesus Christ mean that new martyrs raise their voices and share the Word that Our King and Our Queen and Mother grant to humanity in order to alert it to the potential danger within which it finds itself and to which the Devil is dragging it.
The Church of God that has been entrusted to us in order to guard it against the strategy of evil, is distinct, and yet you do not see it because you look with the magnifying glass of your personality and not of each person's soul, which would help you to discern under the protection of Holy Spirit.
Faithful instruments that elevate the Word they receive from Our King and Lord Jesus Christ, from Our Queen and Mother or from this Messenger of the Most Holy Trinity, will be visible martyrs due to the denial of those who are not at all foreign to the crisis of faith of the Church. Whoever carries the Light of God in their hands to awaken their brothers, is besieged!
MEDITATE DURING THIS HOLY WEEK, MAY YOUR HEART BEAT ACCORDING TO THE DIVINE RHYTHM, BREATHE BY THE DIVINE RHYTHM. WATCH, LISTEN, FEEL, WALK IN RHYTHM WITH THE SORROWFUL MOTHER IN ORDER THAT, LIKE OUR QUEEN AND MOTHER, YOU ATTAIN TO THE JOY OF BEING NEW CREATURES, RESURRECTED IN OUR GLORIOUS KING AND LORD JESUS CHRIST.
Pray: the earth moves and man kneels.
Faith grows by living in Christ, through Him and in Him ...
Hope is maintained by practicing Love ...
Charity is cultivated by fulfilling the Will of God ...
and in all this, the one who is an expert is your Queen and Mother.
BE ACCOMPANIED BY YOUR QUEEN AND MOTHER: THE OBSTACLES FACING THE TRUE AND OBEDIENT CHILDREN OF GOD WILL NOT DELAY - YOU WILL ENCOUNTER GREAT BATTLES IN THE VERY HOUSE OF GOD.
I protect you.
WHO IS LIKE GOD?
Saint Michael the Archangel
HAIL MARY MOST PURE, CONCEIVED WITHOUT SIN
HAIL MARY MOST PURE, CONCEIVED WITHOUT SIN
HAIL MARY MOST PURE, CONCEIVED WITHOUT SIN