Friday, April 19, 2019
Message from Saint Michael the Archangel
To Luz De Maria. Good Friday.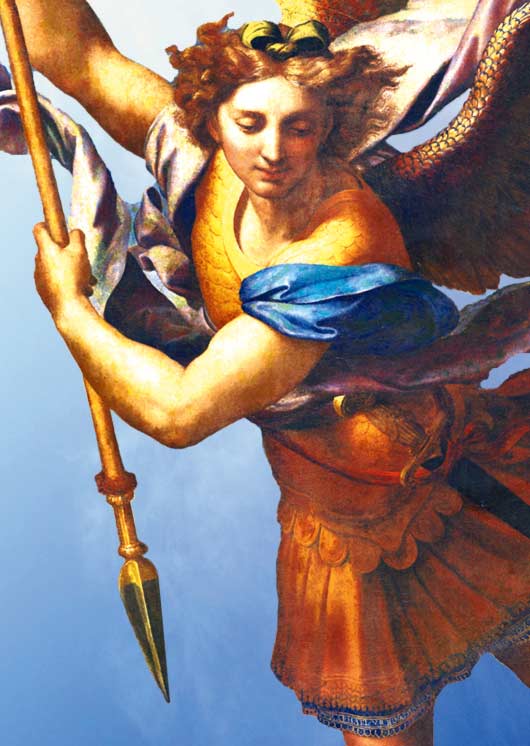 PEOPLE OF GOD WHO REMAIN IN THE RIVER OF WATER AND BLOOD THAT EMANATES FROM THE SIDE OF OUR KING AND LORD JESUS CHRIST (cf. Jn 19:34)
How many wounds there are in the Most Holy Body of Christ, King of the Universe!
How much Love for the human creature!
How much suffering at continually being misunderstood by this generation!
How many wounds our King and Lord is constantly suffering, caused by those who do not serve Him with the heart, burying their conscience so as not to feel discomfort!
How many wounds there are in the Divine Body of our King and Lord Jesus Christ because of being thrown out by His own People!
Is not this a foretaste of the purification of the Mystical Body of Christ?
SIN EMERGES WITH POWER, AND INSTANTLY IT TRAVELS THROUGHOUT THE EARTH DUE TO MASS MEDIA. With that same intensity, everything that is improper reaches man's path instantly, transforming his mind, via the human will, into a putrid drain of demonic actions and works of all kinds.
Humanity euphorically receives our King and Lord Jesus Christ and our Queen and Mother and then, in the same emotional state, instantly leaves them aside, relegating them to the last place. The Divine Word of Christ is thrown into the refuse; this is how blind humanity is acting – it gives no credence to the signs or signals of this instant: I am not only referring to those who consider themselves as the Church, but to all humanity, which has lost its appetite for the Divine and denies the Holy Spirit, grieving Him and in this way losing the Divine filiation (cf. Mt 12:31-32).
OUR QUEEN AND MOTHER LOOKS IN SORROW AT THE PEOPLE OF HER SON, AT HER CHILDREN, AT EACH ONE OF YOU, AND SHE SUFFERS OVER THE DISOBEDIENCE AND THE REJECTION OF THOSE WHOM SHE RECEIVED AT THE FOOT OF THE CROSS (cf. Jn 19:26) Our King and Lord Jesus Christ is cheered and then instantly condemned to the Cross by His own People who have chained themselves to the Devil and in him to sin, to pride, to arrogance, to greed, therefore overflowing with hardness of heart towards those who suffer. Therefore, let humanity prepare! Suffering is coming and will shake everyone.
THE CELESTIAL LEGIONS REMAIN ATTENTIVE TO A WORD OF ONE OF GOD'S CHILDREN WHO WITH A CONTRITE AND HUMBLED HEART REQUESTS OUR PROTECTION AND SHELTER IN THE FIGHT AGAINST THE SPIRITS OF EVIL WHO ARE MUDDING GOD'S HOUS. The Devil has been received with great reverence, and humanity boasts in its degradation. Before the arrival of Our King, humanity must be purified: each human being will pass through the sieve of their own sins, this being so fierce that some people will be unable to go on living. Humanity continues as if nothing is happening; how you will regret not having been obedient, not having been nourished by the explanation that Heaven grants you in each Revelation!
You who are called:
Nourish yourselves, do not grow up spiritually malnourished ...
Strengthen yourselves in Christ, King of the Universe and walk with determination...
Take the boat, go out to sea with firmness, confidence and assurance in the call to be part of the faithful remnant...
People of God, our Queen and Mother, your Queen and Mother will be relegated to a very small place within the Church, detracting from the Mother. They plan on reducing the strength of the People of God, in instants when generalized confusion will reign everywhere.
With double-edged sword the Devil is triggering confusion in the People of God, sowing resentment, division, pride; he blows across man's mind, knowing that man wants freedom - but freedom is wisdom, not debauchery, and in order to be free you must first embrace the Faith.
Do not lose the Faith, continue being those who adore our King and Lord Jesus Christ: look beyond, to where only those who maintain their assurance in the fulfilment of the Divine Word and are faithful to It, can look and see the blessings.
WHO IS LIKE GOD?
Saint Michael the Archangel
HAIL MARY MOST PURE, CONCEIVED WITHOUT SIN
HAIL MARY MOST PURE, CONCEIVED WITHOUT SIN
HAIL MARY MOST PURE, CONCEIVED WITHOUT SIN