Tuesday, April 30, 2019
Message from Saint Michael the Archangel
To Luz De Maria.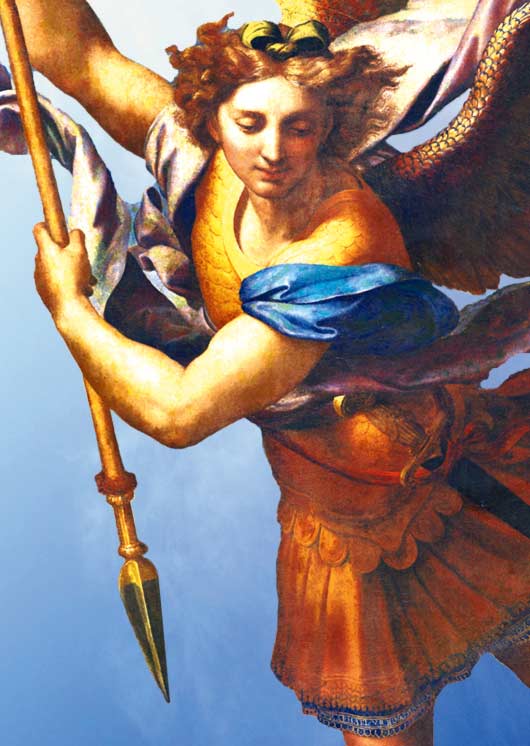 Children of God:
IN THE NAME OF THE MOST HOLY TRINITY, I SHARE WITH YOU DIVINE PEACE - INDISPENSABLE FOR ALL HUMANITY AND SO THAT EVIL DOES NOT SEPARATE YOU FROM THE PATH TO WHICH DIVINE LOVE CALLS YOU.
You must maintain peace so that you are not easy prey for the temptation into which Satan makes you fall quickly, easily overcoming you.
IT IS NECESSARY FOR THE PEOPLE OF OUR KING AND LORD JESUS CHRIST TO UNDERSTAND THAT THIS IS A DECISIVE INSTANT, and that therefore evil is using all the tricks it possesses among its vile weapons in order to muddy the minds of the children of God. Those whom he finds lukewarm in faith, he induces to fall into harmful actions, and in this way he places chains on them more easily so that they are his slaves.
Our Lord and King Jesus Christ loves all of you and does not want you to compromise with evil. Do not fall into the snares of Satan: this moment, this instant is decisive. Do not forget Divine Mercy, even if the sea is stirred up with the greatest of storms and the waves rise on the boat that is each one of God's children, there exists the great work of mercy in men, there is a "give and it will be given unto you "(Lk 6:38), otherwise, the one who does not forgive becomes his own inner enemy, his own death sentence.
Beloveds of our King and Lord Jesus Christ, it is necessary for you to rise up in the spirit, not in order to know more, but to feel with the soul and see with a pure gaze and pray to God for those who do not forgive their fellow men, as this leads them to lose their souls if they do not repent in time. If it pleases man to point the finger, let him point at himself; in its place each person should become that Samaritan who walked and looked at a brother lying faint on the ground, anointed him and took him to the inn to be healed. (cf. Lk 10:25-37).
PEOPLE OF GOD, YOU HAVE A DUTY TO CHRIST, KING OF THE UNIVERSE:
TO CHANGE, TO TRANSFORM YOUR LIVES!
YOU HAVE TIME BEFORE THE DESCENT OF THE CHASTISEMENTS THAT WILL STRIKE; DO NOT FORGET THAT DIVINE LOVE IS INFINITE, DIVINE MERCY IS INFINITE FOR THOSE WHO MAKE AMENDS.
THIS IS THE UNDERSTANDING TO WHICH HEAVEN CALLS YOU: SINNERS MUST REPENT, AND YOU MUST REMAIN SPECIALLY ALERT THAT YOU DO NOT FIND YOURSELVES AMONG THEM.
Our King and Lord Jesus Christ, Our Queen and Mother do not cause you to fear, but alert you so that you possess knowledge and not stay asleep in sin. The prophets transmit the Word of the Father's House so that you stay prepared at this instant: if they did not alert you the contrary would be the case, because the events would arrive and find you asleep, and Divine Love does not want that for Its children.
People of God, rejoice in repentance, to which you can come freely, with a generous spirit for repenting.
Beloved children of Our King and Lord Jesus Christ, so many men are asking Heaven for the tribulation to descend now! And yet ... will those who are asking for it, be righteous? For suffering will come for all humanity, not only for some, but for sinners and non-sinners; in those instants you will be tested in faith: therefore call out for an immovable faith.
This is the task of the People of God: to pray for one another, calling out for immovable faith, that which does not lead you to abandon Christ in pain, in trials, in difficulties, in the midst of persecutions, of massacres, of famines ... faith, faith, faith! We the Heavenly Armies cry out in human ears: "faith in God!"
The universe tests man, the sun is darkened and tests man. The water of the seas and rain water test man, therefore faith must be immovable; the man of God is not disappointed. At this instant, humanity must prepare itself to move from one place to another in the face of the harshness of events.
Remain alert, the sacrifice pleasing to God is the one that hurts the most. In the Warning (1) you will see yourselves as you are, therefore you should not wait, convert now!
From the universe there comes a great unexpected threat to humanity: faith is indispensable.
Divine Love has revealed to you Its great Mercy by means of the "Miracle for the Americas": remain in peace, faith is indispensable. Our King and Lord Jesus Christ has given His Prophet the date for it in order to announce it beforehand, and so that those who can do so may go, since conditions will not be those of now, but faith must flourish in order to be healed, as must repentance of evils committed.
PEOPLE OF GOD, OUR BELOVED AND DEAREST ANGEL OF PEACE WILL COME TO HUMANITY TO AID AND WARN GOD'S PEOPLE: THE CHILDREN OF GOD HAVE NEVER BEEN ABANDONED.
Pray, People of God, pray for South Africa, it suffers because of men without mercy.
Pray for Japan, nature strikes it forcefully.
Pray for Colombia, it suffers.
Pray for England, man becomes enraged.
Children of the Most Holy Trinity, do not dismiss the Calls of the Father's House at a moment when the Church needs all prayers in order to remain standing.
YOU ARE STARTING A VERY SPECIAL MONTH, THE MONTH OF OUR QUEEN AND MOTHER, IT IS ESSENTIAL THAT IN ALL THE CHURCHES OF THE WORLD, IN ALL HOMES THAT ARE DISPOSED FOR IT, YOU PRAY THE HOLY ROSARY FOR PEACE IN THE WORLD.
ON MAY 13 YOU MUST CONSECRATE YOURSELVES AGAIN TO OUR QUEEN AND MOTHER, TO YOUR QUEEN AND MOTHER, SO THAT, UNDER HER PROTECTION AND ASSISTANCE, YOU MAY BE STRENGTHENED IN LOVE, IN HOPE AND IN CHARITY THROUGH THE INTERCESSION OF YOUR MOTHER.
RECEIVE THIS REQUEST, IT IS SUPREMELY IMPORTANT.
We are your Travelling Companions and your Guardian Angels.
To all men of good will...
WHO IS LIKE GOD?
Saint Michael the Archangel.
HAIL MARY MOST PURE, CONCEIVED WITHOUT SIN
HAIL MARY MOST PURE, CONCEIVED WITHOUT SIN
HAIL MARY MOST PURE, CONCEIVED WITHOUT SIN
(1) Prophecies and revelations about the Great Warning of God…