Saturday, May 4, 2019
Message from Saint Michael the Archangel
To Luz De Maria.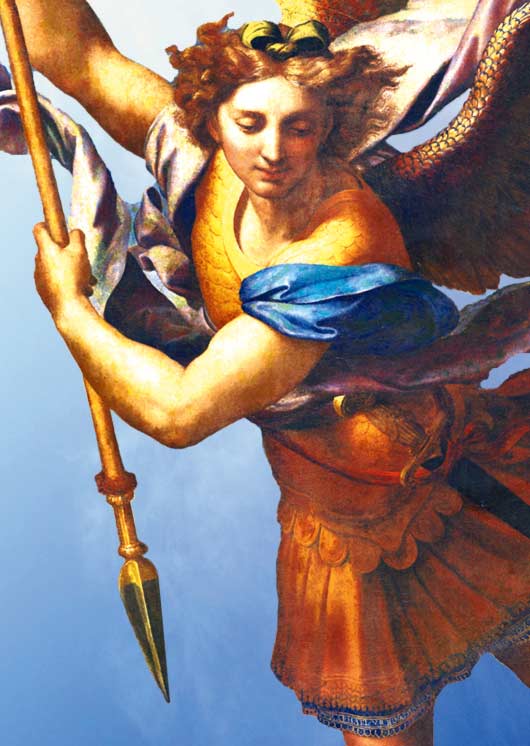 People of God:
DIVINE BLESSING DESCENDS ON EACH ONE OF YOU...
I have been sent because of the strong threat that it is being launched against the human being with the approaching fulfilment of the warnings to which, through many long years and years, people of good will have listened with attention and with holy patience and for which they have been able to wait. They will not be disappointed, since this generation will experience and will be a witness of the fulfilment of the Revelations that the Divine Will has repeated to humanity over and over again.
OUR KING AND LORD KNOWS EVEN THE HUMAN BEING'S SLIGHTEST THOUGHT; BECAUSE OF THIS HE ANTICIPATES MAN'S WORK AND ACTION SO THAT SOULS ARE NOT LOST.
Beloved of God, you are living in the midst of great spiritual confusion, therefore as the Celestial Armies we all remain attentive to defending you and guarding you against the constant snares of the Devil, who is a perverted living spiritual being, who enjoys perverting man with his malice, with his poison, and who does not rest in bringing to man's mind his pernicious ideas and confusion in order to fulfil his objective: to destroy the Church, if the human being permits it, because he is not allowed to trespass the limits that God allows, nor man's consent. Thus the transcendence of faith in the human being so that they say "no!" to the Devil, so that they renounce the devil and TAKE HOLD OF THE GRACE AND THE TRIUMPH OF CHRIST, KING OF HEAVEN AND EARTH, OVER EVIL.
A great majority of human beings believe that the Devil can be easily defeated; this is not so - the Devil attacks the children of God:
redoubling the jealousy of some,…
inducing bad thoughts in others,...
filling others with scruples,...
leading others to judge their brothers and sisters,…
others, to call some human beings "satan";
he inflates the "ego" of others,...
fills others with prejudice,...
saturates others with anger,…
others with greed,...
fills others with envy ...
AND SO IT IS THAT ALL ARE TESTED IN WAYS IN WHICH NOBODY CAN EVEN IMAGINE, SO THAT YOU DO NOT IDENTIFY THE EVIL IN FRONT OF WHICH YOU FIND YOURSELVES.
People of God, it is not that I mention to you Satan as if he were more important than Our King and Lord Jesus Christ, or that I find great satisfaction in telling you about him; it is rather that at this instant the prince of the world is lurking, waiting for the slightest opportunity to attack the People of God (cf. I Peter 5:8-9), and I am sent to defend you and to teach you that you need to keep on fighting against evil.
MAN, AS A CHILD OF GOD, HAS BEEN GIVEN THE STRENGTH TO REJECT EVIL AND THE GRACE TO FIGHT IT.
BEFORE THE POWER OF THE MOST HOLY TRINITY IN MAN, THE CHILD OF GOD, EVIL FLEES. (cf. I Cor. 10:13), HENCE: FAITH, FAITH, FAITH.
Beloved of the Most Holy Trinity, the Divine Law is under threat from modern trends determined to downplay the impact of sin on man's soul, which call man not to be spiritual, so that he is easy prey for the evil that rises up forcefully before a human being who lacks knowledge, trust and who lacks faith in Our and your King and Lord Jesus Christ and in the intercession of Our and your Queen and Mother.
THE CHILDREN OF GOD WALK ALONG THORNY PATHS, BUT THE THORNS DO NOT STOP THEM, DO NOT TROUBLE THEM OR CAUSE THEM TO DESPAIR, SINCE THEIR STRENGTH COMES FROM GOD, NOT MAN. The children of God may feel wounded, but they do not declare themselves dead because God strengthens them, He sustains them and leads them to find honey inside each thorn, within every pain, because nothing is of man, but everything is of God (cf. Ps. 46:2).
THEREFORE: COURAGE! FAITH IS GREATER THAN TRIALS, AND IN THOSE TRIALS THE ETERNAL LIFE OF CHRIST THE KING OF THE UNIVERSE IS MADE MANIFEST.
People of God, it is necessary that you fulfil the Divine Will so that Divine Love multiplies and not be obscured by anyone or anything.
Pray, People of God, pray before the activation of the volcanoes and the suffering of a large part of humanity. (*)
PRAY THAT SOUND DOCTRINE IS NOT ALTERED, PRAY THAT THE COMMANDMENTS OF GOD'S LAW ARE NOT DOWNPLAYED.
Pray, the Church is persecuted, it is being persecuted gradually.
Pray and preach Love, implore the intercession of your Queen and Mother: earthquakes are occurring with force.
Pray in season and out of season, not forgetting that the children of God always seek Him in obedience to His Will, without renouncing It.
Dedicate the Holy Rosary with Love and Faith to the one who received you at the foot of the Cross of Glory.
We are your Travelling Companions and your Guardian Angels.
To all people of good will...
WHO IS LIKE GOD?
Saint Michael the Archangel
HAIL MARY MOST PURE, CONCEIVED WITHOUT SIN HAIL MARY MOST PURE, CONCEIVED WITHOUT SIN HAIL MARY MOST PURE, CONCEIVED WITHOUT SIN