Sunday, May 19, 2019
Message from Saint Michael the Archangel
To Luz De Maria.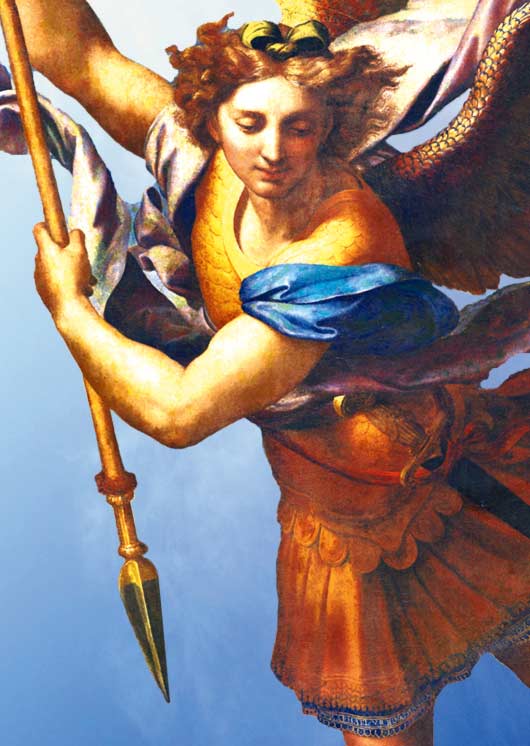 People of God:
THE DIVINE BLESSING DESCENDS UPON EACH ONE OF YOU.
Beloved children of God, Our King and Lord Jesus Christ exclaims to us with deep pain:
"I SEE HOW THE FLAME OF MY LOVE IS DYING OUT IN HUMAN BEINGS. IF CREATURES WOULD DISPOSE THEMSELVES TO LOVE IN MY LIKENESS, THEIR FEELINGS, WORKS AND ACTIONS TOWARDS THEIR BROTHERS AND SISTERS WOULD BE SO ELEVATED THAT WITH A GLANCE, WITH A THOUGHT THEY WOULD SEND WHAT THEIR BROTHER NEEDS IN THAT INSTANT, EITHER ON THE PHYSICAL OR THE SPIRITUAL LEVEL, AND THEIR NEIGHBOR'S NEEDS FOR THAT INSTANT WOULD BE SUPPLIED."
Children of God, how you forget the greatness to which the Divine Love leads the human creature when it possesses even a minimal amount of it! By allowing your state of consciousness to fluctuate, you dismiss the greatness and essence of what is the Love of God and neighbor; all you obtain is mere crumbs that hamper blessing among souls and that attract particles of feelings contrary to Love, surfacing and causing serious atrophy in the spirit of those who do not live the Divine Love in its essence.
THE MAN OF GOD IS NOT THE ONE WHO GATHERS THE SEEDS OF IGNORANCE.
THE MAN OF GOD IS THE ONE WHO LOVES HIMSELF AND LOVES HIS NEIGHBOR, NOT THE ONE WHO HAS A VACUUM OF LOVE IN HIS WORD.
Evil is spreading rapidly over the Earth and has lodged itself within creatures that are weak in faith, weak in mind, and not having dominion over the mind, men do not master it, and it flies where it should not fly and goes back along ominous and steep paths, making the human being enter dwellings of spiritual deception so that it gets lost.
Children of Our King and Lord Jesus Christ, each one of you has been called by name to form the People of God in these difficult instants of stormy winds that carry the demons themselves so that they spread faster and not give man time to take shelter so as not to be dragged along.
The Commandments of the Law of God are trampled on, denigrated, falsified, and this does not move man but gives him encouragement to engage in sin. Humanity does not return to Sacred Scripture and therefore is not certain that the present time is where the signs can be seen of the imminent fulfillment of the Revelations that our and your Mother and Queen of Heaven and Earth has given throughout the Earth to Her children. That is why many of God's creatures keep silence before evil, because they do not believe in the fulfillment of the prophecies and dismiss them, increasing the power of the Devil over humanity.
THE PEOPLE OF GOD HAVE TO SPREAD OUT OVER THE EARTH, EACH PERSON MUST HAVE THE SPIRITUAL STRENGTH OF A THOUSAND MEN AND BE AN INSTRUMENT OF EVANGELIZATION AND SALVATION FOR THEIR BROTHERS AND SISTERS.
Be great and true devotees of Our Queen and Mother and be like Her. Being the Blessed One, She was the first Disciple of Her Son - She was the Prudent, the Humble one, She who was always aware of all needs, but in the last place; She therefore protects all Her children by warding off the Devil in order to keep you within the Unity which is a sign of God.
WHATEVER HAPPENS, KEEP THE FAITH, FAITHFULNESS TO GOD AND TO OUR MOTHER AND QUEEN, AS TRUE SOULS ENAMORED OF WHAT IS ETERNAL, THAT THEREFORE ABSTAIN FROM RISKING YOUR SALVATION IN WAYS OF EVIL, IMMORALITY, SPIRITUAL WICKEDNESS AND VIOLENCE.
As Messengers of God and travelling Companions of men, we urge you not to rebel against Our Lord and King Jesus Christ: the instant is but an instant and we are fighting because of the arrogance of the angels that fell – at present we suffer because of ruthless, merciless and opportunistic humanity.
People of Our King and Lord Jesus Christ, pray for Colombia, its ground shakes.
Pray for Chile: it suffers, and you as the People of God must pray for this nation.
Pray, children of God, pray for Argentina, the human mind is stirred up.
PEOPLE OF GOD, BE HUMBLE SO THAT YOU MIGHT OBTAIN THE WISDOM NECESSARY FOR THESE INSTANTS OF CONFUSION AND PERSECUTION.
BE HUMBLE IN ORDER THAT YOU MIGHT MERGE WITH THE SACRED HEARTS OF OUR KING AND OUR QUEEN AND THEREBY PREVENT THE HUMAN HEART, MOTIVATED BY THE WORLD, FROM BEING OF STONE.
Pray with strength and the constancy necessary for this instant in order that you do not reject the Eternal Goods; you who eat milk and honey, may you not become spiritual beggars who go from one place to another in the midst of reasoning without foundation among those who are going astray.
You are aware of the needs of humanity and of what you need to repair; make amends, be part of those who live in constant adoration of God without uttering a word; be of those who receive the crown of Glory.
Do not be among those who out of self-love lose Eternal Salvation at this decisive instant.
We are your Travelling Companions and your Guardian Angels.
To all people of good will...
WHO IS LIKE GOD?
Saint Michael Archangel
HAIL MARY MOST PURE, CONCEIVED WITHOUT SIN
HAIL MARY MOST PURE, CONCEIVED WITHOUT SIN
HAIL MARY MOST PURE, CONCEIVED WITHOUT SIN