Friday, May 31, 2019
Message from Saint Michael the Archangel
To Luz De Maria.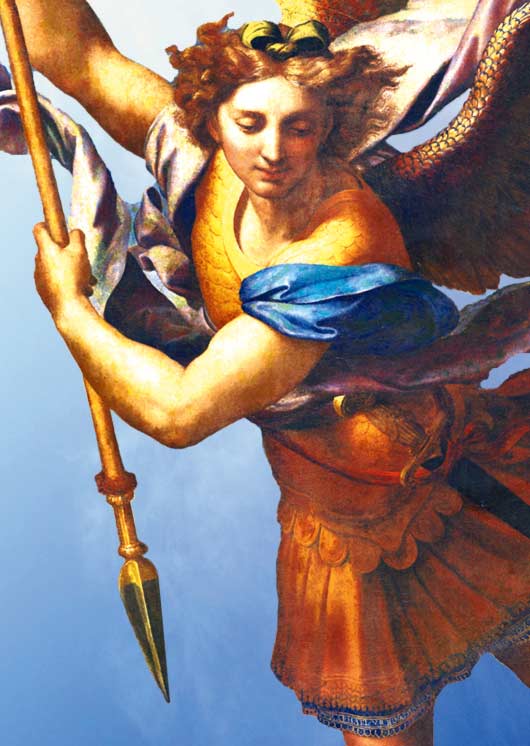 Beloved of God:
DIVINE LOVE DESCENDS ON EACH ONE OF YOU.
I am sent by the Most Holy Trinity as Prince of the Celestial Legions, given the urgency of this instant.
Humanity in its lethargy is helping evil to grow, and it is advancing by leaps and bounds across the Earth, hastening the arrival of the new world order.
Humanity protests against governments for economic reasons, for political reasons, and it ought to protest in favor of morality, of good, of the preservation of the lives of the innocent, of the natural law of the human being, but it does quite the opposite.
DEBAUCHERY HAS BEEN THE WEAPON OF EVIL AT HUMANITY'S EVERY INSTANT TO DESTROY THE DIVINE WILL AND ITS FULFILLMENT ON EARTH.
THROUGHOUT THE EARTH THERE ARE HUMAN BEINGS WHO GATHER TO PRAY, AND WE BLESS THEM ALL FOR THE GLORY OF OUR KING AND LORD JESUS ​​CHRIST.
It is urgent that the children of our King and Lord Jesus Christ recognize and spread the Divine petition: TO SAVE SOULS.
Unity and humility strengthen each other, being born of Love, and the children of the Mother and Queen of Heaven and Earth remain in that unity, humility and love.
Pay attention: Man uses his calendar in order to be able to keep order within a system of years, months, weeks and days, but this is not the time of God who is infinite; therefore, with man wanting to be equal to God, he has come to disbelieve the Divine Word, he does not understand God, he denies the Divine Word.
As Chief of the Celestial Armies and living in God's time, sometimes allowing myself in the Divine Will to see the events approaching humanity in man's time, I therefore urge you to become aware and quicken your pace , to save the soul: "decide to save the soul", do not waste time – it is running out.
ALTHOUGH YOU HAVE BEEN HEARING THIS FOR A LONG TIME, YOU DO NOT LIVE IN THE PAST BUT IN THIS INSTANT; BECOME CONSCIOUS OF BEING UNITY, OF MAINTAINING ONE SOLE FEELING, OF WORKING FOR THE KINGDOM OF GOD OUT OF LOVE FOR JESUS ​​CHRIST, KING AND LORD, FOR THE MOST HOLY VIRGIN MARY, QUEEN OF HEAVEN AND EARTH, SO THAT IN THE UNITY OF THE PEOPLE OF GOD YOU HAND THE EARTH OVER TO ITS CREATOR.
YOU HAVE TO WARN YOURSELVES, WARN YOUR BROTHERS AND SISTERS, WARN THOSE WHO ARE NOT PREPARED, WARN THOSE WHO NEED CONVERSION.
Look up, expand your thinking, do not look only at what is finite, aspire to scale the heights, be more spiritual so that you can go from accepting your neighbor to loving your neighbor and thus being true.
Beloved ones of God, do not remain unprepared, be aware that you will be examined in the warning, and the Earth will be disturbed by a meteor; in both events the human being will suffer.
Children of God, remain in continual thanksgiving to the Most Holy Trinity and to your Queen and Mother, carrying out the Divine Will, without forgetting that Divine Mercy is infinite, therefore as human creatures you cannot understand it or take it in. Our King and Lord Jesus Christ surrendered himself voluntarily to suffering His Sorrowful Passion in order to save each one of you; for Our King one human being is worth His Sorrowful Passion.
Few give their lives for their brothers and sisters; on the contrary, you take one another's lives through various practices, misusing your senses; you enter into impiety through the snares of the devil who leads you into error so that in one breath you lose what Our King and Redeemer has offered. Because of this you do not advance in the spirit as you ought.
Pray, the planet will go into darkness caused by the explosion of a large volcano, causing a volcanic winter effect on Earth.
Pray, make a firm commitment to being Love, and like Our and Your Queen and Mother, be the first disciple of Our King and Lord Jesus Christ; in this way you will attain true humility.
Pray, the Earth shakes from north to south, from east to west.
LONG FOR, DESIRE, IMPLORE THE GIFTS OF THE HOLY SPIRIT IN ORDER THAT, AS CHILDREN OF GOD, YOU WOULD NOT LACK WISDOM, INTELLIGENCE, COUNSEL, FORTITUDE, KNOWLEDGE, PIETY AND THE FEAR OF GOD. THE WHOLE PEOPLE OF GOD MUST ACKNOWLEDGE ONE ANOTHER, MAINTAIN PEACE, UNITY, LOVE.
WE THE CELESTIAL LEGIONS KEEP ON CARRYING OUT THE DIVINE WILL FOR THE GOOD OF THE CHILDREN OF SHE WHO IS THE QUEEN AND MOTHER OF HEAVEN AND EARTH.
Do not falter, keep the faith, draw near to Divine Love, to Divine Mercy just and true.
ENTER INTO THE SACRED HEART OF JESUS ​​AND IN HIM MAKE THE FIRM COMMITMENT NOT TO FALTER. YOU ARE LIVING IN THE WORLD BUT ARE NOT OF THE WORLD, NOR WILL WORLDLINESS GIVE YOU ETERNAL LIFE, PRAY IN SEASON AND OUT OF SEASON WITHOUT FORGETTING THAT PRAYER IS ACTION, IS THE WORD, THE WORK OF THE PEOPLE OF GOD.
We have been sent to guard you; be worthy of that honor.
Your Travelling Companions and Guardian Angels.
To all people of good will...
WHO IS LIKE GOD?
Saint Michael the Archangel
HAIL MARY MOST PURE, CONCEIVED WITHOUT SIN
HAIL MARY MOST PURE, CONCEIVED WITHOUT SIN
HAIL MARY MOST PURE, CONCEIVED WITHOUT SIN