Saturday, June 15, 2019
Message from Our Lord Jesus Christ
To Luz De Maria.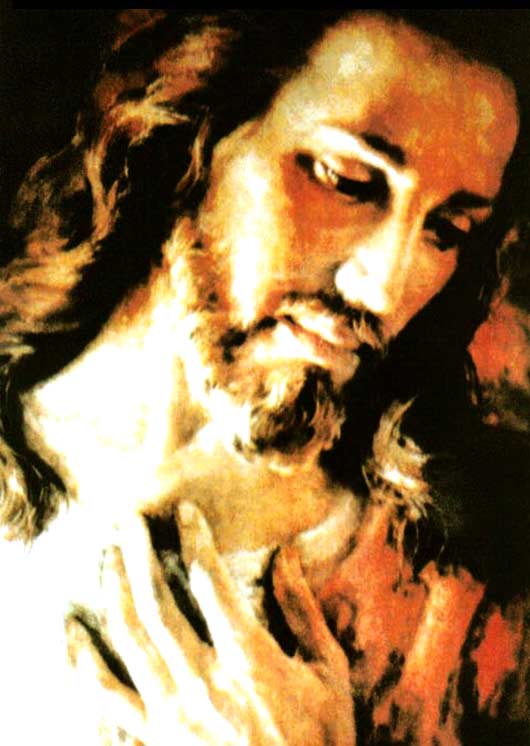 My Most Beloved People:
I bless you at every instant, in every step you take, for every word you utter, to ensure that My children understand that they must draw near to Me.
BELOVED CHILDREN, YOU NEED TO TRUST MORE IN ME, SO THAT YOU ARE NOT CAPTIVES OF THE AFFAIRS OF THE WORLD AND TAKE WRONG PATHS.
A large part of humanity is in extreme convulsion, plunged into the stench of sin, I displease them, they repudiate Me with painful acts contrary to My Will.
My Word for you is one of spiritual alert; you urgently need to grow in the face of the accelerated events that you are facing, and if you have not grown spiritually, you are vulnerable like the sails of a boat.
I find myself faced with sinful humanity; I am here with My Mercy and welcome every sinner who is truly repentant, having confessed their sins, no matter how serious they are, and who maintains the will to amend their way. I call you to return to Me and not to debase yourselves with sin.
MY CHILDREN, YOU ARE SO FOOLISH THAT YOU ARE UNABLE TO EMPATHIZE WITH MY WILL, SINCE YOU DELAY YOURSELVES IN GATHERING SCRAPS AND NOT LISTENING TO ME WHO CALL YOU TO GROW, TO SET ASIDE THE PETTY THINGS OF THE WORLD AND TO ENCOMPASS THE GREATNESS THAT I OFFER YOU SO THAT YOU MIGHT SCALE THE HEIGHTS OF MY LOVE, OF MY GOODNESS, OF MY CHARITY.
I come to you in search of strong, firm souls, determined to continue on My Ways knowing that there are a great number of My children who have compromised with the devil, whom they serve without thinking.
My people have to be strong and convinced so that nothing and no one will cause them to falter, since the legions of evil have as their goal the perdition of souls. Therefore, with great attractions they present you all that is contrary to My Will and so they captivate you so that it is you who offend Me by renouncing to follow Me, being disobedient, lacking in love towards your neighbor and tolerant of the grave offenses that human beings commit against Me.
It is at this instant when man not only spreads his intolerance throughout the Earth, but cooperates so that the nations maintain constant threats through words and challenges concerning armaments, economics and all sorts; this is when the interests of war are moving in the antechamber of humanity, under the shadow of truth that hides war.
My people, great suffering looms over humanity: the diseases that you thought eradicated will return to frighten you since in these times they expand very quickly.
Children, you need to remain obedient to My Law, be firm in the Faith so that you do not follow in the footsteps of so many who lose faith in Me and reject My Mother.
Pray, children, it is necessary for you to pray and to see the fruits of that prayer, the product of spiritual growth.
Do not be distracted, pray with your heart; I assist you.
Pray My children, pray for Central America, the earth shakes and My children suffer.
Pray, My children, misfortune comes to the nations in which the slaughter of the innocent is approved and where they rebel against the nature of the human race established by My Father.
Pray, My children, My Church is in convulsion, going astray, seeing how My Commands are distorted, bringing about the destruction of souls.
Pray, My children, the United States shakes, the sea is stirred up.
Beloved My People: without being satisfied, the Devil moves in search of revenge against the children of My Mother. How I suffer over the sacrileges you commit against Me. What you ignore, because that is what you want, is that evil grows with these acts and you limit yourselves spiritually!
It is necessary for My Church to prevent the rejection of My Mother. In continuing to accept this grave error, My Church will face great confusion and decadence. Some of My Priests forbid My People devotion to My Mother.
At this, nature itself cries out to man not to remove My Mother from his life, and at this negation, the waters will be forcefully stirred up and man's lament will be great. Until you give My Mother the place that Our Most Holy Trinity has assigned to Her as My Mother and Mother of My People. (cf. Mt 1,18; Jn 19,25-27)
Beloved children, My people, do not continue in error, do not continue killing the innocent, do not be perverse against those who do not yet utter words; man is man, woman is woman (cf. Gen. 1, 26-28), this is the human nature that with great arrogance those deny who later, in the midst of great laments, will moan between cries of horror and fright.
ENOUGH NOW OF THE MAN WHO IS A SPECTATOR OF THE ERRORS OF HIS FELLOW MEN; WAKE UP, DO NOT BE IMITATORS OF SIN, DO NOT BE FOLLOWERS OF EVIL.
My Love is not opaque, it continues to shine, the human being is the one who must look for My Love.
I AM WHO I AM, I AM YOUR GOD! (cf. Ex 3,14).
I bless you
Your Jesus
HAIL MARY MOST PURE, CONCEIVED WITHOUT SIN
HAIL MARY MOST PURE, CONCEIVED WITHOUT SIN
HAIL MARY MOST PURE, CONCEIVED WITHOUT SIN