Tuesday, July 9, 2019
Message from Our Lord Jesus Christ
To His Beloved Daughter Luz De Maria.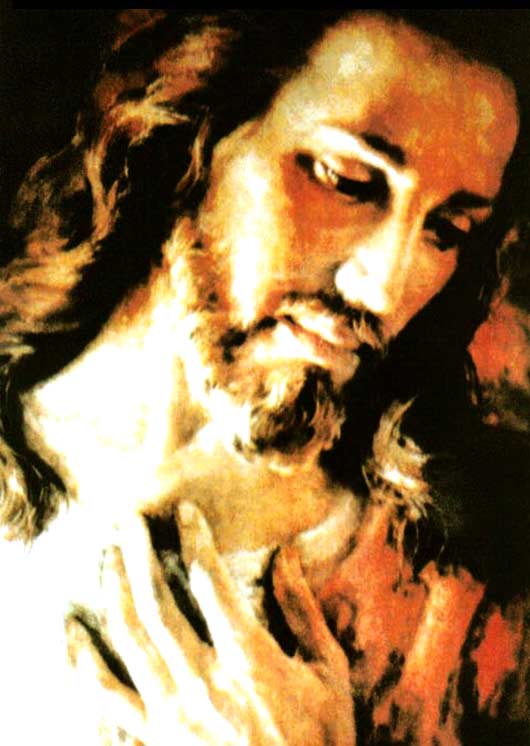 My Beloved People:
I BLESS YOU CONTINUOUSLY AND I CALL YOU TO WALK IN MY FOOTSTEPS.
Walk in My Footsteps in order to continue safely and not to go astray.
You have the freedom to choose; I call you to choose the good at this instant in which humanity stands before the great abyss caused by the spiritual confusion in which My children persist, which is why I beseech you to remain within My Truth, without fear, since I Protect you.
My people, you need to bend your knees and stretch out your arms towards Our Trinity, offer fasting, pray to My Mother and invoke My Archangels, without forgetting your Guardian Angels - your travelling companions, to request the intercession of My Saints and minister to one another, before the great trial that is looming over humanity.
You know where to find me: IN MY BODY AND MY BLOOD, whence you receive the strength to resist the continuous attacks of nature and the violent action of man through the sin that has come to contaminate Creation, for which reason it rebels against man and you suffer through nature.
My Beloved People, it is imperative that human beings be humble and in solidarity in order to succeed in coping with what is coming to humanity. Alone you will not be able to have what is necessary to overcome the multitude of obstacles with which humanity will find itself confronted by its own will and acceptance of sin.
LOVE ME BY KNOWING ME, LOVE ME BY BEING MY LOVE, LOVE ME AS I LOVE YOU.
The activity coming from the core of the Earth is increasing, and with it the volcanoes awaken with a loud roar to which man is not accustomed. (1)
The earth continues to shake because of earthquakes.
Pray, My children, Pray for the United States: nature lashes it forcefully, it is instant for My children to return to Me, this beloved land suffers.
The wind and the water of the seas unite, reaching levels outside of what is normal for man.
Pray, My children, Pray for Mexico: return to Me and love My Mother, turn away from the constant sin in which many of My children persist. This nation is shaken and suffers through water.
The modern trends in which humanity is immersing itself cause me nausea; My children have one nature, not that which man wants to impose on the whole Earth.
Those who through their economic power dominate the governments of the majority of the nations of the world feel powerful and are implanting immorality, such grave sin against the Gift of life; they sow terror where they want and anesthetize consciences even within the Hierarchy of My Church; THEY ARE THOSE WHO HAVE OPENED THE DOORS TO THE ANTICHRIST (2) AND WILL LEAD HIM TO SEDUCE HUMANITY, WHICH WILL EXPERIENCE ITS WORST AND GREATEST PAIN.
You live in war; the powers punish each other, and at a sudden instant there will emerge the great spark that will leave humanity in great lament.
Pray, My children, Pray, Brazil suffers: you must pray, disease wreaks havoc. Pray, My children, Pray, Bangladesh is shaken and water purifies it; Pray for My children of Chile.
My Beloved People, you have rebelled against OUR DIVINE WILL; CREATION REACTS IN ORDER THAT HUMANITY REPENTS AND MY CHILDREN NOT LOSE ETERNAL LIFE.
I call you to look up; you will see fire descending towards the earth, anticipating what will come to Earth unexpectedly, it will fall into the sea and will cause great devastation.
You must take seriously what I reveal to you; be obedient children - do not neglect My calls. Have you been waiting for signs indicating to you that the beginning of the fulfillment of My warnings and those of My Mother would be fulfilled? YOU ARE LIVING THROUGH IT ALREADY, DO NOT CONTINUE TO BE TIED TO THE GOD OF MONEY; THE WAR SUSTAINED BY THE POWERS WILL CAUSE THE ECONOMY TO FALL AND HOW MANY OF ME CHILDREN WILL LOSE THEIR REASON OVER IT!
HOW MY HEART HURTS!
Come to Me, children, find in Me the comfort you need, do not look for sin.
To you my children of My Heart and children of My Mother, I demand that you go in search of the sinner and welcome him with My Love; My children are recognized in this way: they are Love as I Am - Love.
Do not forget that there is no sin, no matter how serious it may be, that MY MERCY DOES NOT FORGIVE IF THE SINNER TRULY REPENTS AND MAKES A FIRM PURPOSE OF AMENDMENT.
MY MERCY IS INFINITE; SO MUST MY CHILDREN BE.
COME TO ME, CHILDREN, COME TO ME!
I bless you
Your Jesus
HAIL MARY MOST PURE, CONCEIVED WITHOUT SIN
HAIL MARY MOST PURE, CONCEIVED WITHOUT SIN
HAIL MARY MOST PURE, CONCEIVED WITHOUT SIN
(1) Activation of volcanoes: read...