Saturday, July 20, 2019
Message from the Blessed Virgin Mary
To Her Beloved Daughter Luz De Maria.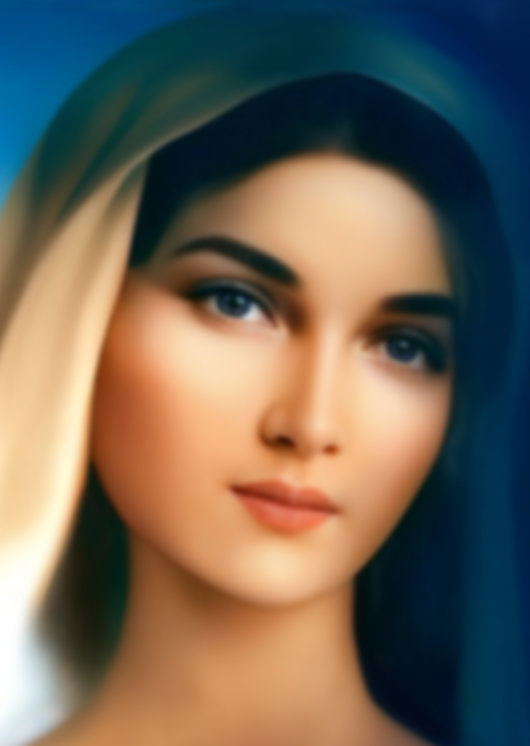 Dearly beloved children of My Immaculate Heart:
MY HEART KEEPS BURNING WITH LOVE FOR EACH ONE OF MY CHILDREN!
The Father's House provides all His children with the assistance needed so that they do not get lost, if they so wish. You can turn to all the Angelic Choirs, to the intercession of the Saints so that you remain on the Path to Eternal Life.
In its relentless struggle for souls, united to the folly of human beings and their desire to impose their free will, evil keeps this generation in sin greater than that lived out by those creatures who provoked the great chastisements of the Flood, of Sodom and Gomorrah and what happened with the tower of Babel (cf. Gen 7-8; 11,1-9; 19,23-29).
Beloved children of this Mother:
IT IS NECESSARY FOR ALL OF YOU TO BECOME AWARE OF THE RESPONSIBILITY OF BEING CHILDREN OF GOD AND THE KNOWLEDGE THAT YOU HAVE REGARDING WHAT MY SON HAS ENTRUSTED TO YOU IN INSTANTS WHEN HUMANITY HAS EMBARKED ON THE ROAD WITHOUT RETURN OF THE GREAT PURIFICATION.
Children, I urge you to become aware of how much you have received: the great blessings of those who enjoy being children of My Son and members of the Mystical Body of My Son's Church (cf. I. Cor 12,12-30).
The Devil does not wait: he goes ahead of man in order to set his traps and lead you away from the path of Eternal Salvation. Be cautious, look through the microscope, do not allow the lenses of faith to become dirty and what is vile to penetrate your mind, thought, reason and lead you astray. TAKE SERIOUSLY THESE WARNINGS THAT GUIDE YOU SO THAT YOU KEEP LIVING IN UNITY WITH THE DIVINE COMMANDMENTS AND IN THE WORK AND ACTION OF THE TRUE CHILD OF GOD.
This is the instant in which each child of God must commit themselves and be an apostle of the Divine Word for your brothers and sisters, maintaining the humility without which you will not be true children of My Son. This path is not easy, on the contrary, your faith must be firm and strong, so that you do not get left behind on the path in the instant in which you must remain fused to the Divine Will so that you are not guided by human will but rather the Divine Will.
BELOVED OF MY IMMACULATE HEART, DO NOT TAKE BACKWARD STEPS, LOOK TOWARDS ETERNAL LIFE; DO NOT DEPART FROM THE WAY OF SALVATION, HOWEVER FIERCE THE TIMES MAY BE, HOWEVER MUCH YOU MAY BE CRITICIZED, WHATEVER THE RIDICULE TO WHICH YOU MAY BE SUBJECTED, WHATEVER THE INDIFFERENCE WITH WHICH YOU MAY BE TREATED, WHATEVER THE REJECTION YOU RECEIVE, EVEN IF THEY CALL YOU CRAZY OR WHAT IS UNTHINKABLE FOR YOU: KEEP THE FAITH!
Do not forget that My Son has called each one of you by name, do not forget to remain in a state of Grace and to feed on the Body and Blood of My Son, do not forget to pray, do not forget to fast, those whose health condition allows it, otherwise offer up a fast of that which most pleases the human will.
AS MOTHER OF HUMANITY, AND AS THE FULFILLMENT OF ALL THE REVELATIONS APPROACHES, WITH MY IMMACULATE HEART I BESEECH YOU TO BECOME AWARE OF THE URGENCY OF CONVERSION.
Children, return to My Son, do not remain within the deceptions of Satan. You are living through the beginning of the great suffering of this generation. Events of Nature of one kind or another are occurring throughout the Earth, seeking to find the acknowledgement that human beings must offer to their Creator, THEREFORE I REQUEST FROM YOU PROMPT REPENTANCE OF YOUR SINS AND THAT YOU TAKE THE LIFE THAT GOD HAS GIVEN YOU WITH GREAT SERIOUSNESS.
Pray, beloved children, pray for Jerusalem, crying and pain come to this beloved Land.
Pray, beloved children, pray for Japan, it will again make news before the eyes of humanity.
Pray, beloved children, pray for each one of you so that faith overcomes the folly of human selfishness.
Pray, beloved children, pray that water, an element of life, might not be contaminated by those who are devoted to the service of evil.
Pray, beloved children, pray: what has been expected has arrived for humanity - you will know of the force of Nature on earth.
Beloved Children of My Immaculate Heart, prepare yourselves spiritually: those who need to repent should do so. It is urgent for you to LOVE GOD, to make reparation for those who teach hatred of God and those who are children of God.
Humanity is the Devil's prey, and his goal is to reduce the People of God to the fewest possible, so you must keep in mind that if you are singled out, you will be more so, which is why as Mother I call you to unite, to pray, to offer up, fast, comply with the sacraments and look sincerely at your hearts.
Children, this instant is one of uncertainty for those who are lukewarm, and My children are not lukewarm, My children belong to My Son's People, not forgetting the Divine Mercy to which they must turn constantly.
IN THESE TIMES OF TRIBULATION FOR ALL HUMANITY, I AM HOLDING UP THE ARM OF THE ETERNAL FATHER.
Be unity, love, fraternity in the midst of the shaking of the Earth and great tectonic events, as well as the serious activity of the sleeping volcanic giants, as with the waters of the seas and their unexpected reactions.
DO NOT FEAR, CHILDREN, DO NOT FEAR; MY SON DOES NOT DESERT YOU, NEITHER DOES THIS MOTHER TURN AWAY FROM YOU.
IN THE NAME THAT IS ABOVE ALL NAMES, IN THE NAME OF THE MOST HOLY TRINITY.
Mother Mary
HAIL MARY MOST PURE, CONCEIVED WITHOUT SIN
HAIL MARY MOST PURE, CONCEIVED WITHOUT SIN
HAIL MARY MOST PURE, CONCEIVED WITHOUT SIN